Democratic Governors Are Ready to Work with Biden to Crush COVID | Opinion
The Trump administration's handling of the COVID-19 pandemic was an unequivocal failure. My fellow Democratic governors and I were left to fill the galling void of leadership–enacting commonsense face mask mandates for public spaces, encouraging people to not gather or travel, fighting to get personal protective equipment to frontline workers and first responders and much more.
But these efforts were necessarily incomplete without the resources and wherewithal only the government of the United States of America can provide. Fortunately, hope is on the horizon. With the Biden administration taking the reins, we are moving into a new phase where we can and will get our arms around the immense logistical challenges of vaccine distribution and ultimately end this heinous pandemic.
The outgoing administration left a mess of conflicting and partial information, with states working desperately to organize an equitable and orderly distribution while lacking necessary information to help constituents and distributors make plans for their shots.
It was only recently governors learned the vaccine stockpile the Trump administration suggested would be available did not, in fact, exist. This was a cruel—but we cannot say entirely unexpected—final slap in the face to Americans who have been yearning for honest and accountable leadership.
It must be said that the Biden administration is not so much revamping an existing strategy as they are building one from scratch. Governors like me have done what we can, to this point, to develop a cohesive distribution strategy, using recommendations from ACIP and the CDC and identifying third-party partners to help with the flow of product.
And while I like to brag about my fellow Democratic governors, the states that have succeeded so far in distributing both first and second shots—like New Mexico, which has ranked in the top five nationally for per-capita distribution, according to CDC data—are led by a mix of Democratic and Republican governors.
It's a patchwork of strategies. This is no one's idea of an efficient process. By necessity, states across the country have been building the plane as we fly it—and each of us are building our own plane.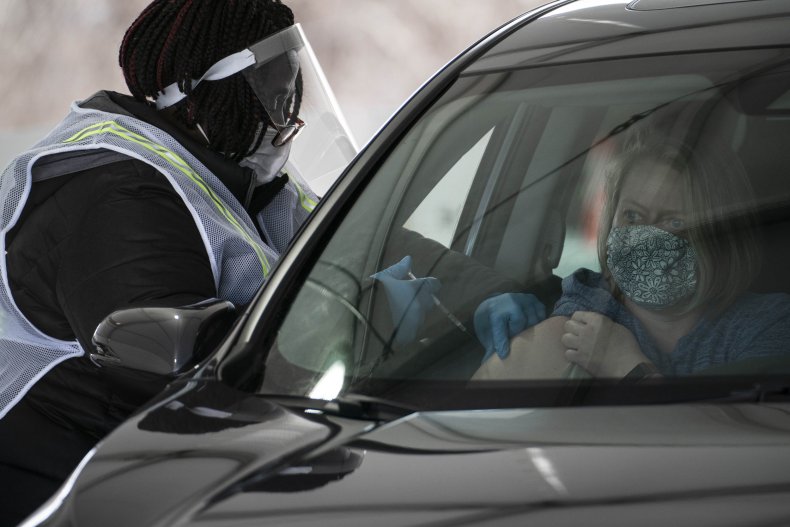 I know Democratic governors will continue to do our work rooted in science and good public health practice. We adjusted rollout strategies and called up support wherever we can to distribute the doses we have. But the primary driver of my optimism, and the optimism shared by Democratic governors all across the country, is the commitment of the Biden administration to doing this differently—and together.
A unified approach, in which states plan on dose distributions, could map out which groups and where would be able to receive their shots based on advance notice. This method would be better and is desperately needed—and that's just on the vaccine front. The pandemic is still raging.
On day one, President Joe Biden and his team of health experts recommitted our country to good public health practice, based on science and a shared set of facts about the challenges we face. A national masking strategy, a recommitment to the World Health Organization and directing agencies to use the Defense Production Act to fix our broken supply chain—these are all key elements of a coherent, cohesive federal approach that, had it been implemented 12 months ago may have saved hundreds of thousands of lives, but being implemented now, may yet save hundreds of thousands more.
The Biden administration plans to use FEMA to create mass vaccination centers in partnership with states and committed the full force of the federal government to end the pandemic. Most importantly, their COVID-19 relief plan includes substantial aid to states and localities, which would finally give us the resources we need to do this right. As chair of the Democratic Governors Association I commit on behalf of my colleagues every bit of our energy and effort to this unprecedented endeavor.
Together, we can end this national nightmare. We are on the road to recovery. Indeed, we are already healing. There's a lot of ground to cover, and there will be bumps in the road, no doubt. But I'm heartened that we are all on the other side of an era marked most egregiously by an unaccountable and complete omission of federal leadership.
Through hard work and collaboration, we can and will emerge victorious, and we'll begin the work of building our country back better than ever before.
Michelle Lujan Grisham is the governor of New Mexico and is chair of the Democratic Governors Association.
The views expressed in this article are the writer's own.