We don't like to think of American politics as a series of life-or-death decisions, but as COVID-19 lays bare the flaws in our political system, it has become impossible to ignore. With the absence of federal leadership, governors have taken the lead, setting up a natural experiment as states face different economic and public health outcomes. Now, more than ever, you can see how the choices made in the voting booth change the future for your community.
The public is tuning in to official briefings, looking for leadership, and Democratic governors like Phil Murphy, Gretchen Whitmer, and Jay Inslee have clearly communicated the risks, public health guidelines and the path to economic stability. From red to purple to blue states, Democratic governors have made decisions based on science and the guidance of medical experts, while many Republican governors have waited on cues from the president to act—or listened to their donors rather than the advice of epidemiologists.
This is nothing new. For years, Democratic governors have made health care access a top priority. As they have fought for Medicaid expansion, Republican governors and state legislatures have blocked progress or dragged their feet. Medicaid expansion gave health care to millions of people, bettered health outcomes and saved rural hospitals, which are an increasingly critical resource as COVID-19 spreads and begins to overload rural America.
And yet, Republican governors in several rural states refused to ever issue stay-at-home orders, and as a result hot spots erupted in their communities, overwhelming health care systems and putting lives at risk.
Democratic governors follow expert advice and science, while many Republican governors have allowed partisanship and ideology to drive their decision-making. There's no better case study than the choices in the neighboring states of Kentucky and Tennessee. In Kentucky, Democratic Governor Andy Beshear, who won in part due to his promise to protect Medicaid, declared a state of emergency on March 6. In Tennessee, it took Republican Governor Bill Lee another six days to do the same, and as of mid-April, his state had more than double the number of cases per resident as Kentucky.
This is not a fluke. As of April 2, all 24 Democratic governors had statewide stay-at-home orders in effect. Over half of Republican governors did not. Data shows that the median date of Democratic governors issuing stay-at-home orders was March 24. Of the Republican governors who have issued such an order, the median date is March 30.
Not every Republican governor has ignored the experts, but the governors who have are all Republican. In New Hampshire, Republican Governor Chris Sununu has repeatedly parroted the false Trump talking point that COVID-19 is just like the flu. "Treat it as the flu, which it is," he said in a radio interview. In Georgia, Republican Governor Brian Kemp shockingly admitted on April 2 that he didn't know the virus could be transmitted asymptomatically.
Having a Democratic governor could be the difference between research-driven decisions that ensure frontline health care workers having enough respirators when you go to the hospital or needless exposure to the virus. It could be the difference between whether your state's unemployment benefits were designed to help you or to keep "unemployment numbers low to give the governor something to brag about."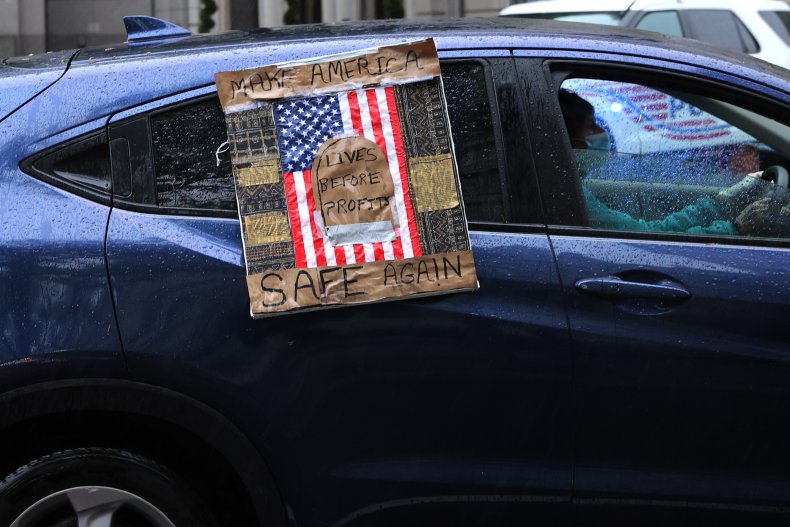 The stakes are astronomical this year for gubernatorial elections. In North Carolina, Democratic Governor Roy Cooper has been fighting against a Republican-led legislature for Medicaid expansion. The Republican challenger, an opponent of Medicaid expansion, has opposed Cooper's common sense stay-at-home order. In Montana, likely Republican gubernatorial nominee Greg Gianforte continues to oppose Medicaid expansion, and his running mate has called Democratic Governor Steve Bullock's order stopping evictions during this crisis "socialism." In Missouri, Governor Mike Parson has been excoriated by editorial board after editorial board for a "frighteningly leisurely" response to the crisis. In Washington, Democratic Governor Jay Inslee's opponents have compared his stay-at-home order to Japanese internment and attempted to throw a corona party. In New Hampshire, Vermont and Missouri, Democratic challengers are fighting for investments in public health and social safety nets to protect Americans during crises like these.
COVID-19 won't be the last emergency we face. We need leaders committed to expanding health care, leaders who listen to expert opinion, and leaders who are committed to protecting their residents.
We need Democratic governors.
Noam Lee is the executive director of the Democratic Governors Association.
The views expressed in this article are the writer's own.