A conversation that was happening behind the scenes among Democratic groups and activists broke into public view this month over the use of the term "Latinx" by Democrats, a term created to be inclusive when addressing Hispanics that has instead been criticized as out of touch.
The poll by Bendixen & Amandi International, which worked with the Obama presidential campaigns, found that only 2% of Hispanics identify as Latinx. But more worrisome for Democrats was that 40% of Latinos said the term offends them to some degree, and 30% would be less likely to support a candidate or organization that employs it.
The poll has already had consequences, with the League of United Latin American Citizens (LULAC), the oldest Latino civil rights organization in the country, deciding within days of the poll's release not to use the term any longer
"Latinx as a term is pretty much dead," LULAC president Domingo Garcia told Newsweek.
But he emphasized that he has no problem with the term if it's how people self-identify.
"We attempted to use it with our younger members and at LGBTQ events," he said, "but we found that even among young Latinos and Latinas, most did not use it and were not aware of its use, or were hostile to its use."
The stance of Latino groups matters because of the important role they play in decision-making for Democratic groups and candidates. For instance, progressive issues are usually clarified by speaking to progressives, issues related to Black Americans are decided based on feedback from Black Democrats and Black leaders, and Latino issues are often tested by consulting Latino groups and Latino Democrats.
On that front Garcia's advice is crystal clear.
"I would definitely advise Democrats not to use the term 'Latinx,' because it's not popular or used often and can be counterproductive," he said, "and I would advise Republicans the same."
But the focus on the use of the term has been on Democrats, not just because candidates like Senator Elizabeth Warren used it during her presidential campaign, but also because the Party has seen its Hispanic support erode in recent presidential election cycles, and the question of effective Latino outreach has once again risen to the forefront.
Democrats now face the possibility that they could not only lose control of Congress after a red wave in the 2022 midterms, but also that Latino support could continue to drop, which would be a worrisome sign ahead of a challenging 2024 presidential landscape.
Beyond LULAC, however, Democrats are likely to discover that leading national Latino groups not only don't agree on use of the term Latinx, but also some think with everything else going on in the community it's a non-issue.
"I don't have time to worry about what people call themselves," said Arturo Vargas, the CEO of the National Association of Latino Elected and Appointed Officials (NALEO).
"I don't care what you call yourselves," he said. "We have too much to get done."
Poder Latinx is a project of Tides Advocacy, a 501(c)(4) nonprofit organization that works with diverse progressive activist groups across the country. The Latino group has been rising in influence, having registered 45,000 voters ahead of the 2020 election in Arizona, Georgia, and Florida.
"People we talk to know our name, and we haven't heard any complaints from the voters and people we're talking to," said Ben Monterroso, a respected organizer who has been working with Latinos for four decades and serves as a senior advisor to Poder Latinx.
He said his group does not impose the term on anyone, but uses it to be more inclusive in how it communicates, and to embrace young Latinos. He stressed that the group does not use the term exclusively and it doesn't limit its outreach.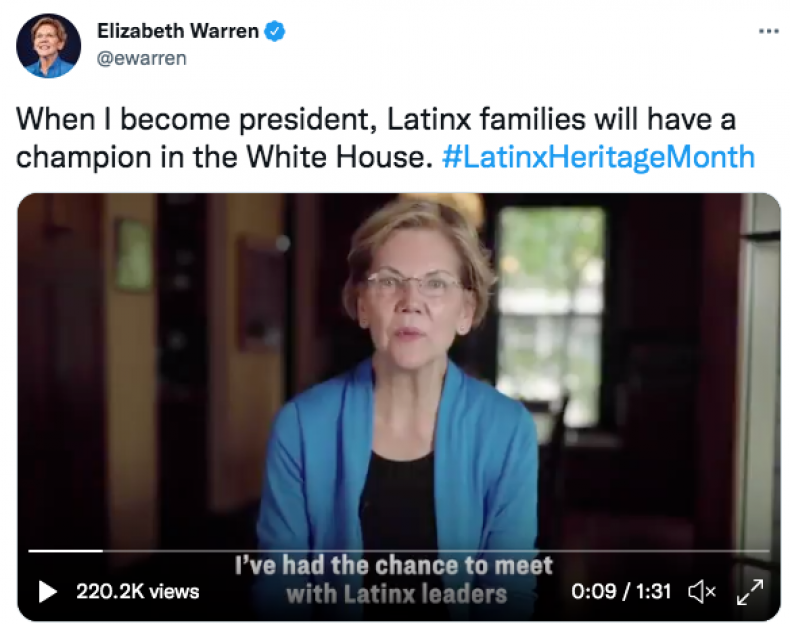 UnidosUS, formerly known as the National Council of La Raza, is another longtime group like LULAC, but it is still using the term.
Lisa Navarette, an advisor to the group's president Janet Murguia, has worked at Unidos for 33 years and within the Latino community for four decades. She said there's never been one term that satisfies everybody, which is why the group uses the terms Hispanic, Latino, Latina, and Latinx in reaching out to the community.
"We understand that Latinx is not popular," she said. "We've seen the polls, but neither are any of the other terms."
But while downplaying the controversy over the term, she stressed that the Democratic Party needs to work harder to engage and understand Hispanics.
"For us the issue with the Democrats, the name they call us is not half as important as the work they're doing to reach out to us," she said.
"If they're having problems with the Hispanic-Latinx community it's because they haven't done the work and investment to speak to us," Navarette said. "They've spent a long time taking the community for granted and not making outreach investments to grow the electorate or taking advantage of folks who aren't registered."
But the use or non-use of the term Latinx can be a source of tension in meetings with Latino activists and often-white Democrats and progressives. One source recalled being in a meeting with leaders of Mijente, a group that is relentless in its push for immigration reforms and has no qualms with taking on Democrats or the Biden administration, where the pressure was on to use the term.
"I've been in meetings when people in Mijente yelled at you for being 'transphobic' and 'anti-Black' for not using Latinx," the source said.
A Latino leader of a top organization said that while Spanish is their first language, they've seen the Latinx term pushed by people for whom Spanish is not their first language and who claim that Latino and Latina are gendered terms.
"We're respectful because they want to be inclusive," the source said, "but I personally don't use it and I have bigger fights to fight."
Fernand Amandi, whose poll sent the issue into overdrive, told Newsweek it stands to reason that Hispanic organizations that represent the Latino community in the U.S. should probably shy away from using a term that only 2% of the Hispanic electorate identifies as their preferred descriptive term and that nearly 40% suggest offends them.
Longtime Latino leaders like Monterroso recall that decades ago in California they called themselves and the people in the communities they represent Chicanos or Mexicanos, with Hispanic and then Latino having their moments of popularity.
"But that didn't give us power then or separate us the way people are trying with this issue now," he said.
For Amandi, these stances don't get at the most important point.
"The fundamental thing this comes down to is when Biden or a candidate goes to the Rio Grande Valley or east Los Angeles or south Florida or to Spanish Harlem and they describe the community, are they going to say 'It's great to be here with the Latinx community?'" Amandi asked.
"That's the choice," he said, "and that's what the whole brouhaha is about."