Democratic Lawmaker Blasts Trump Over Shutdown: 'We Are Not Going to Build This Stupid Vanity Wall,' Says Ted Lieu
In the wake of a partial government shutdown, congressman Ted Lieu (D-CA) has declared that Democrats will not agree to fund the president's "stupid vanity wall" with U.S. taxpayer dollars.
During a segment on MSNBC's Live on Saturday, host Alex Witt discussed the partial government shutdown over Trump's $5 billion border wall demand, while displaying a counting clock showing that the closure had already lasted over 12 hours.
"Give me a sense of where things stand right now, the conversation among your colleagues today. Are Democrats ready to compromise on a wall, the wall?" Witt asked Lieu.
"Let me remind American people what Donald Trump said last week, 'I am proud to shutdown the government.' We are now in day one of the Trump shutdown," Lieu responded. "It is a failure of the Republican leadership. They control the House, the Senate, and the White House."
The congressman—who has served as the U.S. Representative for California's 33rd congressional district since 2015—then went on to assert that Democrats will not allow taxpayers to pay for Trump's border wall.
"Democrats are certainly happy to talk about border security, but we are not going to build this stupid vanity wall of Donald Trump's with U.S. taxpayer dollars," he said. "Donald Trump's number one campaign promise was not the wall, it was that Mexico would fund the wall. The only way he is going to get his wall is if Mexico funds it. U.S. taxpayers are not going the fund this wall."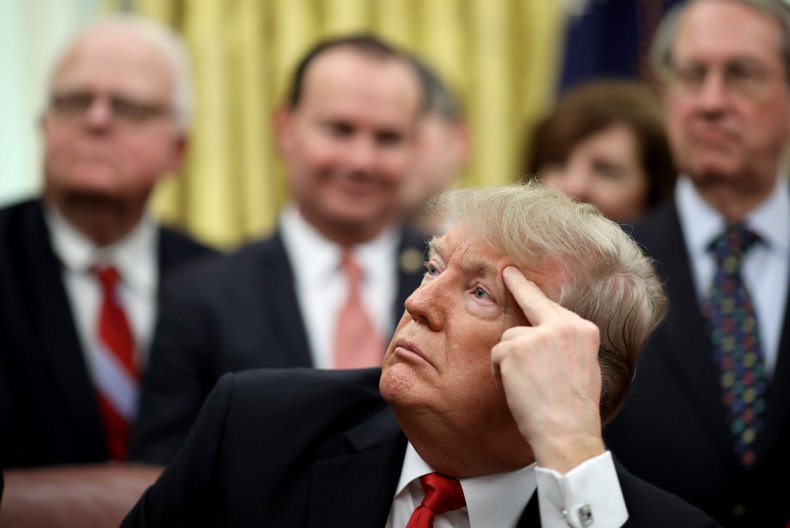 Earlier this week, Trump rejected a short-term funding bill agreed by Democrat and Republican senators to keep the government running through the New Year on the basis that it did not include funding for his border wall. The move came shortly after far-right figures—including Ann Coulter and Rush Limbaugh—unleashed a barrage of criticisms, calling Trump out on his failure to deliver the border wall that he promised during his campaign trail.
On Friday, the failure to agree on a budget resulted in the closure of approximately a quarter of U.S. government departments, with hundreds of employees put on temporary leave.
Although the White House argued that Democrats caused the third shutdown of 2018 by refusing to end the funding lapse, Democratic leaders have issued statements blaming the president and Republicans.
In a joint statement on Saturday, House Minority Leader Nancy Pelosi (D-Calif.) and Senate Minority Leader Charles Schumer (D-N.Y.) said: "Republicans control the House, the Senate, and the White House. But instead of honoring his responsibility to the American people, President Trump threw a temper tantrum and convinced House Republicans to push our nation into a destructive Trump Shutdown in the middle of the holiday season."
"President Trump has said more than 25 times that he wanted a shutdown and now he has gotten what he wanted," they added.
This evening, Trump tweeted that he will not go to Mar-a-Lago, his Florida mansion, over Christmas due to the shutdown. "I will not be going to Florida because of the Shutdown - Staying in the White House! #MAGA," the president wrote.