Democratic Lawmaker Slams GOP for Protecting Trump, Says They're 'Responsible for Dragging Us to War'
California Congresswoman Maxine Waters tweeted Monday that Republicans were "shielding & protecting" President Donald Trump over his recent authorization of military action against Iran and were "responsible for dragging us to war."
"OK Repubs," Waters tweeted. "Keep shielding & protecting this impeached prez despite his lies (15k); despite his unilaterally pulling out of Iran deal; despite weak answers on imminent danger; despite Mattis quitting, now Pentagon CoS quits; you are going to be responsible for dragging us to war!"
Newsweek reached out to Waters' office for further comment but did not receive a comment in time for publication.
Waters has taken aim at Trump in the past, including in a press statement released Friday in which she referred to the president as "dangerous."
"Perhaps Donald Trump believes that if he drags the country into war, the American people and Congress will rally behind him," Waters wrote. "Perhaps he thinks that war is a diversionary tactic. Perhaps he thinks it will drown out the criticisms of his scandal-plagued administration and protect him from removal by the Senate."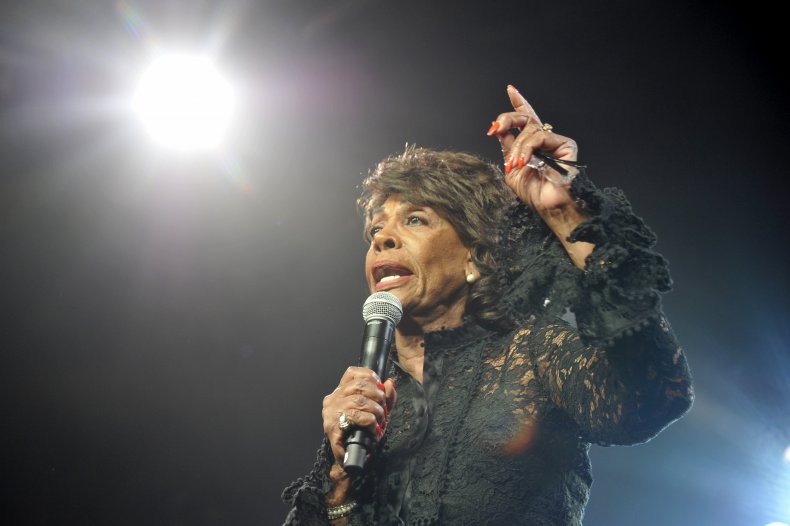 "Donald Trump is dangerous," the statement continued, "and his actions could have dire consequences for the safety and security of Americans. He has cozied up with dictators like Kim Jong-un and Vladimir Putin, shielded for a Saudi regime that murdered a journalist, turned his back on our Kurdish allies in the fight against ISIS in Syria, and isolated our western allies."
"He has lied more than 15,000 times," Waters added, "and he cannot be trusted with matters as important as war and peace."
Waters and Trump have long been at political odds, with Trump speaking about her disdainfully at his political rallies.
"I said it the other day, yes," Trump said at a 2018 rally in Montana, "she is a low IQ individual, Maxine Waters. I mean, honestly, she's somewhere in the mid-60s. I believe that."
Trump reiterated his claim in a 2018 tweet. "Congresswoman Maxine Waters, an extraordinarily low IQ person, has become, together with Nancy Pelosi, the Face of the Democrat Party."
Waters has brought the issue of Trump's mental health into the impeachment conversation, telling MSNBC's Kasie Hunt Sunday that the president's "mental stability" is concerning.
"We know several things about this president," Waters said. "We know he's a liar. We know that it has been documented by The Washington Post that he's lied thousands of times. I think it's over 15,000 times that they've actually documented. We know that there is a matter of trust."
"We also know that from afar, you've had psychiatrists wondering about his mental stability," continued Waters. "We know that the president tweets. We know that he basically makes up his mind. He said he knows more than his generals know."
"American people need to know what we're dealing with here because it is not about which party they are going to align themselves with," Waters added. "It's whether or not they can trust the President of the United States, whether or not he's a liar, whether or not he's a—mental health is good. It is whether or not he's presidential."