Democratic Michigan Rep. Removed From Committees by GOP Colleagues Over Facebook 'Threats'
The Republican speaker of the Michigan House of Representatives said Wednesday that a Democratic representative has been removed from her committee assignments in response to a video message she posted on Facebook.
State Representative Cynthia Johnson previously said she received threats of violence following her questioning of Rudy Giuliani in Michigan last week. Giuliani, the former New York City mayor who is now a personal attorney for President Donald Trump, attended a hearing in Michigan on December 2 to discuss allegations of voter fraud during last month's election.
Johnson posted online some of the threatening voicemails she received following the hearing. She appeared to reference one in her Tuesday video message before issuing a "warning" to Trump supporters.
"This is just a warning to you Trumpers: Be careful. Walk lightly. We ain't playing with you. Enough of the shenanigans. Enough is enough," Johnson said. "And for those of you who are soldiers, you know how to do it. Do it right. Be in order. Make them pay."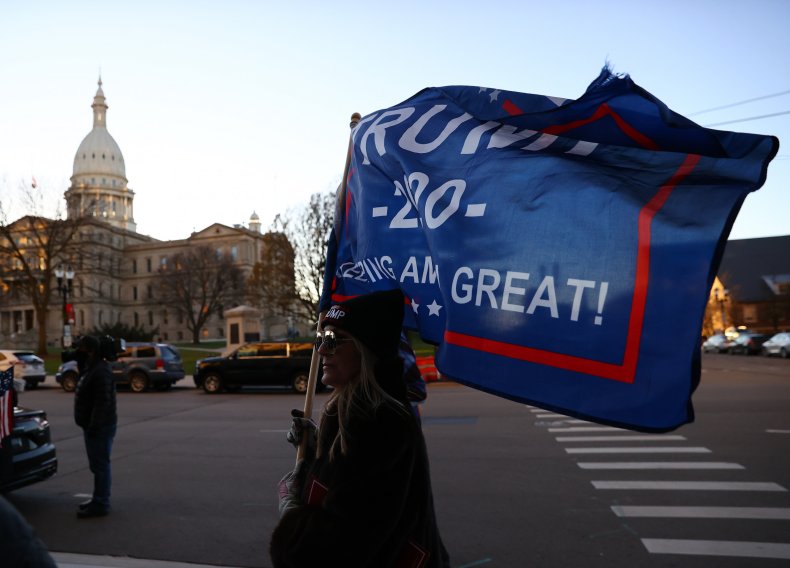 Michigan House Speaker Lee Chatfield and Speaker-elect Jason Wentworth issued a statement on Wednesday about the decision to remove Johnson from her committee assignments in response to her video message.
"Threats to either Democrats or Republicans are unacceptable and un-American," the statement said. "They're even more unbecoming of an elected official. Rep. Johnson has been removed from her committee assignments, and we are looking into further disciplinary action as the proper authorities conduct their own investigations.
"We have been consistent in our position on this—violence and intimidation is never appropriate in politics," the statement continued. "We have said that about threats against Gov. Whitmer, Secretary Benson, Rep. Johnson herself, and others. That applies to threats made toward public officials, and it must also apply when the threats come from public officials. Behavior like this will not be tolerated this term or next."
Giuliani and Jenna Ellis, another Trump attorney, appeared before the Michigan House Oversight Committee on December 2 and were questioned by Johnson and other committee members. Though allegations of widespread voter fraud during the presidential election have been widely debunked, Trump has not conceded. Instead, his campaign lawyers have issued legal challenges in several battleground states to contest the election's results, including Michigan.
Michigan's Board of State Canvassers certified its election results on November 23, nearly three weeks after news outlets called the state for President-elect Joe Biden.
During the December 2 hearing, Johnson criticized the committee's GOP chairman for allowing Giuliani to question witnesses and said he was "allowing people to come in and lie," according to The Detroit News. A few days after the hearing, Johnson began posting screenshots of calls made to her personal phone, many of which, she said, contained curses and threats of violence against her.
Newsweek reached out to Johnson for comment but did not receive a response in time for publication.
This story has been updated with additional information and background.