Photos: Relentless Heckling Marks First Night of Democratic National Convention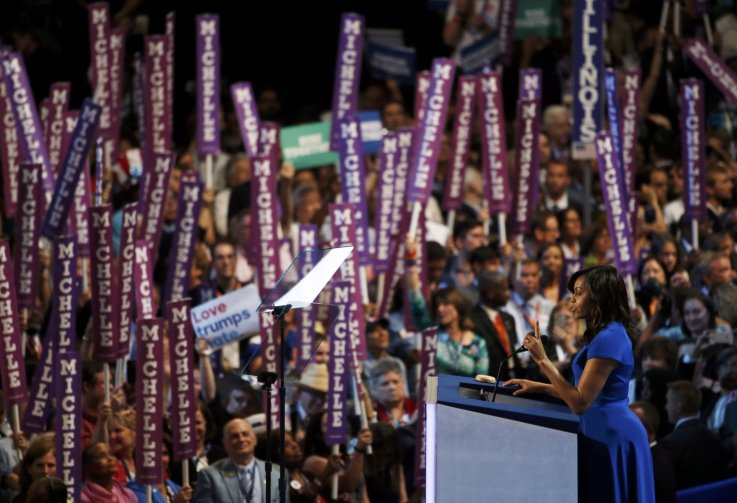 Amid a scandal over leaked Democratic Party emails, Baltimore Mayor Stephanie Rawlings-Blake gaveled in the Democratic National Convention on Monday in the place of party chairwoman Debbie Wasserman Schultz, who earlier announced she would resign after the convention and relinquished her position as arbiter of its opening ceremonies.
The mood continued to be murky as the convention got underway; Bernie Sanders supporters were on high alert, heckling the crowd, booing the mere mention of Hillary Clinton's name and chanting "Bernie or bust" as speakers took the stage—even Ben Jealous and Sarah Silverman couldn't calm the Berners down. But the mood shifted dramatically when first lady Michelle Obama took the stage and delivered a passionate endorsement for Clinton focused on virtues such as strength of character, perseverance and forging a more prosperous nation for future generations.
The momentum continued when Sanders stepped up as the last speaker of the night. His adoring fans roared with applause and cheers, barely letting him speak for his first few minutes on the stage. Sanders then went a long way toward unifying the party, defending Clinton, noting her support of his tuition-free approach to public universities and saying, "She knows Medicare should negotiate drug prices with the pharmaceutical companies."
The delegates are set to formally name Clinton as their party's 2016 presidential nominee on Tuesday after a roll call vote of each state. Then she will become the first woman in U.S. history to be a major political party's presidential nominee. The gavel time is scheduled for 4 p.m. Eastern, and the session is set to last until 11 p.m. The theme will be "A Lifetime of Fighting for Children and Families," with speeches from Madeleine Albright and Bill Clinton highlighting the evening.
As always, check back with us for continued coverage of the convention.