Democratic Newcomer Mounts Serious Challenge to Iowa's GOP Senator Joni Ernst
Not too long ago, Iowa seemed out of Democrats' reach in their bid to reclaim control of the Senate, but now it's clear the state has become a contentious battleground.
That's because Theresa Greenfield, a businesswoman and political newcomer, is mounting a serious challenge to GOP incumbent Joni Ernst. The latest survey from The Des Moines Register showed the Democrat ahead, 46 to 43 percent. It also found that Ernst's favorability has dropped considerably since last year.
But Iowa Republicans say Greenfield is out of step with the community and a puppet for the Democratic establishment. In a recent video message inviting Greenfield to debate, Ernst claimed she hasn't heard her opponent "say one thing that Chuck Schumer hasn't told her to say."
Greenfield brushed off the criticism, telling Newsweek in an interview that the remarks sounded like "Republican talking points" and are "the kinds of things you say when you're desperate."
"Senator Joni Ernst knows that polls now show that she is down and struggling. That's because she hasn't put Iowa first," the Democrat said. Among her top priorities, Greenfield has pointed to affordable health care, economic support for farmers and infrastructure issues like broadband expansion.
Despite being such adversaries, Greenfield and Ernst share some common ground. They both grew up rural, Ernst the daughter of a hog farmer and Greenfield the daughter of a crop duster. As candidates, both have vowed to bring their scrappy, outsider attitudes to Congress.
But that's where the similarities seem to end. Greenfield has condemned much of Ernst's record as a first-term senator, especially her votes on health care—which Greenfield said are threatening rural health care "all while not offering a better solution or leadership." Ernst, like many Republicans, has voted repeatedly to repeal the Affordable Care Act.
She also criticized Ernst for speaking favorably about partially or completely privatizing Social Security. Greenfield said when her first husband died during a workplace accident, Social Security helped keep her and her family out of poverty. The message is likely to stick with Iowans, over 1 in 5 of whom receive those benefits.
"You certainly don't get rich on Social Security, but I was able to pay rent, put milk in the fridge, go back to school and start building a career path to provide for my boys," Greenfield said.
Another sore spot for Greenfield is Ernst's acceptance of corporate PAC donations and her reported ties to dark money groups. Greenfield, who has pledged not to take a "dime" of corporate money, said it was part of the reason why the first plan she put out dealt with ending political corruption.
The Ernst campaign responded that Greenfield's comments are "blatant hypocrisy" because outside groups have invested in her campaign. Greenfield was also criticized by her Democratic rivals during the primary for taking contributions from leadership organizations that get a large amount of funding from corporate PACs.
"The reality is, Greenfield spews false rhetoric, is completely unprepared to lead and refuses to answer Iowans' questions about her failed record as a real estate executive, like kicking out small businesses to make way for a multinational corporation," said Melissa Deatsch, Ernst's press secretary.
The Ernst campaign was referencing a strip mall redevelopment Greenfield oversaw in 2015 that displaced small businesses, although she's said the retailers were at the end of their lease. The "multinational corporation" was an Aldi grocery store that never materialized, and now the strip mall is home to new retailers.
Greenfield defended her work in the private sector and said it works to her advantage, as she can empathize with struggling business owners and employees amid the current recession. Before she became the president of a family-owned real estate company, she was the president of a homebuilding company that went out of business in the 2008 recession. Before that, she worked as an urban planner.
"Right now, it's tough times because of COVID-19. Doors are being closed, lights are turned off, and people are losing jobs. They need a leader who understands how hard that is," she said. "Senator Ernst, she doesn't fight for small businesses. She voted for a massive tax break for big banks and for big corporations."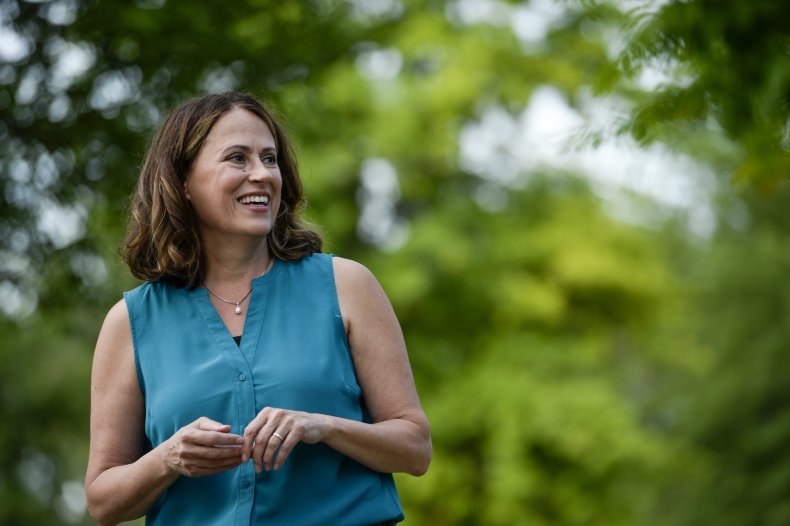 As the race between Ernst and Greenfield heats up, both parties are stepping in and investing heavily in the state—which underscores its political importance as the GOP seeks to defend its 53-47 majority in the Senate. Democrats need to flip at least four seats to regain control of the chamber, while Republicans have to defend far more territory: Of the 36 seats up for grabs in November, 23 are held by conservatives.
The Senate campaign committees for both parties and aligned super PACs have reserved a total of $35.6 million in airtime in Iowa ahead of the November election, according to Roll Call.
Nonpartisan election forecasters still rate the race as "leans Republican," and Ernst could see a boost because President Donald Trump, who easily won Iowa four years ago, will be at the top of the ticket. But there are signs the president's hold on the state is waning. While he won by 9 points in 2016, the most recent Register poll found him ahead of Joe Biden by just 1 percentage point.
Asked if she feels added pressure because Iowa has become a battleground for control of the Senate, Greenfield didn't seem too concerned.
"I don't think so," she said, laughing. She added that she intends to "take every bit of my scrappy farm girl to every county and township in an effort to flip this seat from red to blue."
"I'll tell you, if we win here in Iowa, we are going to win back the majority of the United States Senate, and that is incredibly important for our country right now," she said.