Democratic House Wants Notes From Donald Trump's Private Meeting With Vladimir Putin as Oversight Begins
As they embrace their new oversight powers in Congress this month, House Democrats are aiming to obtain information about the private conversations President Donald Trump and members of his administration have held with Russian President Vladimir Putin, House Foreign Affairs Committee Chairman Eliot Engel said Monday. It is unclear whether the committee will use its subpoena power to obtain the information.
"We want to work together with the intelligence committee. There is no sense to have two investigations going on, so we want to work with them. No decision has been made on subpoenas or anything else, we are not going to do this cavalierly. We are going to put our heads together and get at the truth, and we are going to work together," Engel told CNN.
"So I look forward to working with Chairman [Adam] Schiff, and others who may be involved with jurisdiction, but what we are not going to do is sit back and do nothing. We are going to try to get to the bottom of this," he said.
Schiff, the chairman of the House Permanent Select Committee on Intelligence, declined to comment on the matter to Newsweek.
Reports have suggested that lawyers for the House Intelligence and Foreign Affairs Committees will evaluate on Monday whether to subpoena the interpreters who were present during Trump's private meetings with Putin. Many Democratic leaders had been opposed to the idea, but a Washington Post report released over the weekend, which said that the president had "gone to extraordinary lengths" to hide the details of his private conversations with Putin from other members of his administration, appear to have swayed at least some members of Congress.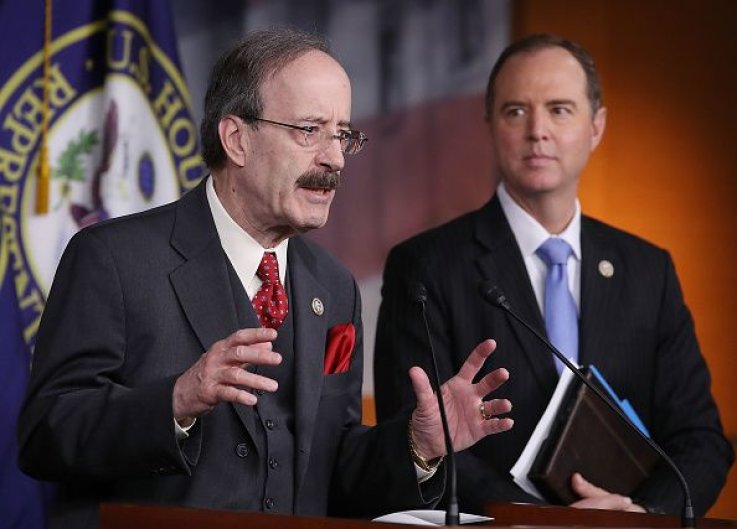 Trump met with Putin in Germany in 2017 and then again in Helsinki in July 2018. During that last meeting, the only person present was State Department interpreter Marina Gross. Experts at the time noted that it was unprecedented for a U.S. president to hold such a high-level meeting without an aide present.
Senator Jeanne Shaheen, a Democrat from New Hampshire, has called for a congressional hearing with Trump's interpreter and has asked Secretary of State Mike Pompeo to share the interpreter's notes from the Helsinki meeting with the Senate Foreign Relations Committee.
The Helsinki meeting was held as special counsel Robert Mueller investigates whether members of the Trump campaign collaborated with the Russian government to influence the outcome of the 2016 presidential election. Analysts and pundits have also spent the past two years analyzing evidence to determine whether Putin may have compromising material on Trump, as some experts allege. Journalists have previously called attention to the fact that Putin sent Trump a secret letter in 2013 after the then real estate mogul held a Miss Universe pageant in Moscow. The contents of that letter have never been revealed.
Trump has continued to argue that he has no ties to Russia and does not work on behalf of the country's leader.
A recent report in The New York Times revealed that the FBI opened an investigation into whether Trump had been working at the behest of the Russian government when he fired FBI Director James Comey in May 2017, demonstrating that some in the bureau believed that it was not impossible that Trump and Putin were collaborating while Trump was in office.
Democratic House Wants Notes From Donald Trump's Private Meeting With Vladimir Putin as Oversight Begins | World