Biden/Yang? Sanders/Gabbard? The Running Mates That Could Help Frontrunners Rally Divided Democrats
Closing time
Time for you to go back to the places you will be from.
Closing time
This room won't be open 'til your brothers or your sisters come.
So gather up your jackets, and move it to the exits.
--from the song "Closing Time" by Dan Wilson
It's Closing Time.
Last night was the last Democratic presidential debate before the Iowa Caucuses. The prelims are over and we're down to the finalists, even though not a single ballot has been cast.
Twenty-eight candidates have thrown their hats into the ring. Twelve are still running. Six of those were on the debate stage. They are the presumptive frontrunners, along with Michael Bloomberg, who is considered a serious candidate in part because he has serious money. But if you've watched the debates, you may have noticed something: the average age of the candidates on the stage is 64. The average age of those still in the race but not on the stage is 56. The age of the sixteen who've dropped out? 53. No one knows how things will change after Iowa, but it's entirely possible the average age of the next debate in February will be way up there, 75, and white (Biden, Sanders and Warren).
That's a problem. According to Pew, 33% of the electorate in 2020 will be non-white. Twenty-seven percent will be Millennials. Millennials have kind of had it with Boomers. It's not enough to count on anybody-but-Trump sentiment carrying the day. Ask HRC how that worked out. Disaffected voters don't turn out. They will even vote for the opponent, as did one in ten Sanders voters in 2016.
But there's an easy fix.
Pair up. None of the Democratic candidates are perfect in and of themselves, but they all have something to offer. No, it's not common to announce a vice presidential partner during the primaries, but these are anything but common times. The most hated incumbent in modern history. A massive field of challengers. Billionaires willing to spend their own fortunes. The emergence of polling to winnow the field, something that used to be the role of primaries. Unusual times call for unusual measures.
So what might some of these pairs look like?
Joe Biden/Andrew Yang
Why it Might Work: Joe's leading in the RealClearPolitics Average of Polls right now with 27%, but dig a little deeper and he's got problems. According to an analysis by Business Insider, his supporters skew old. Not a shocker, buty he's particularly weak with young people, Latinos, very liberal voters and the mountain west. Yang is strong with younger voters and the mountain west, and he brings a little modernity and hipness to Joe's old school Democrat appeal. Yang is particularly strong with Asian voters, and he's already said he'd be open to being Joe's veep.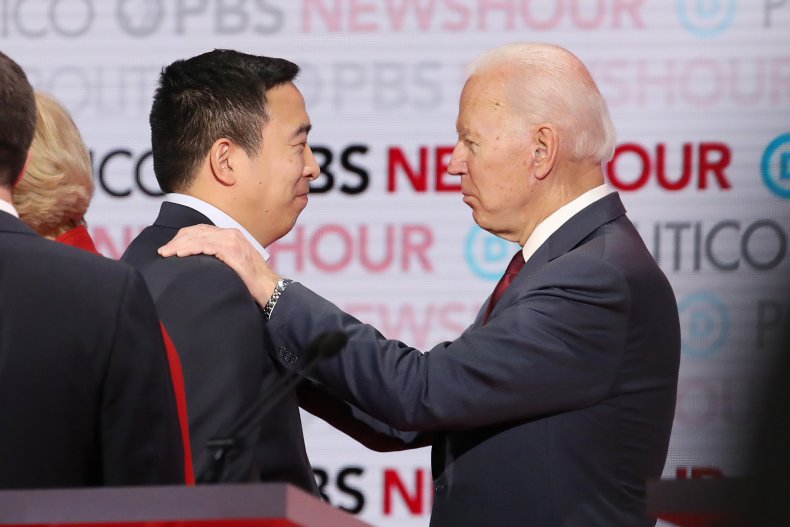 Bernie Sanders/Tulsi Gabbard
Why it Might Work: I know, I know, Bernie and AOC have been making goo-goo eyes at each other all night long across the room, and AOC has her own ride—in the form of a formidable fundraising and social media machine. He's old, she's young (too young for the presidency.) He's white, she's Latina. He's a he, she's a she. It's like total destiny. Well, not really. The problem is they fill the same political space—very young, very liberal voters. Even the most anti-Trump suburban Boomer is going to have heartburn doubling down on socialism. Gabbard brings some of the same dynamic as AOC—young, female, and Gabbard does well with Latino's. But she's a centrist and military vet. And she's campaigned for Sanders before.
Elizabeth Warren/Julián Castro
Why it Might Work: Well, they like each other for starters and share a similar worldview. Castro, and his brother, have both endorsed Warren. Castro is male, young, Latino, and is from Texas, all areas where Warren is relatively weak. He's also been the mayor of a significantly sized city, which is a big deal, because you just know the Bloomberg's and Trump's of the world are going to come after Warren for being an out-of-touch academic with no practical experience. Oh, and did I mention he's male?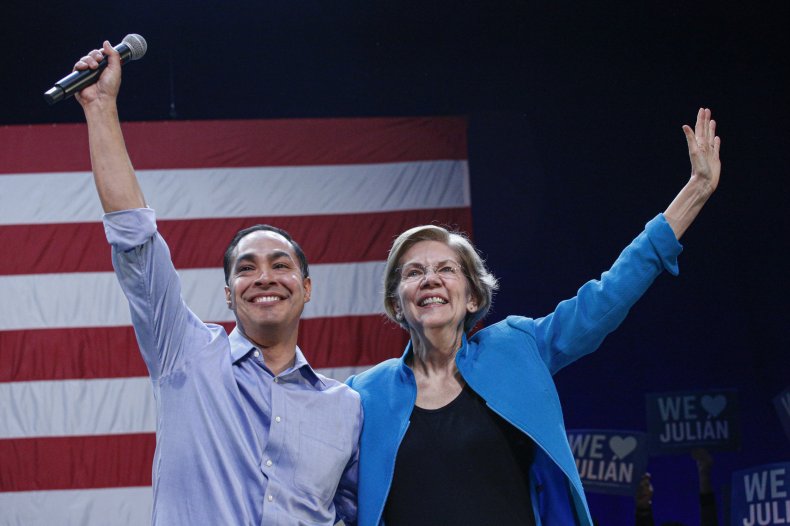 Michael Bloomberg/Cory Booker
Why it Might Work: Okay, Bloomberg's got more money than God, but then so did Jeb Bush's campaign. Money only goes so far. Bloomberg's going to have trouble winning over the more liberal wing of the party, with whom Booker's in good standing, and Bloomberg is weakest in the Deep South and the upper Midwest, both areas where Booker's strong. He's particularly strong with African-Americans, a critical piece of the Democrat coalition, and one where Bloomberg's had issues—both because of his "stop-and-frisk" policy as NYC mayor and his patronizing description of Booker as "well-spoken." They have a lot in common. Both were successful mayors of northeastern cities. They can get over whatever bad feelings may exist. As a bonus, Bloomberg admitted to the AP, "...yelling and screaming with 25,000 people in front of me. I'm just not comfortable doing that, that's not my strength..." It is Booker's. He's a bring-down-the-house speaker.
Amy Klobuchar/Beto O'Rourke
Why it Might Work: In some ways, Amy and Beto are alike—they're both smart, likable, competent, and probably should have done better than they have so far. Beto wasn't quite ready for prime time, but he did pretty well in Texas, no easy place for Democrats. He brings youth, regional strength, is more acceptable to the liberal wing of the party, and for those dinosaurs that consciously or subconsciously have trouble voting for a woman, he has a Y chromosome. Columnist Jennifer Rubin called the two "a study in contrasts," in terms of style and appeal. Maybe this would be a case of opposites attract.
Pete Buttigieg/Deval Patrick
Why it Might Work: I was tempted to say Pete Buttigieg/Pete Buttigieg here, but that would be unkind. Buttigieg is strong with old white, women voters. There's not a lot of research yet on Patrick, but presumably as a claimant to the Obama legacy, he'd be strong on the coasts and with voters of color. But Pete has a very thin resume and some of it's not that saleable to Democrats, e.g., his work at McKinsey. Patrick's age, 63, is a nice complement to Buttigieg's youth. Patrick's well connected inside the Democratic machine—a constituency Buttigieg's alienated with his shots at other candidates. Patrick could help heal that relationship.
And Tom Steyer?
Sorry, Tom, but someone has to go home alone.