Democratic Political Consultant James Carville Says Party's 'Urban Smugness' Hurts Them
Democratic political consultant James Carville said Wednesday that the Democratic Party's "metropolitan arrogance" and "urban smugness" can make voters feel disconnected and hurt politicians in the 2022 midterm elections.
Speaking to CNN's Chris Cuomo on Wednesday, Carville said Democrats should "speak plain English" and appeal to all Americans – including those who live in both rural and metropolitan areas.
"The nature of being a Democrat is you respect everybody and particularly respect people's labor. So often, Democrats come across with this metropolitan arrogance or urban smugness that people feel, and it hurts us. And by the way, it even hurts us with people that live in cities that don't speak this jargony faculty lounge language," Carville said.
Carville, who served as Bill Clinton's 1992 presidential campaign manager, has frequently been an outspoken critic of the Democratic Party's "wokeness" and self-described "messaging problem."
In an interview with Vox News last month, Carville complained about the Democratic party's inclination to use "faculty lounge" politics. In other words, the political consultant said he believes Democratic leaders often get too caught up in using language that doesn't appeal to the everyday American.
"Wokeness is a problem and everyone knows it," Carville said, before criticizing the left for participating in "cancel culture."
"I always tell people that we've got to stop speaking Hebrew and start speaking Yiddish. We have to speak the way regular people speak, the way voters speak. It ain't complicated. That's how you connect and persuade. And we have to stop allowing ourselves to be defined from the outside," Carville added.
Carville warned that unless Democrats get the right messaging across, the party could suffer and lose control in upcoming elections.
"If Democrats want power, they have to win in a country where 18 percent of the population controls 52 percent of the Senate seats. That's a fact. That's not changing. That's what this whole damn thing is about," Carville said last month.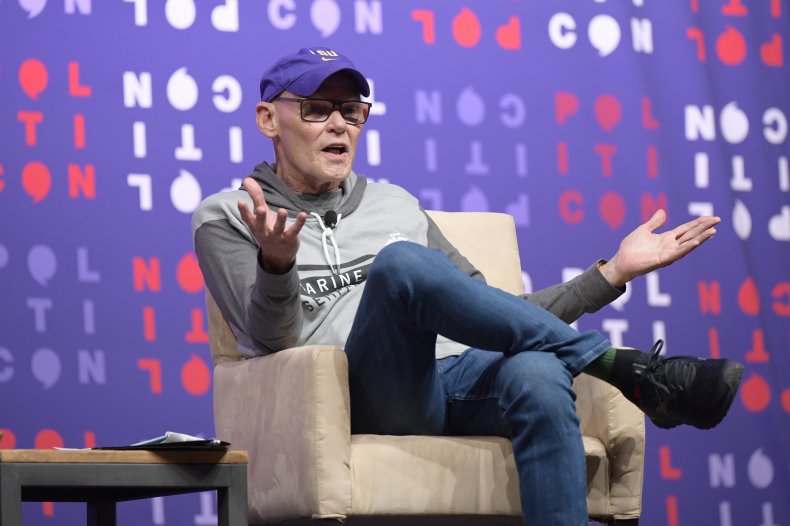 Currently, Democrats control the House, Senate and presidency. However, Republicans are zeroing in on the 2022 midterms as an opportunity to take back the House, when over 50 seats will be up for grabs.
Earlier this month, the National Republican Congressional Committee expanded their list of seats that the GOP is looking to take over in 2022, and warned that the party is "on the offense."
"Republicans are on offense all across the country," NRCC Chairman Tom Emmer said in a statement. "Every House Democrat is facing an uphill battle having to defend their toxic socialist agenda that prioritizes trillion-dollar tax hikes on the middle class, opens our borders, closes our schools and defunds the police."
On Wednesday, Carville said Democrats have to take "every chance" they can to be effective communicators and persuade Americans into keeping the party in power.
"We have to be communicators, and we have to take every chance to communicate as precious, and communicate with everybody and don't be so smug about everything," Carville said.