2019 Democratic Primary Year in Review: Candidates, Highlights and Controversies
As 2019 comes to a close, the nation's attention is turning to the 2020 presidential race.
But the country is still many months away from having an official Democratic nominee to take on President Donald Trump in the general election. Plus, there are still more than a dozen Democratic candidates running for the White House. And if 2019 was any indication, a lot is likely to happen between now and Election Day next November.
Here's a year in review of the 2019 Democratic primary contest:
Nearly 30 Democrats Launch White House Bids
Twenty-eight people mounted Democratic primary campaigns for president in 2019. It was the largest field of candidates in a presidential election in over 40 years. Now, as the year comes to a close, just 15 remain.
The candidates continuing their campaigns into 2020 are Michael Bennet, Joe Biden, Michael Bloomberg, Cory Booker, Pete Buttigieg, Julián Castro, John Delaney, Tulsi Gabbard, Amy Klobuchar, Deval Patrick, Tom Steyer, Bernie Sanders, Elizabeth Warren, Marianne Williamson and Andrew Yang.
One of the most surprising exits from the race was Senator Kamala Harris. The California lawmaker suddenly ended her promising candidacy in early December, telling supporters that it "one of the hardest decisions" of her life.
Harris had been consistently polling among the top five candidates at both the national and state levels. She had elite endorsements and was once hailed as the "female Obama." But her campaign was running dangerously low on money, and she conceded that her team did not have the financial resources to continue into 2020.
Another notable exit was former Texas congressman Beto O'Rourke. O'Rourke energized Democrats in his 2018 Senate race against Republican Ted Cruz, as his impressive fundraising numbers and large crowds in a reliably red state garnered national attention. But his presidential campaign was unable to match the enthusiasm for his Senate run, and he dropped out in November.
Here's the total list of candidates who ended their White House bids in 2019, in addition to Harris and O'Rourke: Montana Governor Steve Bullock, New York City Mayor Bill de Blasio, New York Senator Kirsten Gillibrand, former Colorado Governor John Hickenlooper, Washington Governor Jay Inslee, Florida mayor Wayne Messam, Massachusetts Representative Seth Moulton, former West Virginia Senator Richard Ojeda, Ohio Representative Tim Ryan, former Pennsylvania Representative Joe Sestak and California Representative Eric Swalwell.
Debate Highlights and Controversy
So far, some of this past year's biggest moments in the Democratic race came from the six televised debates held by the Democratic National Committee (DNC). But many candidates have complained that the debate format has influenced the race too much.
"The debate stage became the most important thing, and I think that's why 13 of them are gone," veteran Democratic strategist Joe Trippi told Newsweek, referring to the candidates who dropped out of the race. "That may turn out to be the mistake of the [election] cycle. The thing we learn from about the cycle is that we can't do that."
The debates allowed for breakout moments for some campaigns. During the first debate, in June, Harris made headlines for her attacks on Biden's busing record and her "that little girl was me" moment. Klobuchar and Buttigieg both shined in the November debate. And while he was already a front-runner, Biden had his best debate performance in December.
But after the Democratic field continued to shrink in size and diversity, candidates began to criticize the DNC. The December debate featured just seven candidates, and Andrew Yang was the only candidate of color to qualify for the event.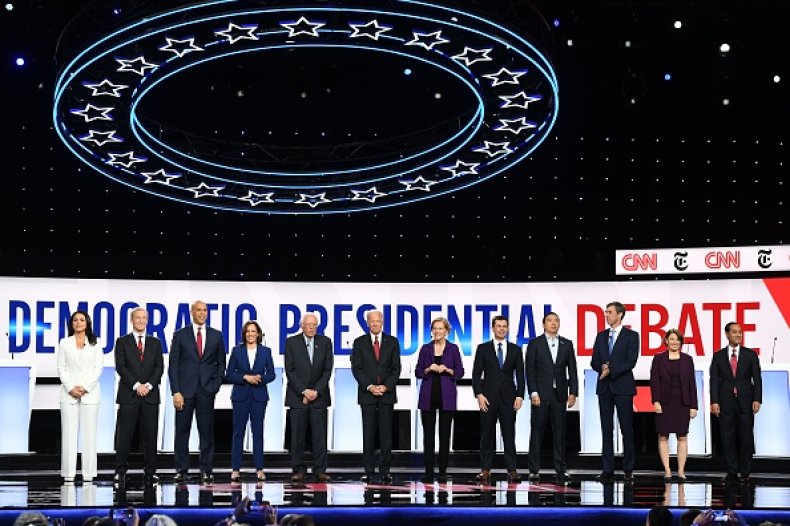 Led by Booker, who failed to qualify for the December debate, nine candidates recently sent a letter urging the DNC to ease up on the qualification thresholds for the 2020 debates. The letter read: "Candidates who have proven both their viability and their commitment to the Democratic Party are being prematurely cut out of the nominating contest before many voters have even tuned in—much less made their decision about whom to support."
The DNC defended the qualification process and once again upped the requirements to participate, effective in 2020. For the January debates, candidates need to receive at least 5 percent support in four qualifying polls (a 1 point increase from the previous threshold) and 225,000 donations from unique individuals (a 25,000 increase from the last debate).
What the Polls Said
The polls have consistently shown Biden, Warren and Sanders as the leading trio of Democrats seeking their party's nomination.
Biden, who joined the race later than his top rivals, has been the front-runner ever since announcing his candidacy in April. Warren and Sanders are often battling it out for second place but occasionally take the top spot in national and state surveys.
One of the more surprising candidates to emerge as a potential front-runner is Buttigieg. The South Bend, Indiana, mayor is polling just behind the top three and is even topping some polls in early-voting states like Iowa. A CNN/Des Moines Register poll from November showed Buttigieg in first place with 25 percent support in the state, followed by Warren, Biden and Sanders.
Another trend in this year's polling was that many Democratic challengers were shown beating Trump both at the national level and the state levels. In December, a national Quinnipiac University survey showed Trump trailing six Democrats: Biden, Bloomberg, Buttigieg, Klobuchar, Sanders and Warren.
But that's not to say that the president isn't a threat. Trump is still polling very well among Republicans, and his job approval rating has remained relatively steady since taking office and even through his impeachment.
The Issues
The Democratic primary has highlighted a central division between the race's more moderate candidates like Biden and Buttigieg and the progressives like Warren and Sanders. Two areas that seem to be causing the most friction between candidates are health care and the economy.
Earlier this year, it seemed as if Medicare for All was going to be the Democratic Party's position on health care reform in the 2020 campaign. But after Biden entered the race and began emphatically campaigning against Medicare for All, the party's stance has become unclear. Now, about half of the candidates support some version of Medicare for All, while the other half prefers a public option.
Economic policy is just as muddled. Some candidates support a wealth tax on America's richest citizens, but others say that's not the best approach and see targeting tax loopholes as a better option. Outlier candidates like Yang and Williamson say that the government should pay a universal basic income to every U.S. adult. There's even more disagreement with how the government should regulate giant tech companies like Facebook and Amazon.
But there are many areas where almost all of the candidates have shown agreement. Every candidate still in the running supports some kind of federal assault weapons ban. Nearly a dozen candidates support the Green New Deal, a congressional resolution on climate change. Twelve candidates have said they support legalizing marijuana, and many are calling for past convictions for marijuana possession to be expunged.