Democratic Delegate Count Update: Primary Results For Joe Biden, Bernie Sanders, and Tulsi Gabbard
Former Vice President Joe Biden has expanded his delegate lead in the Democratic race after notching four decisive victories in the latest round of primaries.
As of Wednesday morning, Biden was in first place with 823 delegates. Vermont Senator Bernie Sanders followed closely behind with 663 delegates. Hawaii Representative Tulsi Gabbard, the only other candidate remaining in the race, still only had two delegates after failing to pick up any more during the March 10 primaries.
The graphic below, provided by Statista, illustrates the delegate count as of March 11, 6 a.m. ET.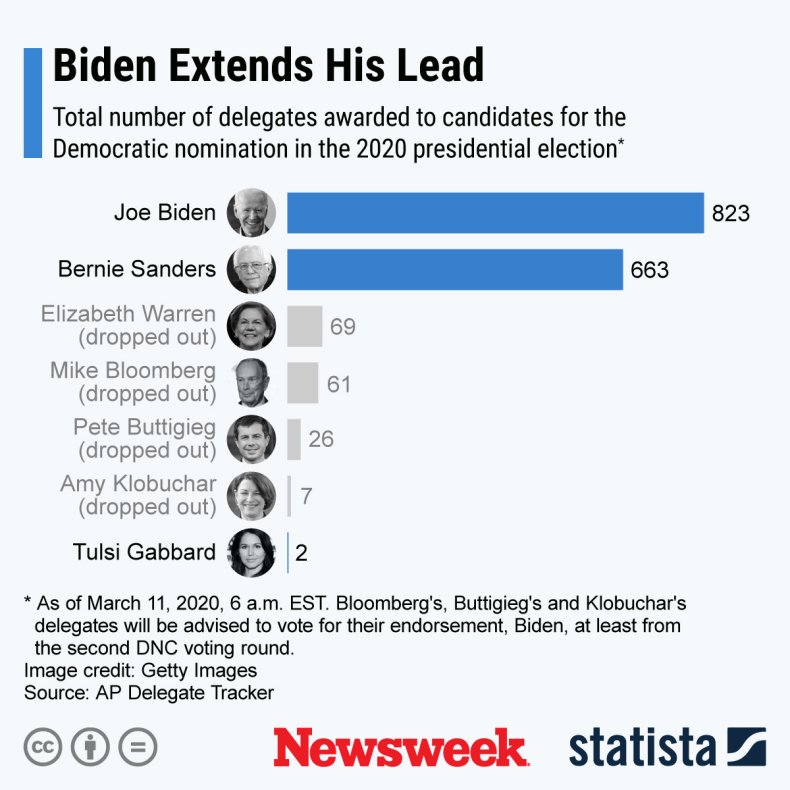 Biden and Sanders, who have been battling for front runner status ever since a slew of candidates dropped their White House bids earlier this month, entered Tuesday night separated by fewer than 100 delegates.
But the former vice president picked up three quick wins in Michigan, Missouri and Mississippi, which were some of the largest states in play on March 10. Michigan was the biggest electoral prize of the night with 125 delegates to allocate. Sanders' loss in the Great Lakes State was disappointing considering he had an upset win there in 2016 against Hillary Clinton.
According to the New York Times, Biden won 71 delegates in Michigan, 40 in Missouri and 31 in Mississippi. The former vice president also notched a win in Idaho, collecting the state's 11 delegates.
Sanders was victorious in just one state as of Wednesday morning: North Dakota. But the senator only gained eight delegates from the win.
But there's still one state that has not reported results: Washington. As of Wednesday morning, the race was still too close to call as Sanders narrowly led Biden by just more than 2,000 votes with 67 percent of precincts reporting. The vote-by-mail state has 89 delegates to allocate.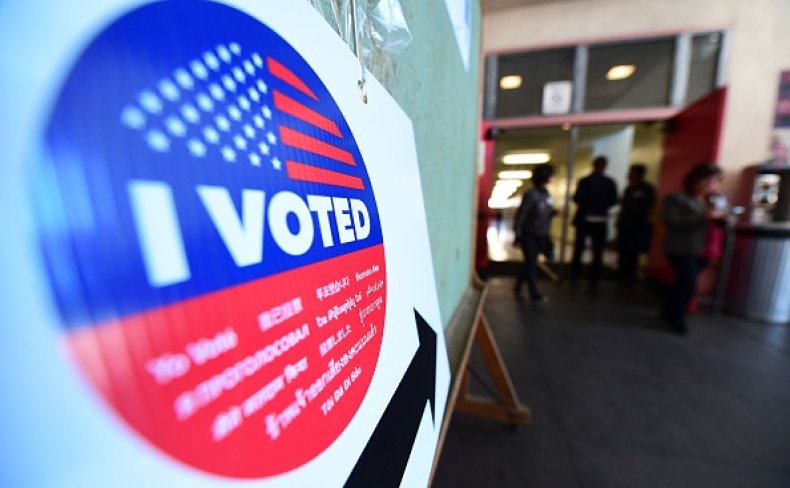 The remaining Democrats are battling for a majority of 3,979 pledged delegates, meaning the magic number to secure the nomination is 1,991 delegates.
If no candidate has a majority of delegates, there could be a contested convention. That would mean a second round of voting at the convention with superdelegates. Experts say such a scenario could throw the Democratic Party into chaos.
But Sanders said earlier this month that he will drop out of the race if Biden has a plurality of delegates heading into the convention. He told MSNBC that he thinks a contested convention would be "a real, real disaster."
After March 10, there will still be more than 2,000 delegates up for grabs. But Biden is likely to come out on top in four delegate-rich contests in Florida, Illinois, Ohio and Arizona. According to FiveThirtyEight forecasters, he now has a clearer path to the nomination.
Biden stressed unity in his speech on Tuesday night and thanked Sanders and his supporters for "their tireless energy and their passion."
"We share a common goal, and together we'll defeat Donald Trump. We'll defeat him together," the former vice president said.