Democratic Rep Blames Trump for 'Collateral Damage' of Ukraine Plane Crash, Urges Diplomacy With Iran Rather Than Military Strikes
U.S. Representative Jackie Speier (D-Calif.) claimed Thursday that President Donald Trump could be to blame for the fatal crash of a Ukraine passenger jet in Iran on Wednesday, due to "collateral damage" caused by his "provocative" killing of Iranian General Qassem Soleimani.
Speier made the remarks during an interview with CNN's Wolf Blitzer, on the Thursday edition of his show The Situation Room. The congresswoman confirmed that she had heard classified details concerning the claim by U.S. officials that the plane was accidentally brought down by an Iranian anti-aircraft missile strike. She insisted Trump would be responsible for the crash if the claim proves to be true.
"If what is being projected is true, this is yet another example of collateral damage from the actions that have been taken in a provocative way by the president of the United States," Speier said.
All 176 people aboard the Ukraine International Airlines flight were killed in the crash. Blitzer asked Speier if she thought "heightened tensions" would be caused by the Iranian "miscalculation" of shooting down the plane.
"I would say that the continued saber-rattling by the president doesn't help us," replied Speier. "I also feel strongly that by taking out General Soleimani, that did not somehow rid us of any of the planning that the Iranians would be doing or that the Shia militia throughout the region is also engaged in doing."
Although she characterized the Iranians as "bad actors," Speier suggested that the strike against Soleimani was counterproductive to the goal of seeking peace.
"Iran has been a bad actor. Soleimani was a bad actor," said Speier. "But there are many people in that region and around the world who are bad actors. We have to find a way to live together and attempt to move towards peace."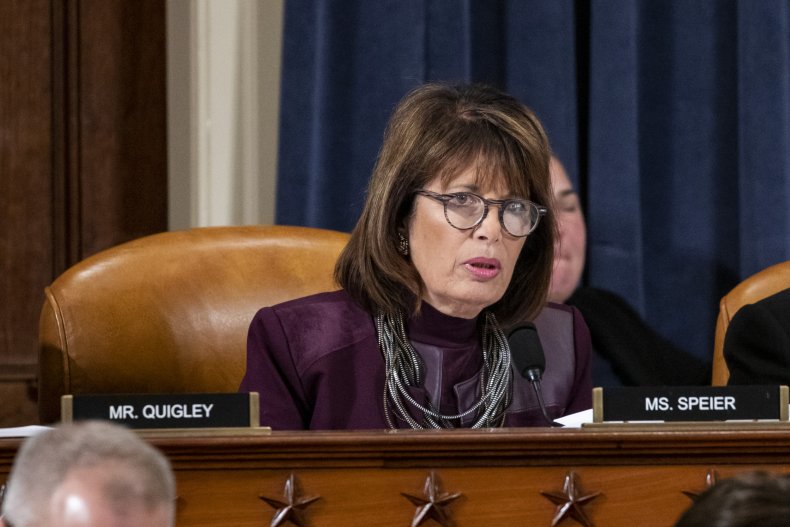 Speier added that she believes the "bellicose" Trump would be well advised to de-escalate the situation and negotiate a diplomatic solution with Iran, including entering into a new nuclear weapons agreement. Trump withdrew from the agreement that had been made with Iran under the administration of former President Barack Obama.
"This needs to be de-escalated. The president needs to stop saber-rattling," Speier said. "He needs to find a way to use our allies to find a means, by not just tamping this down, but getting Iran to the table where we can renegotiate a joint agreement on the use of nuclear weapons and move forward in a manner that is not as bellicose as the president has been as he addresses Iran."
Newsweek reached out the White House for comment but did not receive a response in time for publication.
Speier has served in Congress since 2008. She began her political career as an aide to California Congressman Leo Ryan, who was assassinated in 1978 after being ambushed by followers of Jim Jones during a fact-finding mission to the cult leader's Jonestown compound in Guyana. Over 900 members of the cult died by cyanide poisoning on the same day. Speier accompanied Ryan on the trip and survived being shot five times in the ambush.