Democratic Rep. Calls Local GOP Leader 'Pathetic' For Claiming Her Son Was Killed in 'Drug Deal Gone Bad' by 'Thug Friends'
Georgia Republican Paul Maner posted on Facebook and Twitter Monday that the son of Georgia Democratic Representative Lucy McBath had been killed in a "drug deal gone bad." Maner also referred to McBath as "lunatic" for her stance on gun control.
McBath ran for office after her son, Jordan Davis, was shot and killed in Jacksonville, Florida in 2012 by a man who claimed the vehicle Davis occupied along with three other teenagers was playing their music too loudly.
"A local GOP official said my son was killed in a 'drug deal gone bad,'" McBath tweeted. "He later said Jordan was murdered by one of his 'thug friends.' Paul -- let me be clear: This is pathetic."
Maner's original post carries a link to a video from the group Secure America's Borders, which shows Virginia State Police calling on houses before a Second Amendment Rally in Richmond. Police can be heard to say they were visiting a person's home in response to a "tip" that they could be plotting a violent act. In the video, the person allegedly filming can be heard to state their support for the Second Amendment and rebuffing the officers.
"THIS is what the lunatics like Lucy McBath for Congress Rep. Lucy McBath are all about," Maner tweeted. "If her son hadn't been involved with a drug deal gone bad, her son might still be alive today. Her solution, to disarm everyone who is a law abiding citizen."
Newsweek attempted to contact Maner for comment but did not receive a response in time for publication.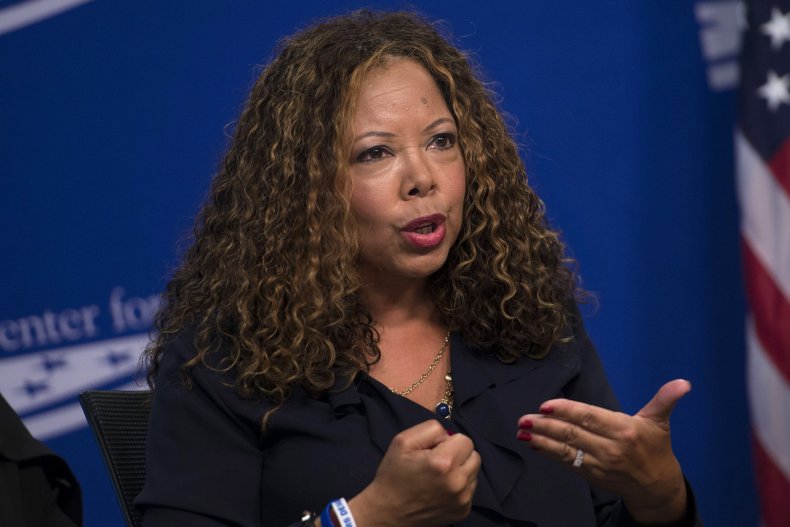 McBath was a co-sponsor for legislation passed by the House of Representatives in February 2019 to ensure that background checks would be integral to all firearm sales.
"Today marks a pivotal moment in the fight to reduce gun violence and to help ensure that firearms are not falling into the wrong hands," McBath said in a press release at the time. "The overwhelming bipartisan public support for universal background checks reflects the power of advocacy, and the incredible persistence of the survivors, family members, and students who have shared their stories as they call for common-sense gun safety solutions and demand that we act to address gun violence."
The murder of McBath's son gained national attention and became known as the "Loud Music Shooting." Jordan, who was 17 at the time of his death, was killed by Michael Dunn. Dunn appealed the original guilty verdict handed down in the case by claiming he acted in self-defense.
"I thought I was going to be killed," Dunn said on the witness stand in 2014. While Dunn's lawyers claimed that Dunn saw what appeared to be a gun barrel or lead pipe in the back of the vehicle Jordan was in, police found no weapons in the car.
Dunn's appeal was denied in 2016 and he was sentenced to life without parole in prison.