Representative Gerry Connolly (D-VA) proposed stripping J. Edgar Hoover's name from the Federal Bureau of Investigation's (FBI) headquarters building in Washington, D.C,, and called him a "malign character" with a history of racism, homophobia and misogyny.
On Saturday, Connolly appeared in a video message on MSNBC's The Cross Connection advocating for the change after he introduced legislation to remove the former FBI director's name on February 25.
"I introduced [legislation] to form a national commission to rename the J. Edgar Hoover building...we need to do this because frankly, J. Edgar Hoover was a malign character in American history," he told the news outlet.
"He was a racist who went after Martin Luther King in extraordinary ways. He was a homophobe, a misogynist. He was somebody who even denied the existence of the mafia for decades, allowing the organized crime to get a toehold in the United States,' he added.
In a statement shared with Newsweek Saturday, Connolly added that Hoover "abused his power and trampled the civil liberties of Dr. King, anti-war protesters, his political rivals, and too many others."
"He is no role model for any time, and certainly not this one. Congress must right this wrong and rename this building," he said.
During his time as director of the FBI, Hoover, who died in 1972, was consistently hostile toward Dr. King and placed the civil rights leader under surveillance and deployed agents to find damaging information on him, according to Stanford University.
Furthermore, in an editorial published in January, the Chicago Sun-Times reported that documents from 1971 showed that Hoover wanted to "disrupt, misdirect and otherwise neutralize," African-American organizations and powerful Black leaders.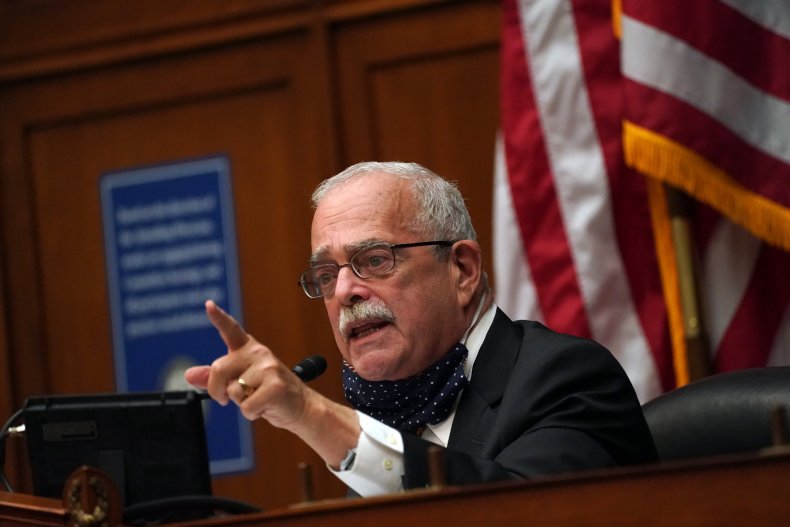 In light of this history, Connolly's legislation proposes the forming of a national commission comprised of nine members with "expertise in U.S. Government history or social justice issues," to rename the FBI building.
Recommendations for a new name would be based on the values of the FBI, as well as racial, ethnic and gender diversity. The new name would also need to serve as an "inspiration" to FBI employees and U.S. citizens, the legislation states.
On Saturday, MSNBC host Tiffany Cross agreed with Connolly and said she believes the building should be named after voting rights activist Stacey Abrams.
"Changing the name of our premier law enforcement agency so it doesn't honor a racist tyrant who trampled civil liberties, I don't know, seems like a pretty logical step to me," Cross said.
"How about the Stacey Abrams Building?" she added. "If one woman could swear off against a whole system that tried to suppress, oppress, and depress, descendants of the people who built this country for free...then surely we can dedicate the building representing equal protection under law, after a real political warrior."
Abrams, a former Democratic gubernatorial candidate in Georgia, has been lauded for her work to tackle voter suppression and register hundreds of thousands of new voters.
In response to the proposed name change, a spokesperson for the FBI told Newsweek that the agency wasn't responsible for naming the building after Hoover in the first place. Instead, the name was signed into law by former President Richard Nixon after Hoover's death in 1972.
"The FBI is very much committed to all the communities we serve. We are bound by an oath to serve all citizens with equal compassion, professionalism, dignity, and respect," the agency told Newsweek.
Updated 5:06 PM ET, with additional information. Updated 3/16/21 9:45 AM ET with a quote correction from "maligned" to "malign," and a statement from the FBI.