Democratic Rep Posts 'Our Office Stands With Chrissy Teigen' Sign After Trump Twitter Standoff
The office of Ayanna Pressley, a representative of Massachusetts and a member of "The Squad," posted a sign backing Chrissy Teigen after the model and television show host got in a Twitter feud with President Donald Trump.
Sarah Groh, an aide to Pressley, posted a picture of a sign hanging outside the politician's office in Washington, D.C., on Tuesday that read "Our office stands with Chrissy Teigen."
The public standoff between Trump and Teigen began Sunday evening, when Trump took aim at the TV personality and her husband, grammy award winning singer John Legend. In his tirade, the president described the musician as "boring" and Teigen as "filthy mouthed" after the two appeared on an MSNBC show on criminal justice reform.
Trump appeared to be upset that his administration was not given enough credit on NBC's Nightly News with Lester Holt for helping to pass the First Step Act in 2018.
Trump and Pressley have also gone head to head in the past. In July, the President told the four freshman representatives to "go back" to the "places from which they came."
"So interesting to see 'Progressive' Democrat Congresswomen, who originally came from countries whose governments are a complete and total catastrophe, the worst, most corrupt and inept anywhere in the world (if they even have a functioning government at all), now loudly and viciously telling the people of the United States, the greatest and most powerful Nation on earth, how our government is to be run," the president wrote in a now-deleted tweet.
Though Trump did not specifically name names, it was assumed that his rant was aimed at four women of color elected to office last November, known informally as "the squad"—Alexandria Ocasio-Cortez of New York, Rashida Tlaib of Michigan, Ilhan Omar of Minnesota and Pressley of Massachusetts.
"Why don't they go back and help fix the totally broken and crime infested places from which they came," he continued. "Then come back and show us how it is done. These places need your help badly, you can't leave fast enough. I'm sure that Nancy Pelosi would be very happy to quickly work out free travel arrangements!"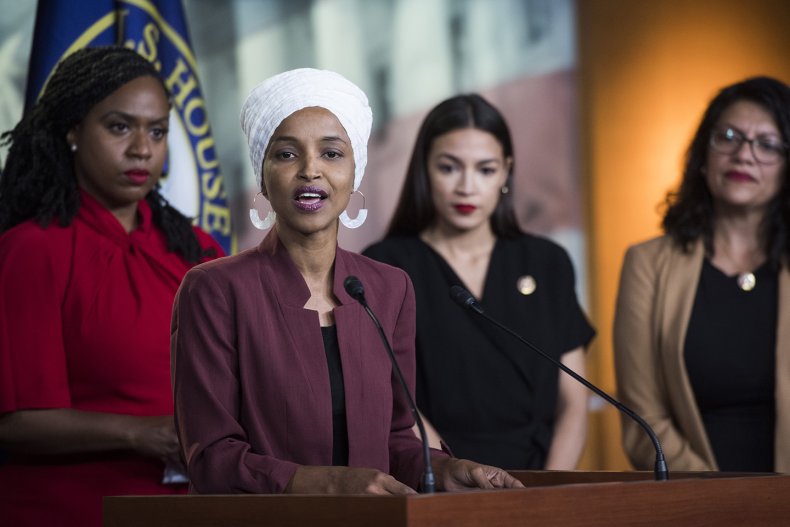 His remarks caused an explosion on Twitter, with trending hashtags #RacistInChief and #TrumpIsARacist.
"Imagine being president of a whole country and spending your Sunday night hate-watching MSNBC hoping somebody—ANYBODY—will praise you," Legend tweeted early Monday morning in response to Trump's attacks against him and his wife. "Melania, please praise this man. He needs you."
Teigen, however, took it a step further.
"My heart stopped because at that moment you know that you're about to get just the wildest group of people ever," Teigen told Ellen DeGeneres during an appearance on Ellen Wednesday.