Democratic Representative Urges Remote Voting in Congress Amid Coronavirus Pandemic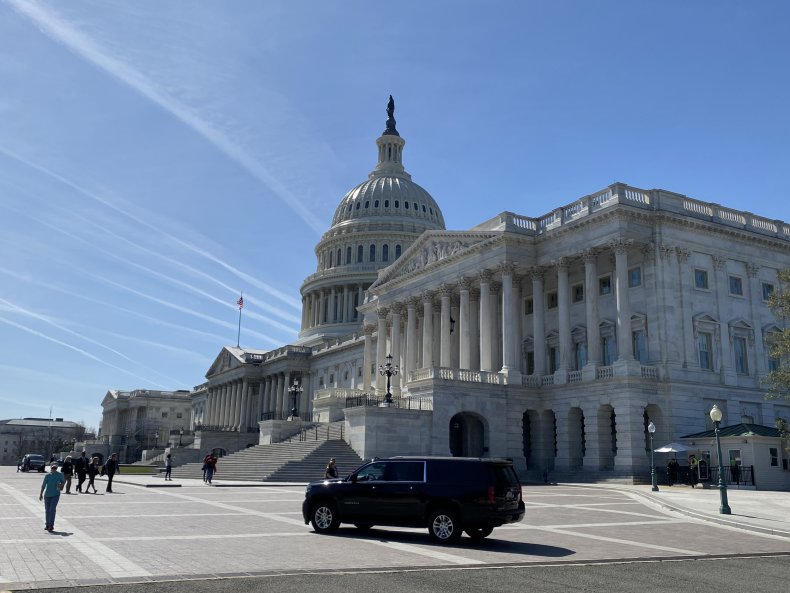 A Democratic congresswoman urged Congress to implement remote voting during the novel coronavirus pandemic.
"I am calling on Congress tonight, on leaders of both parties, to adopt a remote voting procedure to ensure that if we're not able to travel, if this public health crisis worsens...we're still able to take votes," California Congresswoman Katie Porter said to CNN's Chris Cuomo Friday.
"We're asking the American public to adopt public health measures and it's really important...that Congress adopt public health measures itself. Congress itself has been flatfooted during this crisis in terms of how we deal with things."
Porter said that her constituents in California are depending on her to vote on their behalf and she wants to make sure she can continue to do so as COVID-19 continues to spread in her home state. The congresswoman also said that there are no obstacles in the way that would stop Congress from implementing this measure.
"There is no legal barrier that I'm aware of to remote voting. It could be adopted tonight, this evening, as part of an updated rules package in the House, and then can be invoked if necessary."
While the Capitol building is currently closed to tourists, the many lawmakers who inhabit the space where voting and debate takes place makes it difficult to put the social distancing recommended by health officials into practice, according to Porter.
"You've seen the House floor," she explained. "It's a scrum of people. 435 members and 150 staff in close quarters using the same voting machines. We're asking American businesses, schools, non-profits, local governments to be flexible and to obey public health guidelines.
"Congress should be no exception. We should be willing here to be flexible and adopt a remote voting procedure that can be invoked if necessary. I don't think there is any excuse for us to disobey the public health guidelines and to refuse to use technology to adapt to this public health emergency when at the same time that businesses and communities do exactly that."
The House of Representatives passed a relief bill early Saturday that, among other things, will allocate $1 billion in testing for Americans without insurance, offers payroll tax credits, and temporarily suspends work requirements for the Supplemental Nutrition Assistance Program. The bill still needs to be sent to the Senate for approval.
President Donald Trump declared a national emergency Friday in order to increase funding to combat the pandemic. As of this publication, there have been 2,572 confirmed cases of COVID-19 in the U.S. that have resulted in the deaths of 51 people.