Democratic Republic of Congo Ends Ebola Outbreak That Killed 33 People
The Democratic Republic of Congo announced Tuesday that the Ebola outbreak that killed 33 people since April has ended.
The declaration came six weeks after the country had witnessed its last case of the virus, meaning the nation had reached the double incubation period needed to signal an end to the outbreak.
"After an observation period of 42 days during which no new confirmed cases have been observed, and in conformity with international health regulations, I declare today, July 24, 2018, that the epidemic of Ebola virus disease in the province in the Democratic Republic of Congo has come to an end," Health Minister Oly Ilunga said. "In total, after verification, the national coordinating committee recorded 54 cases, comprising 33 deaths and 21 survivors," Ilunga said.
The first case of Ebola occurred in the country's northwest in April. On May 8, an outbreak—the ninth in the country's last 40 years—was declared.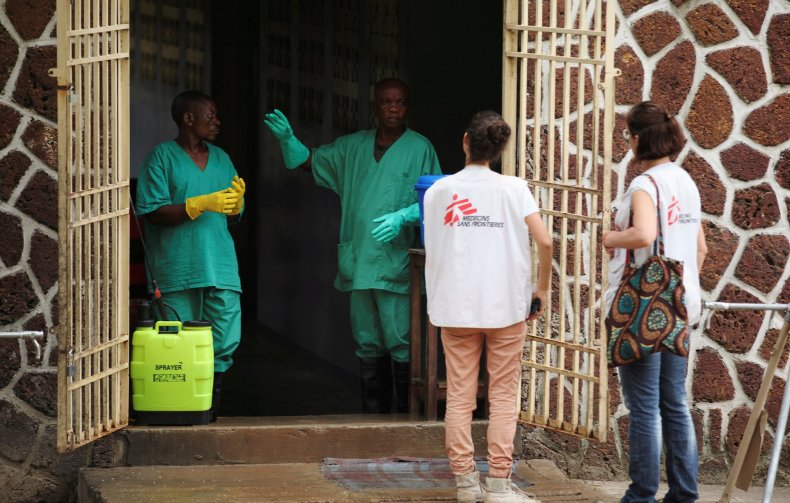 The discovery of Ebola cases in Mbandaka, a city that is linked to the capital city of Kinshasa by a river, particularly sparked concern among experts who feared the virus would spread quickly. The outbreak struck four locations and prompted fears that the disease could reach bordering nations.
In a swift response to the country's declaration, the World Health Organization (WHO) sent $2 million from its Contingency Fund for Emergencies and mobilized a team to help the government contain the outbreak. Médecins Sans Frontières (MSF) helped with containment efforts. More than 3,200 people were vaccinated in hopes of mitigating the virus, according to The New York Times.
Parties involved in the containment and eradication of the outbreak praised the international response, which was bungled during the 2014-2016 Ebola outbreak in West Africa.
"WHO moved quickly and efficiently. We demonstrated the tremendous capacity of the African region. More than three-quarters of 360 people deployed to respond came from within the region." WHO Regional Director for Africa Matshidiso Moeti said.
Despite the declaration, NBC News and Associated Press urged caution. "The danger is not completely over. Research shows that in some cases, Ebola survivors can infect people months later. Men can transmit the virus in their semen and now, doctors have confirmed that a woman who survived the 2014-2016 epidemic in West Africa probably infected her family," the report read.
The virus, which causes hemorrhagic fever, vomiting and diarrhea, is thought to be carried long distances by bats and spread to humans through infected bush meat.