Sen. Hirono Says Social Spending Bill Won't Add to Inflation as Manchin Voices Concerns
Hawaii Democratic Senator Mazie Hirono said that she disagreed with West Virginia Senator Joe Manchin over his concern that the Build Back Better Act will worsen inflation.
Earlier this week, Manchin, a moderate Democrat, signaled hesitation over supporting the spending bill due to inflation. Appearing on MSNBC on Saturday morning, Hirono addressed her Senate colleague's stance on the legislation.
"Senator Manchin right now seems again to say that he may not vote for this bill because of inflation. And senator, one of the things I often have conversations with is that people could care less about the price at the pump if they can't pay for childcare and get back to work. Can you speak to this?" host Maria Teresa Kumar asked Hirono.
"I agree with you, 4 million women left the workforce during the pandemic because they had [to] take care of their children and their families," Hirono said, noting that the legislation is focused on lowering the costs of childcare and pre-K.
"I disagree with Joe that Build Back Better is going to add to inflation. In fact, economists rarely agree about anything, but 12 Nobel science economists say that Build Back Better is actually going to not add to inflation and will be anti-inflationary over the long term."
"So we need to get on and pass the Build Back Better to lower costs for families and to address climate change and all of the other parts of the bill that will actually strengthen our families and our economy," Hirono added.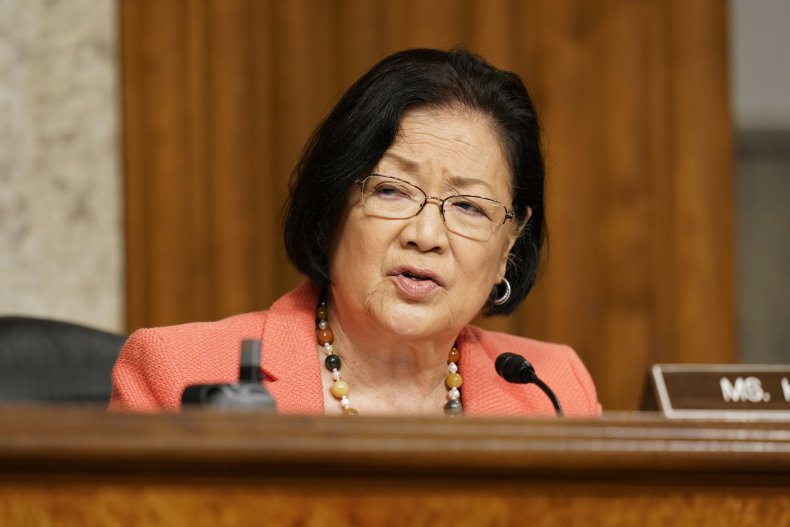 In a tweet on Wednesday, Manchin said "the threat posed by record inflation to the American people is not 'transitory' and is instead getting worse."
"From the grocery store to the gas pump, Americans know the inflation tax is real and DC can no longer ignore the economic pain Americans feel every day," he added.
He didn't mention the Build Back Better legislation directly, but earlier this month, Manchin said he would not support a version of the social spending bill "that risks hurting American families suffering from historic inflation."
On Friday, Stephen Moore, who previously served as an economic adviser to former President Donald Trump, said he believes record inflation will help Republicans kill Biden's spending plan.
In October, the Consumer Price Index was 6.2 percent higher compared with the same time last year, marking the biggest jump in 30 years.
But in September, a group of 15 Nobel Prize-winning economists said they believe the Build Back Better legislation will actually "ease" inflation.
"Because this agenda invests in long-term economic capacity and will enhance the ability of more Americans to participate productively in the economy, it will ease longer-term inflationary pressures," the economists wrote in a letter at the time.
Newsweek reached out to Manchin's office for comment but did not receive a response before publication on Saturday afternoon.