Democratic Senate Candidates Hold Edge in Funds, Polls Amid Sexts, Smears and Obscene Tweets
Democratic Senate candidates Cal Cunningham of North Carolina and Mark Kelly of Arizona are leading in polls and out-fundraising their Republican opponents as a sexting scandal, smears and obscene tweets plague their campaigns.
In the most expensive Senate race ever, North Carolina Republican Senator Thom Tillis' Democratic challenger Cal Cunningham raised $28.3 million between July 1 and September 30—more than four times the $6.6 million that Tillis drew during that same period.
Cunningham is also ahead of Tillis by four percentage points in the latest New York Times/Siena College poll released Wednesday. The poll shows that 41 percent of likely voters in the state supported the Democrat and 37 percent supported the Republican, while 15 percent were undecided.
The married Democratic candidate recently admitted to sending romantic text messages to a former female staffer who is not his wife. Tillis was diagnosed with COVID-19 one day after Cunningham's texts were revealed. The Republican was among the several prominent politicians that were infected with the virus after attending Amy Coney Barrett's official nomination at the White House late last month.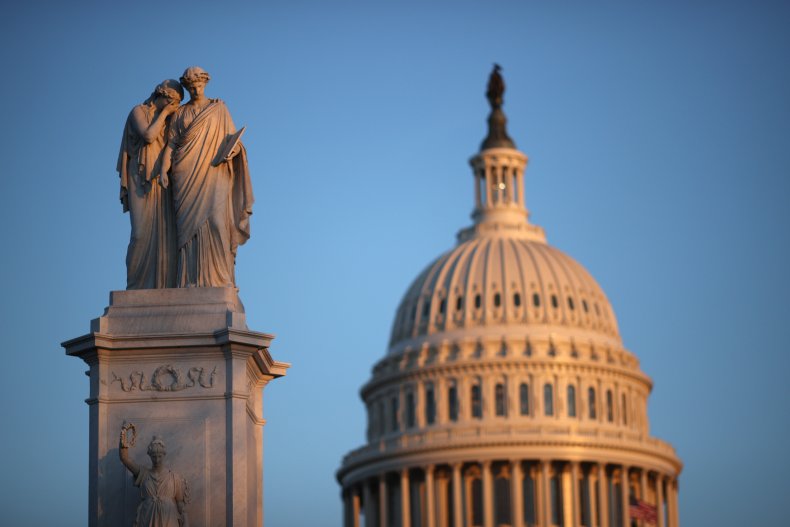 Results from other polls have similarly indicated that Cunningham walked away politically unharmed by the extramarital sexting scandal. A Monmouth University poll, released Tuesday, showed that while his favorability rating took a hit, his lead over Tillis grew from before the scandal emerged.
Meanwhile, in Arizona, Democratic Senate candidate Mark Kelly raised almost $39 million in the third quarter of 2020, $16 million more than his Republican opponent. Incumbent Senator Martha McSally raised nearly $23 million in the same period.
The fundraising figures were released on Thursday, shortly after Kelly apologized for a tweet posted by his deputy press secretary, T.J. L'Heureux, calling Chicago police "worthless f***ing pigs." L'Heureux's shared the tweet in August before he joined Kelly's campaign.
McSally seized on the controversy surfaced by a conservative website. "Mark continues to amplify the most hateful, anti-law enforcement ideas and rhetoric that disrespects and endangers our brave men and women in uniform," the Republican's spokeswoman Carolyn Anderegg said in a statement. "Mark continues to embrace open hostility toward law enforcement."
With three weeks until November 3, Kelly has also widened his lead over McSally to 10 percent in the latest Monmouth University poll released Thursday. 52 percent of registered voters in Arizona supported Kelly and 42 percent supported McSally. The results indicate a sizable shift toward Kelly, who led McSally by a slimmer margin—6 percent—in September and March. However, the poll found that Kelly's lead went back down to 6 percent under lower voter turnout scenarios.
The survey, conducted between October 9 and 13, before McSally smeared Kelly over the "pigs" tweet, doesn't provide a picture of how the controversy has impacted either candidate. However, some analysts have predicted that it is unlikely to harm Kelly because voters would be hesitant to believe a son of two cops would be hostile toward law enforcement.
Newsweek reached out to Cal Cunningham and Mark Kelly's campaigns for comment.