Democratic Senator Contests Bernie Sanders' Criticism of COVID Relief Bill: 'Just Not Accurate'
Virginia Senator Mark Warner pushed back against Vermont Senator Bernie Sanders' critical evaluation of the latest coronavirus relief bill, which underwent months of slowed negotiations prior to its introduction last week.
"Senator Sanders, respectfully, is not involved in these negotiations and his characterization is just not accurate," said Warner, a Democrat, during an interview with CNN's Jake Tapper on the network's State of the Union program Sunday morning.
A bipartisan group of senators, including Warner, recently introduced a proposed plan that aims to offset ongoing economic consequences of the COVID-19 pandemic. The proposal suggests allocating $908 billion in federal funds to raise weekly unemployment benefits, subsidize state and local governments, and replenish resources offered to small businesses through the Paycheck Protection Program.
West Virginia Senator Joe Manchin, a Democrat, unveiled details via Twitter about the bill last week. Additional funding would support education, COVID-19 vaccine development and distribution, child care, rental housing assistance and a continued student loan moratorium.
Sanders, an independent, took issue with liability provisions included in the proposal, which offer businesses and other institutions temporary immunity from lawsuits related to the pandemic. He also joined many others in criticizing its failure to provide Americans with direct stimulus payments in a statement issued Friday.
"Given the enormous economic desperation facing working families in this country today, I will not be able to support the recently announced Manchin-Romney COVID proposal unless it is significantly improved," Sanders said in the statement.
Utah Senator Mitt Romney, a Republican, helped introduce the bipartisan bill last week alongside Manchin and their colleagues.
"Unfortunately, despite long-time Democratic opposition, this proposal provides 100% legal immunity to corporations whose irresponsibility has led to the deaths of hundreds of workers," Sanders continued. He argued that liability provisions would "encourage corporations to avoid implementing common sense safety standards needed to protect workers and consumers," and pose ongoing risks to employees going forward.
In response to Sanders' criticism, Warner said Sunday morning: "We are looking at trying to give some level of a 'time-out' to allow states, if they want, to put in place...COVID standards. That part of the discussion is vigorous and ongoing.
"And those who want the direct stimulus checks, that will be something that President-elect Biden will grapple with," he continued.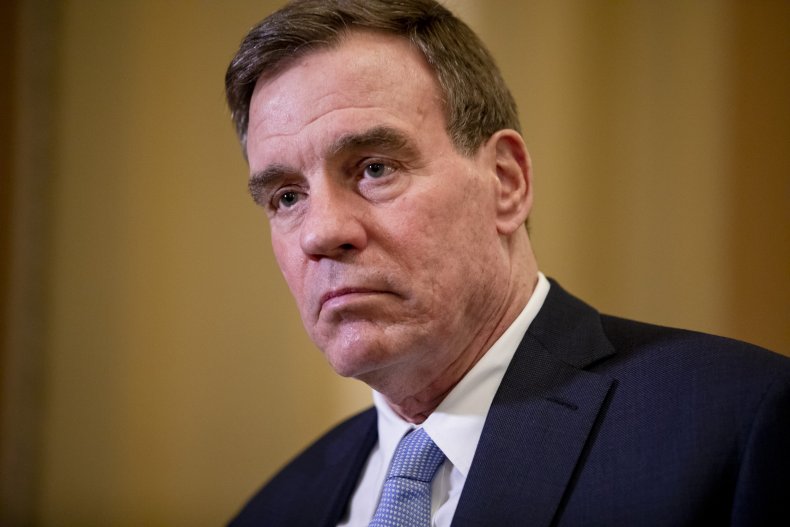 Discussions about another stimulus package have persisted for months, but reached a standstill ahead of the November election after congressional Republicans and Democrats failed to agree on key initiatives.
Republican Senate Majority Leader Mitch McConnell quickly rebutted the bipartisan proposal last week and countered it with a stripped-down version, similar to the "skinny" relief proposals that failed to gain traction in Congress earlier this fall. During earlier negotiations, McConnell said he would not support a relief bill that does not include liability protections for businesses, schools and other entities.
Newsweek reached out to Warner and Sanders' offices for further comments, but did not receive replies in time for publication.