Democratic Senator Claims Russian Election Hacking Is Underway in Florida, but State Officials Say There's Zero Evidence
Democratic Senator Bill Nelson of Florida claimed Wednesday that Russia had already infiltrated some parts of the state's voter registration system, but local, state and national officials have since said there has been zero evidence to support his claim.
"They have already penetrated certain counties in the state, and they now have free rein to move about," Nelson told the Tampa Bay Times Wednesday before a campaign event in Tampa, noting he was a member of the Senate Subcommittee on Cybersecurity. When pressed for more details the day before, he said the matter was "classified."
Offering few details as to what he was referring to, Nelson's claim left some local and state agencies both concerned and confused. While Russian efforts to subvert the 2018 midterm elections have targeted some candidates, there have been no reported cases of foreign interference in Florida.
In a statement to Newsweek Thursday, the Florida Department of State said it had received "zero information from Senator Nelson or his staff that support his claims."
"Additionally, the Department has received no information from the U.S. Department of Homeland Security, the Federal Bureau of Investigation or the Florida Department of Law Enforcement that corroborates Senator Nelson's statement and we have no evidence to support these claims," Florida State Department spokeswoman Sarah Revell said in an email. "If Senator Nelson has specific information about threats to our elections, he should share it with election officials in Florida."
The U.S. Department of Homeland Security also told Newsweek Thursday it was not aware of "any new compromises by Russian actors of election infrastructure." DHS spokeswoman Sara Sendek said the agency had already partnered with local and state officials to "[conduct] training for county election supervisors and [provide] technical assistance to counties."
Election officials from both Pinellas and Orange Counties said Wednesday they were also unaware of any current voter registration hacking and were not given any information from Nelson's office. Okaloosa County Supervisor of Elections Paul Lux, who also leads the statewide supervisor of elections group, told the Times none of the election supervisors he contacted throughout the state had heard from Nelson regarding his recent claims.
Nelson's office did not comment on his claim that the Russians are "in your records," instead referring Newsweek to a joint letter from Nelson and Republican Senator Marco Rubio urging all 67 Florida counties to work with federal agencies in preventing potential security threats.
"As Senator Rubio and I wrote in our letter to the 67 county supervisors of elections, the threat is real and elections officials—at all levels—need to address the vulnerabilities," Nelson said in a statement. He released another brief statement Thursday evening, saying he and Rubio had both warned Florida election officials about possible threats and to reach out to the federal government for help.
"I hope the appropiate federal officials find a way to immediately provide them all the information," Nelson said.
Rubio, a member of the Senate Intelligence Committee, declined to comment about Nelson's claim of Russians already infiltrating voter registration records. His office pointed to a previous meeting Rubio held with local election officials about Russian cyberthreats and the letter sent by Nelson and Rubio.
"We were requested by the chairman and vice chairman of the Intelligence Committee to let the supervisors of elections in Florida know that the Russians are in their records," Nelson told the Times Wednesday.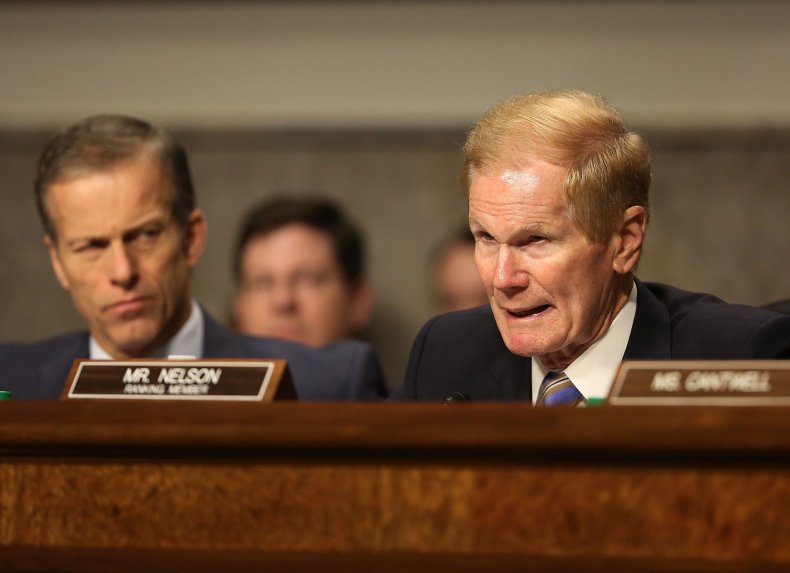 Newsweek reached out to both Chairman Richard Burr and Vice Chairman Mark Warner about those claims. In a statement, Warner would not address the matter directly, saying: "Russian activities continue to pose a threat to the security of our elections, as Senators Nelson and Rubio rightly pointed out in their letter." Burr's office did not immediately respond to a request for comment.
Florida Secretary of State Ken Detzner sent a letter to Burr Thursday evening, saying he was "very concerned" with Nelson's claims and asked to be provided more information.
"Let me be clear, this is a very serious charge made in a public setting without any evidence, details or prior communication to state or local election officials in Florida," Detzner said. He added that with the state's primary election just three weeks away and early voting just days away, Nelson's comments only served to "erode public trust in our elections at a critical time."
"This is no fooling time and that's why two senators, bipartisan, reached out to the election apparatus of Florida to let them know the Russians are in your records and all they have to do, if those election records are not protected, is to go in and start eliminating registered voters," Nelson said.
He went on to outline a possible scenario Florida voters could face come election day if his claims of Russian interference into voter registration systems prove accurate.
"You can imagine the chaos that would occur on Election Day when the voters get to the polls and they say, 'I'm sorry Mr. Smith, I'm sorry Mr. Jones, you're not registered,'" Nelson said. "That's exactly what the Russians want to do. They want to sow chaos in our democratic institutions."
Nelson is currently up for re-election this year, facing off against Florida's current Republican governor, Rick Scott.
This story has been updated to include an additional statement from Senator Bill Nelson and a letter from Florida Secretary of State Ken Detzner to Senator Richard Burr.