Senator Dianne Feinstein (D-Calif.), the ranking Democratic member of the Senate Judiciary Committee, is facing calls to be replaced on the committee or retire after speaking positively about this week's confirmation hearings for Supreme Court nominee Judge Amy Coney Barrett.
Feinstein has faced heavy criticism, with some calling for her to retire in recent days. Ilyse Hogue, president of abortion rights group NARAL Pro-Choice America, was the latest to slam the senator. On Friday, she called for Feinstein be replaced on the committee.
"This nomination is illegitimate and this process is a sham," Hogue said in a statement. "Tens of millions of Americans have already voted and majorities have said unequivocally that they want to choose the next President who should fill this seat. Amy Barrett and this power grab pose a grave threat to every freedom and right we hold dear and tears the very fabric of our democracy."
"Americans—whose lives hang in the balance—deserve leadership that underscores how unprecedented, shameful and wrong this process is," Hogue added. "The Ranking Member of the Senate Judiciary Committee, Senator Dianne Feinstein, failed to make this clear and in fact offered an appearance of credibility to the proceedings that is wildly out of step with the American people. As such, we believe the committee needs new leadership."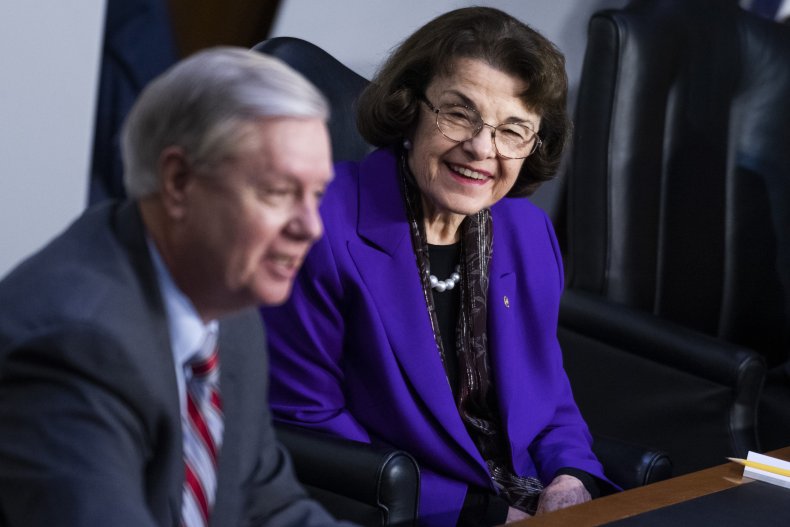 In addition to NARAL, liberal Supreme Court advocacy group Demand Justice also called for Feinstein to be replaced, while others have suggested she should retire. Feinstein enraged many when she praised the hearings and spoke glowingly of Senator Lindsey Graham (R-S.C.) on Thursday.
"This has been one of the best set of hearings that I've participated in and I want to thank you for your fairness and the opportunity of going back and forth," Feinstein said to Graham. "It leaves one with a lot of hopes, a lot of questions and even some ideas perhaps of good bipartisan legislation we can put together."
Further concerns were raised when a maskless Graham walked over and hugged Feinstein, 87, before putting on a mask as he walked away. Graham recently refused to be tested for COVID-19 ahead of a planned debate with his Democratic challenger Jaime Harrison.
Feinstein was also criticized during the hearings for complimenting Barrett's definition of severability, the legal provision that if one part of a contract or law is invalidated, the rest can remain valid.
Severability is a key issue in the pending Supreme Court case that could result in the Affordable Care Act being entirely struck down on the basis of Congress already having struck down the tax penalty portion of the law.
Barrett stressed the intent of Congress in her definition of severability, saying that it is important to consider if Congress would have passed the law without the part that was invalidated or "still want the statute to stand" with part of it invalidated.
Feinstein said that she was "really impressed" with Barrett's definition.
Newsweek reached out to Feinstein's office for comment.