Democratic Senator Slams Bernie Sanders, AOC for Stimulus Deal Criticism
Democratic Senator Mark Warner fired back at his progressive colleagues for criticizing the bipartisan coronavirus relief bill he helped draft.
"These are folks who never negotiated any deal that I think has ever been successful," Warner told MSNBC on Thursday.
Congress is scrambling to pass a second stimulus package ahead of the holidays.
Six months after the Coronavirus Aid, Relief and Economic Security (CARES) Act expired, lawmakers remain unable to see eye to eye. A group of bipartisan senators, including Warner, introduced a $908 billion proposal on Monday in hopes of breaking the stalemate.
However, the bill has faced criticisms from the Democratic Party's progressive wing, who are pushing for another round of $1,200 stimulus checks.
Direct payments had originally been left out of the bipartisan proposal but pressure from figures like Democratic Senator Bernie Sanders and Republican Senator Josh Hawley have forced Congress to reconsider how funds should be allocated.
Speculation emerged on Wednesday that the second round of payments would come in significantly smaller amounts than the ones Americans received in the spring, landing somewhere between $500 to $600.
"If you're asking me do I think that this bill was well negotiated, I don't. There should have been a lot more money in it than there currently is," Sanders said in response.
Sanders was joined by Democratic Representative Alexandria Ocasio-Cortez and Democratic Representative Ilhan Omar, who were also quick to slam the new price tag which undercut the first payments by more than half.
"It's really quite shameful that we find ourselves negotiating a deal with such a small amount of money," Omar said.
Warner argued that advocating for stimulus checks was not as progressive as ensuring federal aid is handed out to unemployed Americans and small businesses, which have been hit particularly hard by statewide closures.
"Where I differ with some of these so-called progressives, they were willing to take away money or accept taking money away from the unemployed to give out, in stimulus checks with Donald Trump's name on it, to some folks who quite frankly have not suffered many economic harm," he said on Thursday.
"I think that is misguided, and I don't think it's candidly very progressive when we should be targeting assistance to whether it's individuals, businesses or child care centers, those folks most in need," Warner continued.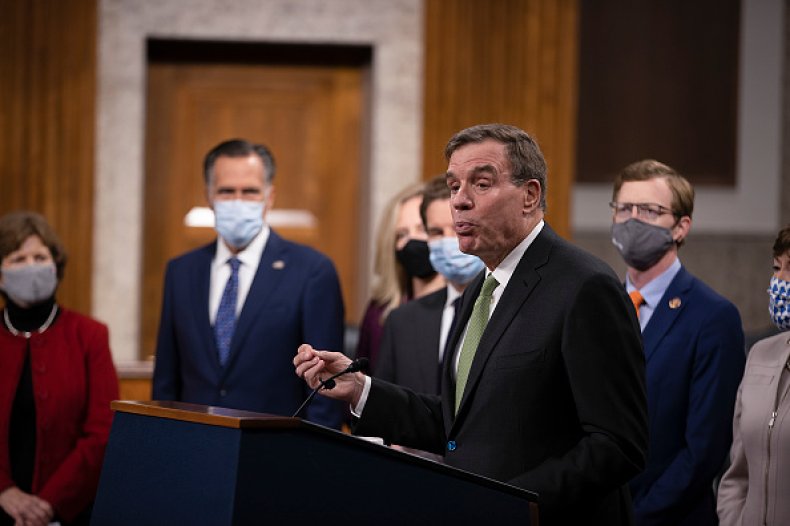 Warner stressed that progressives are not considering that Congress is still operating under a Republican majority. He said these conditions should force Democrats to re-evaluate their approach to striking a stimulus deal.
"We're dealing with a Senate that is still unfortunately controlled by the Republicans. We still have Donald Trump as president, controlling two-thirds in a sense of the federal government, the executive and the Senate, and the alternative would have been to have people get kicked off of unemployment, get kicked out of their apartments, not get the food assistance needed," the Democrat said.
He touted the new bipartisan effort as being a monumental step in breaking the gridlock between House Democrats and Senate Republicans.
"The Republican deal was sitting at $500 billion and frankly, there had not even been any conversations between leadership," the senator said. "When we bring together a $900 billion package, bigger than even the TARP package was after 2008, second only in size to the original CARES package that covers every one of the key Democratic areas, I think that's a piece of good work."
Newsweek reached out to Sanders' office for comment but did not hear back before publication.