Democratic Senator Suggests Trump Will Fire AG Bill Barr for Telling the Truth
Democratic Maryland Senator Chris Van Hollen implied Tuesday that Attorney General William Barr could be fired by President Donald Trump for his comments about election fraud.
President-elect Joe Biden has been widely projected to win the 2020 U.S. presidential election. Trump has also claimed victory and refused to concede, citing allegations of widespread election manipulation. Attorneys have filed litigation in several states seeking to overturn election results, but many of those lawsuits have been tossed out by judges.
Breaking with some of Trump's allegations, Barr said Tuesday that no evidence of fraud had been uncovered that would alter the results of the election. During an appearance on MSNBC on Tuesday, Van Hollen suggested that Barr could face retribution from Trump for being honest.
"The pattern in this administration seems to be anybody who tells the truth gets fired," Van Hollen said.
"Attorney General Barr is awfully late in stating the obvious here," Van Hollen added. "He obviously fueled a lot of the misinformation early on, but the statement is still welcome, and I'm sure it will not be welcome at the White House."
Barr told the Associated Press on Tuesday that while the Department of Justice had been working on specific leads involving alleged election improprieties, "to date, we have not seen fraud on a scale that could have effected a different outcome in the election."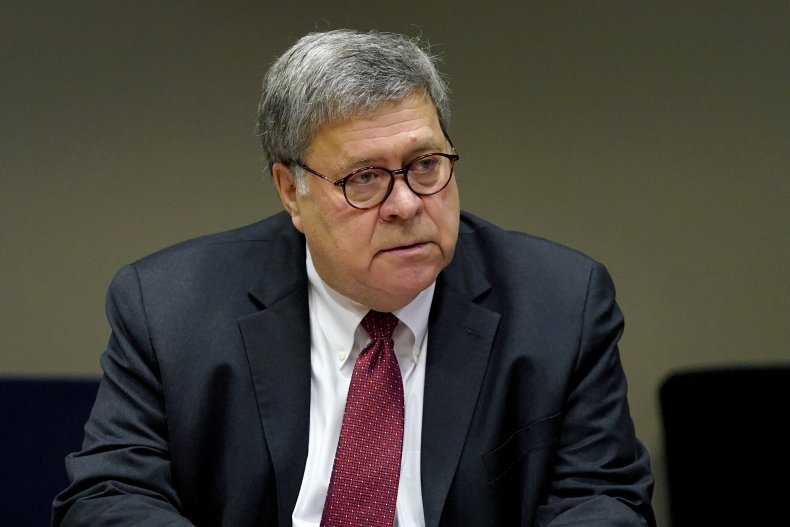 Newsweek reached out to the Department of Justice for comment.
Trump's personal attorney Rudy Giuliani and legal adviser Jenna Ellis criticized Barr's assessment in a Tuesday joint statement, claiming that Barr's opinion "appears to be without any knowledge or investigation of the substantial irregularities and evidence of systemic fraud."
White House Press Secretary Kayleigh McEnany said during a Wednesday press conference that she was not aware of Trump had spoken to Barr directly about his fraud investigation comments.
Despite his allegations of fraud being widely regarded as unsubstantiated, Trump has continued to claim that the election was "stolen" from him and he lashed out at those who disagree.
In November, Trump fired Cyberstructure and Infrastructure Security Agency head Christopher Krebs after Krebs described the election as "the most secure in American history."
In an interview with 60 Minutes after his firing, Krebs called Trump's allegations of voting machine manipulation "nonsense."
"There's no evidence that any machine that I'm aware of has been manipulated by a foreign power," Krebs said. "Period."
Trump's legal team has also filed lawsuits in some states where Biden won seeking to decertify election results and declare Trump the winner. All states must certify their election results before the Electoral College convenes on December 14 to officially declare who won the election.
According to the Associated Press, Biden has received 306 electoral votes to Trump's 232 electoral votes, giving Biden more than the required number of votes to become president.