Democratic Senators Durbin and Booker Point to How History Will Look at Impeachment Trial
In two separate television interviews on Sunday, U.S. Senators Dick Durbin of Illinois and Cory Booker of New Jersey both said that they believed that history will judge members of Congress according to the actions they take in the upcoming Senate impeachment trial of President Donald Trump.
The two Democratic senators referred to the upcoming impeachment trial of the president, which is scheduled to begin this Tuesday. Trump was impeached on December 18 by the House of Representatives over a phone call he made in July in which he asked the Ukrainian government to conduct an investigation into Trump's political rival, former Vice President Joe Biden.
Booker, a former Democratic presidential candidate who ended his campaign on January 13, made his comments in an interview with ABC News host George Stephanopoulos on the program This Week. When Stephanopoulos remarked the assertion of Alan Dershowitz, a member of Trump's legal team, that "even if everything in the House case is accepted as fact, it's not impeachable," Booker responded: "That's just stunning to me and I don't know what signal we're sending to future presidents if that's the new standard in America, where you can openly solicit foreign interference."
"History has its eyes on us," Booker said. "How are we going to operate? We cannot cave to partisanship and tribalism that's destroying our nation. In this moment, we've got to let our highest selves come through and sit in those seats and uphold the oath we all just swore last week and do right by our nation to ensure that this democracy endures."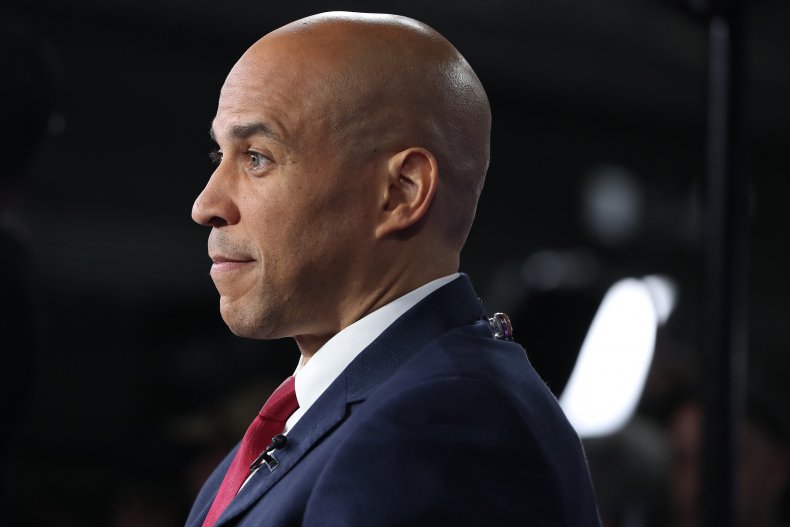 Appearing on the NBC News program Meet the Press Sunday, fellow Democrat Durbin, who is the Senate Minority Whip, said that there has not been even "the most basic negotiation" between senators of different parties on the issue of witnesses ahead of the opening of the trial on Tuesday. On a broader level, Durbin said that the Senate itself is on trial and the American people are the jury.
"We know the president has refused to provide documentation beyond the July 25th telephone memo," he said, "and he's refused to provide basic witness, who actually heard what happened on that conversation."
"The Senate is on trial," Durbin continued. "And I hope, at the end of the day, enough Republican senators will understand: history will find you. Make certain that you make a decision that you can live with in terms of our Constitution and your own professional career."
Per the U.S. Constitution, after an official is impeached, the Senate holds a trial in which they decide whether or not to remove that official from office.
As a majority of current U.S. senators (53 out of 100) belong to the president's party, the Senate is not expected to remove Trump from office. Republican senators such as Senate Majority Leader Mitch McConnell of Kentucky and Senator Lindsey Graham of South Carolina have implied that they have given thought to how they would vote—even before the trial has begun.
The Senate impeachment trial is set to formally begin on Tuesday, at 1 p.m. EST.