Democratic Senators are Tweeting Photos of the Giant Pile of 'Dead' House-Passed Bills on Mitch McConnell's Desk
U.S. Senators are sharing photographs of the growing pile of bills passed by the House only to stymie on Majority Leader Mitch McConnell's desk.
The stack, a symbolic replication of legislation McConnell refuses to bring to a vote, was reportedly the brain child of Senator Debbie Stabenow. According to her office, it includes more than 300 bills about voter registration, background checks for firearm sales, domestic violence, climate change, minimum wage increases and other issues.
The do-nothing strategy spearheaded by McConnell's office seems intentional, Democrats claim. Back in September, McConnell promised to be a "grim reaper" to any and all progressive legislation. But, as multiple Senators pointed out Wednesday, more than 275 of these "dead" bills cleared the House with bipartisan support.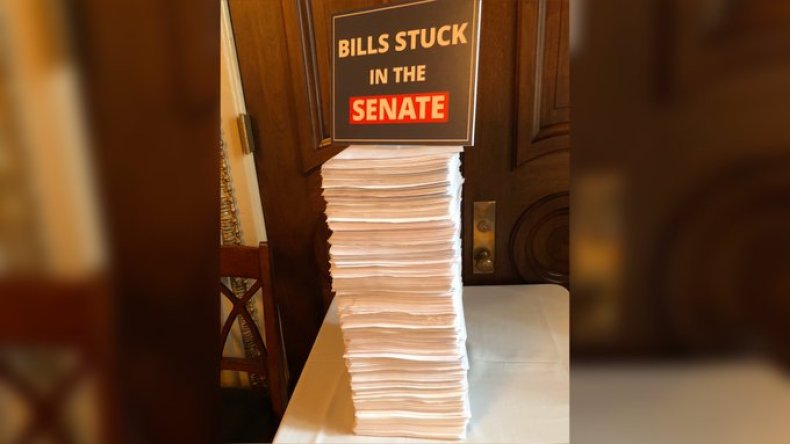 In a press conference meant to highlight the "legislative graveyard" Tuesday morning, Stabenow said that the American people expect Congress to pass legislation "that will improve their lives and improve the lives of their families."
"Unfortunately, though, that is not what's happening because the Republican Leader Mitch McConnell has turned the Senate into a legislative graveyard," she added.
McConnell's office did not immediately respond to Newsweek emails and calls requesting comment about why he hasn't brought the packages to a vote in his chamber and whether he intends to in the foreseeable future.
To construct the pile, staffers printed out the exact language of the bills, excluding appropriations measures, that passed the House and await action in the Senate. Measures that passed with at least one Republican co-sponsor or vote in the House were considered "bipartisan," according to Stabenow's office.
Some on social media praised the construction, which represents what many view as Congressional inaction on important issues this cycle.
"That would be the... ahem, Do Nothing Republicans," one Twitter user wrote.
Another's concern was of a more constitutional nature: "I guess I don't understand the system of checks and balances if one man can stop the work of the Senate."
One recalled the Trump administration's recent work requirements for food stamp recipients and suggested the same requirements be forced on the Majority Leader.
One of the most significant bills to join the "graveyard" lately could be House Speaker Nancy Pelosi's package to limit the cost of prescription drugs. Though it cleared the House with just two Republican backers last week, the bill has generated excitement and maybe even hope in the Capitol that lawmakers can deliver on soaring insulin and out of pocket costs before the 2020 election.