Democratic Socialist Students: School Shouldn't Dignify 'War Criminal' Condoleezza Rice With Honorific Title
The University at Buffalo chapter of the Young Democratic Socialists of America (YDSA) criticized the school's decision to invite former Secretary of State Condoleezza Rice to speak on Wednesday, labeling her a "torturer" and "war criminal."
As the final guest in the Buffalo, New York, university's Distinguished Speakers Series, Rice was the Undergraduate Student Choice Speaker. YDSA, however, disagreed with the university's decision to include Rice in the series, thereby granting her the title "distinguished speaker."
"Rice is a torturer, a liar, and a war criminal," YDSA said in a statement.
University at Buffalo told Newsweek that maintaining an environment conducive to diverse opinions and open discussion are the "core principles upheld at UB."
"As a public university, it is a fundamental value of UB that all members of the campus community and invited guests have a right to peacefully express their views and opinions, regardless of whether others may disagree with those expressions," the university said. "This includes the right of protesters to oppose the views or opinions of others, but not in such a way as to limit or prevent the speaker's freedom of expression or interfere with university operations."
Former President George W. Bush appointed Rice to the position of national security advisor, making her the first woman to hold the job. She later served as Bush's secretary of state, the first African-American woman to have the position.
"Representation is extremely important and we absolutely think that there should be more African American women in power," Sean McDonough, UB YDSA treasurer, told Newsweek. "However, Rice was a public official for eight years and the decisions she made were devastating to the lives of so many people. It would do a disservice to both her and her victims to reduce her time in office to her race and gender."
During the four years she held the position of national security advisor, YDSA pointed to her approval of the CIA's use of waterboarding on prisoners and claimed she lied about the existence of weapons of mass destruction in Iraq. The student organization charged that lie was used to justify a "war of aggression that directly caused the violent deaths of nearly 500,000 people."
"[University at Buffalo] should not dignify these actions with an honorific title and platform," YDSA said.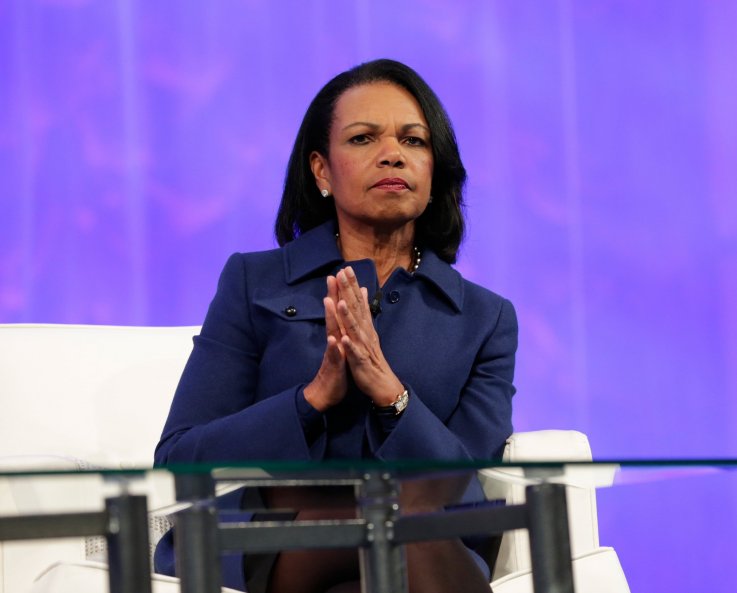 A 2009 Senate Intelligence Committee report said Rice gave the go-ahead to the CIA to proceed with "alternative interrogation methods," including waterboarding, according to CNN. Ahead of the decision to proceed, then-Attorney General John Ashcroft determined the proposed techniques were lawful.
In 2017, Rice told the Hudson Union Society that she gave then-CIA Director George Tenet the president's approval to use "enhanced interrogation techniques," which had already been vetted.
"As it turns out, once we were through the worst moments of the attack, many of the enhanced interrogation techniques were taken off the table," Rice said. "As Secretary [of State], I was not very supportive of the program because I felt it had run its course."
During an interview with NPR in 2011, Rice said the intelligence that Saddam Hussein formed biological and chemical weapons and, with foreign assistance, could reconstitute nuclear weapons was "as clear as any intelligence" she'd ever seen. She disagreed with the criticism that the Bush Administration used the claim of weapons of mass destruction to enter a pre-decided war and said the problem wasn't that they lied, it's that the "intelligence wasn't right."
"I hope that people come away from this with an understanding, that as should be the case, war was for us a last resort," Rice told NPR of her book No Higher Honor.
Christine Vidal, the director of news content for the university, told Newsweek that Rice received a "warm reception" and some members of the Young Democratic Socialists of America handed out literature but were not disruptive.
Other speakers in the University of Buffalo series included former Vice President Joe Biden, Lisa Genova, neuroscientist and author of Still Alice and Pulitzer Prize-Winning reporter Ronan Farrow.
Instead of Rice, McDonough told Newsweek Representative Barbara Lee would have been a better choice because she had the foresight to oppose the Iraq and Afghanistan wars. In 2001, Lee was the sole representative to vote "no" on a resolution approving the use of military force against those responsible for the September 11 attacks.
Democratic Socialist Students: School Shouldn't Dignify 'War Criminal' Condoleezza Rice With Honorific Title | U.S.