Howie Hawkins likely will not be the next president, but the Democratic socialist's third-party run could still have an effect on the presidential election, especially in states with as razor-thin margins as there were in 2016.
While all attention was on Hillary Clinton and then-candidate Donald Trump in 2016, Gary Johnson, the Libertarian Party candidate, and Jill Stein, the Green Party nominee, won small percentages in states across the country, meaning the eventual winner could take the state with less than 50 percent of the vote.
Many Democrats who may have waived away third party runs in the past are now taking them seriously.
"I definitely think it's a threat and we can't take any vote for granted," Irene Lin, campaign manager for Andru Volinsky, a New Hampshire candidate for governor backed by Vermont Senator Bernie Sanders, told Newsweek.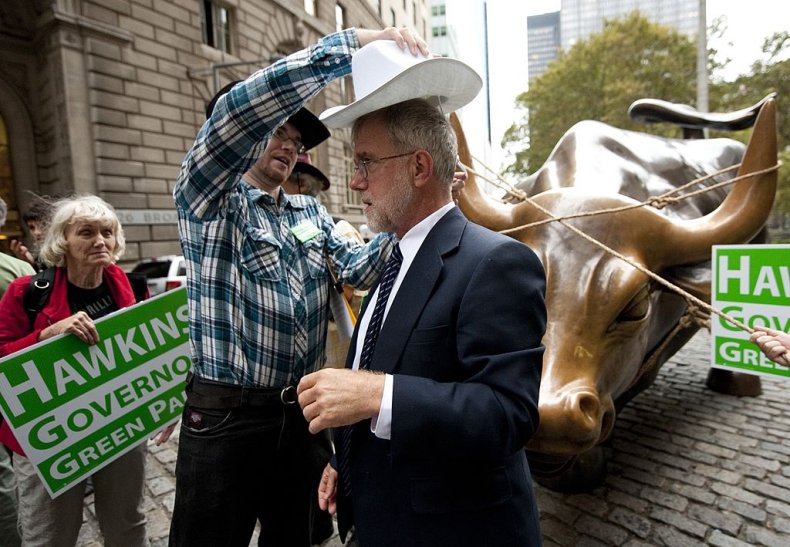 Hawkins, who is also the Green Party nominee, could follow Stein's path in critical swing states where her number of votes was greater than the margin of Trump's win.
In Michigan, for example, Stein received more than 51,000 votes while Trump won by only 10,704. In Pennsylvania, Stein received almost 50,000 votes, with Trump winning by 46,765. And in Wisconsin, where Stein garnered more than 31,000 votes, Trump's margin was 22,177 votes.
Democrats said one lesson they learned from 2016 is that Republicans will do whatever they have to to win and also worry the state of the coronavirus pandemic in November is an unknowable variable.
"Democrats have never been more united in defeating Trump, but it's very easy for Republicans to engage in voter suppression in the midst of a pandemic," Democratic strategist Kristian Ramos, told Newsweek. "We have a long way to go from now to November and these things are not inconsequential because third party votes hurt us in 2016."
Hawkins, who won the Green Party nomination Sunday and the Socialist Party nomination in October, has said the "democratic socialism" of people like Sanders and Representative Alexandria Ocasio-Cortez who won reelection Tuesday, is modeled on the liberalism of the New Deal and depends on progressive taxation of billionaires to fund social programs.
"Until we democratize wealth and the economy through social ownership and democratic planning, the concentrated economic power of the billionaire class will be expressed as concentrated political power that will undermine progressive social programs. We need economic democracy, not just progressive taxation," Hawkins said during the fall nomination.
But while Hawkins called for a #DemExit and tried to lure disillusioned Sanders supporters to his cause, the Democratic Party's 2020 nominee Joe Biden is in a much different place than Clinton was in 2016. Trump was just an idea then, not a president with a record, Democrats said. Biden's polling amid a pandemic, an economic crisis, and protests spurred by police brutality has also been strong, with the former vice president crossing 50 percent support in many recent polls, something Clinton never did in June 2016.
For example, a New York Times and Siena College poll Wednesday showed Biden winning by 14 points, 50 percent to 36 percent.
While Hawkins is on the ballot in swing states like Florida, he has struggled to get the necessary signatures in others like Arizona. For now, Democratic leaders hope they can dodge another bullet.
"I think there's less of a concern than there was in 2016," Jeff Weaver, Sanders' longtime lieutenant, told POLITICO. "Even those of us who thought Trump could win thought Hillary Clinton would win, and I think that gave people a license to go vote for third-party candidates. But that's not the case now. We know Trump can win."