Democratic State Senator Reportedly Attacked by Protesters in Wisconsin
A Democratic state senator in Wisconsin was attacked on Tuesday night as he tried to take a picture of Madison protesters on his way to work.
Sen. Tim Carpenter told a local newspaper that protesters punched and kicked him in the head for simply stopping to take a photograph as he walked to the Capitol, where he planned to work overnight.
A local television reporter later posted a picture purporting to show the senator had collapsed in the wake of the assault.
"I don't know what happened... all I did was stop and take a picture... and the next thing I'm getting five-six punches, getting kicked in the head," Carpenter told the Milwaukee Journal Sentinel after the attack.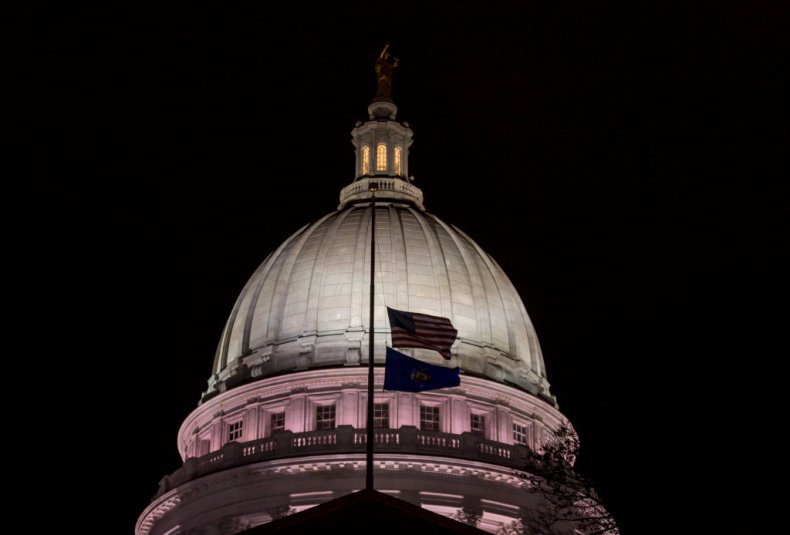 The local newspaper's reporter Lawrence Andrea tweeted that the state senator was attacked by "a group of protesters" on Fairchild Street, and pictured the Democrat kneeling next to his car.
"Sen. Carpenter tells me he was just taking a picture of the protesters when they attacked him," Andrea reported. "He's heading to the Capitol, where he said he was planning to do work tonight."
ABC-affiliate WKOW's Sports Director Lance Vesser later posted a picture of what was believed to be Carpenter shortly after collapsing. The TV station's crew called for an ambulance.
The Journal Sentinel's Andrea confirmed that the man in the picture appeared to be the state senator, tweeting that he had seen Carpenter wearing the same shirt when he interview him after the assault.
Posting a video from last night's protest on social media, Carpenter said: "I took this pic- it got me assaulted & beat up. Punched/kicked in the head, neck, ribs.
"Maybe concussion, socked in left eye is little blurry, sore neck & ribs. 8-10 people attacked me. Innocent people are going to get killed. Capitol locked- stuck in office.Stop violence now plz!"
Newsweek has contacted the City of Madison Police Department for comment on the incident and further details. Sen. Carpenter has also been contacted. This article will be updated with any responses.
The reported assault on the state senator came amid protests against the arrest of a Black activist earlier in the day.
Footage uploaded by the City of Madison Police Department showed the man shouting into a megaphone as he followed one man into a restaurant and called him a racist while carrying a baseball bat.
According to the Wisconsin State Journal, protesters pulled down two statues in Madison last night, including one of the Union Civil War Colonel Hans Christian Heg, an opponent of slavery.
The second statue torn down by demonstrators was that of "Forward," a bronze statue of a woman created by Jean Pond Miner and unveiled in Madison more than 120 years ago.
The Milwaukee Journal Sentinel reported that protesters also smashed the windows of several buildings, including the Wisconsin state Capitol, before the arrival of local police.