Democratic State Senators Say the Time is Right to Revoke Andrew Cuomo's Emergency Powers
Some of New York's Democratic state senators have joined their Republican colleagues in saying that the time is right to revoke Governor Andrew Cuomo's expanded emergency powers, which were put in place last spring in response to the coronavirus pandemic.
Republicans in the state legislature have been asking for Cuomo's expanded emergency powers to be revoked for months, but their calls to do so recently received support from a handful of Democratic lawmakers. Fourteen Democratic state senators released a joint statement on February 12 calling for an early revocation of those emergency powers, which they said were "no longer appropriate" for Cuomo to possess.
"While COVID-19 has tested the limits of our people and state–and, early during the pandemic, required the government to restructure decision making to render rapid, necessary public health judgments—it is clear that the expanded emergency powers granted to the Governor are no longer acceptable," the senators' joint statement said.
Cuomo's emergency powers were initially expanded last March, as New York became the epicenter of the COVID-19 surge in the United States. But as New York and the rest of the country gained greater understanding of the pandemic and vaccines became available for distribution late last year, those emergency powers became less necessary, according to John Liu, one of the Democratic state senators who is now calling for their revocation.
When the state legislature first granted Cuomo an expanded set of emergency powers to aid his administration's response to the pandemic, "The number of infections and deaths in New York were spiking, and we wanted to ensure that state government was nimble to act quickly to help people and save lives," Liu told Newsweek. "Now we're in a much different situation. There is a lot more know about the coronavirus, the vaccine distribution appears to be on a much faster and more efficient track, and the need for those emergency powers has seemingly subsided."
Democratic state Sen. Elijah Reichlin-Melnick also acknowledged the struggle New York faced in the early days of the pandemic and said in a Twitter thread last week that Cuomo "rightly won praise" for how he handled the initial surge. Reichlin-Melnick's thread went on to say that New York is now dealing with a "different environment."
"Recent news reports have revealed that public health experts have been ignored by the Governor, and that his administration intentionally withheld important information about the pandemic from the Legislature," Reichlin-Melnick tweeted. "It's time for us to act."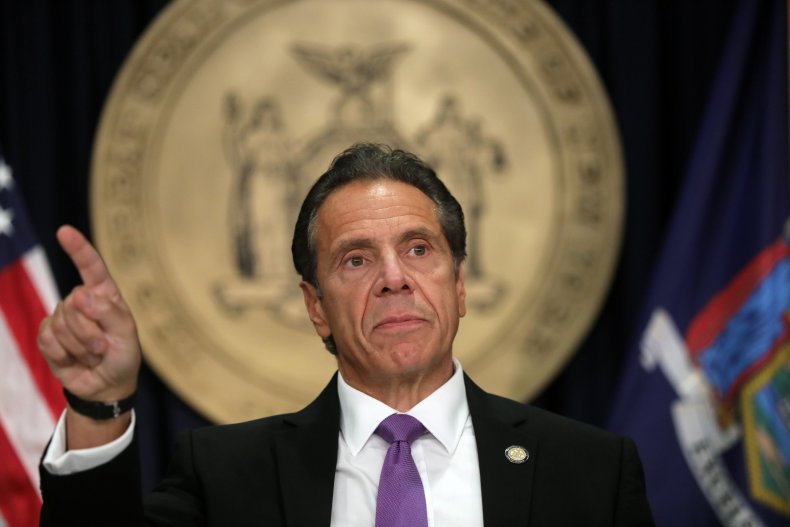 While Cuomo was praised early on for his quick response to the pandemic, the Democratic governor has come under fire in recent months for the way in which the state reports COVID-19 data, particularly regarding virus-related deaths among nursing home residents. That controversy came to a head last week when a member of Cuomo's administration said his office postponed sharing the data with state legislators as it responded to a data inquiry from the Department of Justice.
State Sen. Samra Brouk, one of the Democrats who is calling for the revocation of Cuomo's expanded emergency powers, referenced the state's reporting of COVID-19 nursing home data in a statement last week.
"What we have learned about the governor's handling of nursing home data is unacceptable," Brouk's statement said. "The emergency powers that had been granted to the governor to manage this pandemic are no longer needed and must be re-evaluated immediately."
Liu told Newsweek last week's revelation was the latest in a series of frustrations he and other state legislators felt about the governor's administration and that taking action to revoke Cuomo's expanded emergency powers was necessary to bolster confidence among New Yorkers about the state's ongoing pandemic response.
"What we're trying to do is instill a high level of public confidence in state government as we are out there urging our constituents to get their vaccines," Liu said. "The revocation of some of these emergency powers is necessary in order to bolster that public confidence."
According to the state senators' joint statement, Cuomo's expanded emergency powers are set to cease at the end of April, though they could be revoked earlier if the state legislature decides to take action.
"He's had a rough few days," Liu said of Cuomo. "There are lots of people taking potshots at him. I think it's important that the governor not take this personally, and just get himself and his team back on the right track. Because millions of people are still relying on him."