Democrat Strategist Blames Sexism For Elizabeth Warren's Poor Swing State Polling
A Democratic strategist has blamed sexism for Elizabeth Warren's poor head-to-head polling numbers against President Donald Trump in key battleground states.
Andrew Feldman questioned whether the United States was ready to elect a female president on the Hill TV show Rising with Krystal & Saagar yesterday, echoing similar responses to Hillary Clinton's defeat at the 2016 presidential election.
The founder of Feldman Strategies brought up the issue of sexism during a discussion on polling released Monday that showed the president doing better than Warren in three key swing states.
The New York Times/Siena College poll of voters in six states where Trump won by narrow margins in 2016, found that Sen. Warren polled six points behind the president in Michigan, and came 4 and 3 points behind him in Florida and North Carolina respectively.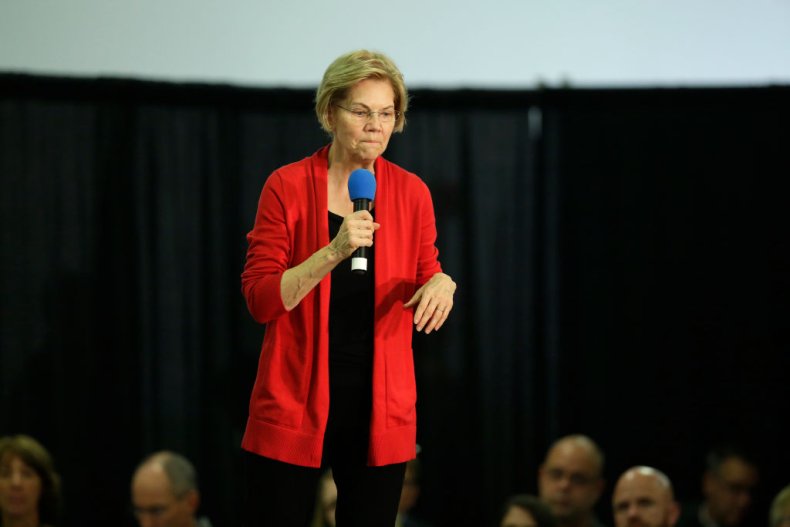 It also revealed that she was polling even with Trump in Pennsylvania and Wisconsin, while only leading him by 2 points in Arizona.
By comparison, Joe Biden polled better than Trump in four of the states while Sanders came ahead of the incumbent in three battlegrounds.
In his appearance on "Rising with Krystal & Saagar," Feldman said: "I think there's a bit of sexism here still in the country when you look at these in terms of, is the country, especially in these states, ready to elect a woman president?
"I'm not sure this is about moving left or right. When you look at these numbers, I see... sexism on the face right here."
He also said that the New York Times/Siena College was not of likely voters, saying registered voters were a different group to those who would turn up at the ballot box in 2020.
But the strategist later accepted that Warren needed to be more direct with voters on how she planned to fund her health care plans.
He said: "I think shooting straight with the American people is the best way to go here. To be honest with you, I would love to pay more in taxes if I didn't have to pay what I'm paying in my premiums and deal with all the BS with my insurance companies."
"One the things is Bernie Sanders is very authentic," Feld later added. "Joe Biden, at times, can be very authentic. Authenticity here is going to be critical to winning back Trump voters."
Discussing his overall view on how Democrats should fight the 2020 election, Feldman said: "Democrats bring white papers and statistics to a knife fight, and that's what we can't do in this general election. We have to remember that we have to appeal to emotion."