Women Candidates Won Almost Every Democratic House Primary They Contested Tuesday
Women who ran in Tuesday night's Democratic primary contests are the emerging victors as a so-called "pink wave" anticipates the party's much-hyped blue one.
As of about 11 p.m. EDT, 17 female candidates were the projected winners in their House races in Indiana, North Carolina, Ohio and West Virginia, according to Newsweek's count—that's out of the 23 House races that have at least one female candidate running. One woman, Ohio Democratic candidate Susan Moran Palmer, was leading in a House race that had yet to be called, and five races saw women defeated in their bids for the party's nomination.
West Virginia had the highest percentage of female candidates running in the state's House primaries, with five women running in three House districts to make up 27.8 percent of all House candidates in the state, according to Gender Watch 2018, an offshoot of the Center for American Women and Politics. In Ohio, women made up just over 20 percent of House candidates; in North Carolina, roughly 18 percent; and in Indiana about 17 percent.
Some of Tuesday night's notable victories included wins for black women candidates in North Carolina, three of whom became their district's Democratic nominee. Those women are D.D. Adams, who won her primary in the state's 5th District; Representative Alma Adams, the Democratic incumbent, who won the 12th; and Linda Coleman, who won the 2nd.
Democratic women's early success in Tuesday's House races fits in with a larger narrative about what happens when women run in 2018. A record number of women are running for House seats this cycle, as part of a national trend of a record number of women running at every level of public office.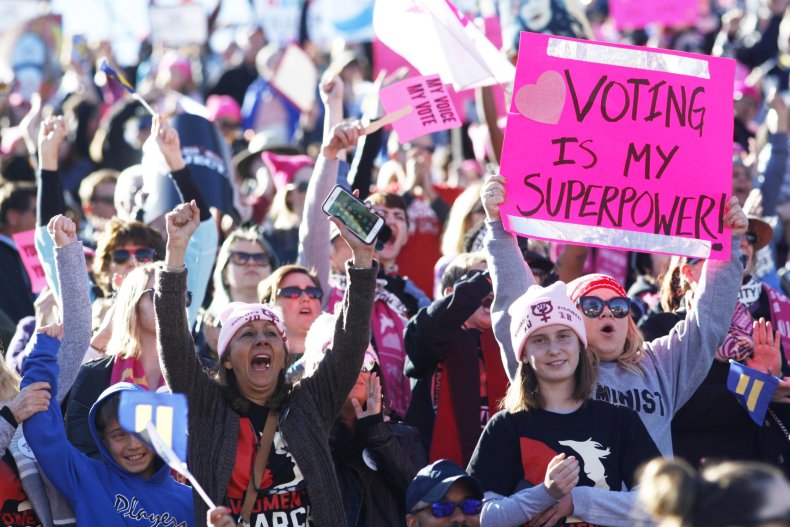 The women who came out on top Tuesday night, however, don't necessarily have a clear path to victory in November. Many are running in deep-red districts that overwhelmingly went to President Donald Trump, and some of them will face uphill battles against Republican incumbents with impressive fundraising hauls, like Coleman, who will try to topple Representative George Holding, who's already raised over $1.4 million.
But the mantra this year, a year many have said could be another "Year of the Woman," is a simple one: When women run they win. And the results of 2017's elections, which saw impressive victories for women running for legislatures across the country, have given some hope that Democratic women can win seats that were once considered unwinnable and, ultimately, help the Democrats flip at least one chamber of Congress.
Last November, after those victories, experts on women in politics cautioned women that it may still be a long slog to parity.
"As much as people think they woke up [after Trump's victory] to a completely different world, the truth is, our system moves relatively slowly," Debbie Walsh, director of the Center for American Women and Politics, told Newsweek at the time. "It's important for women who are new to this process to be in it for the long haul—for the marathon, not the sprint."