Trouble for Trump: Democratic Women Most Motivated Group Heading into 2018 Midterm Elections
Democratic women could spell trouble for President Donald Trump this November, according to a new poll that indicated they were the most motivated voting group heading into the midterm elections.
Overall, 71 percent of Democratic women voters said they were "very motivated" to get out and vote in November, according to a Politico/Morning Consult poll released Wednesday. They were more motivated than any other demographic, including Democratic men, Republican men and women, and all independent voters.
Republican women were found to be the second most motivated voting group, with 69 percent saying they were ready to cast their vote this fall.
The survey came as conservatives gear up for what many pollsters predict will be a "blue wave" this midterm election cycle as Democrats fight to win back control of the House of Representatives. It also appears that Democrats have a legitimate path to regain a majority in the Senate, which was considered unlikely if not impossible only a few months ago.
The poll showed Democrats with a five-point lead over Republicans on the generic congressional ballot. As of mid-September, more than 40 percent of Americans said they would vote for a Democrat over a Republican if the election were held in their district that day.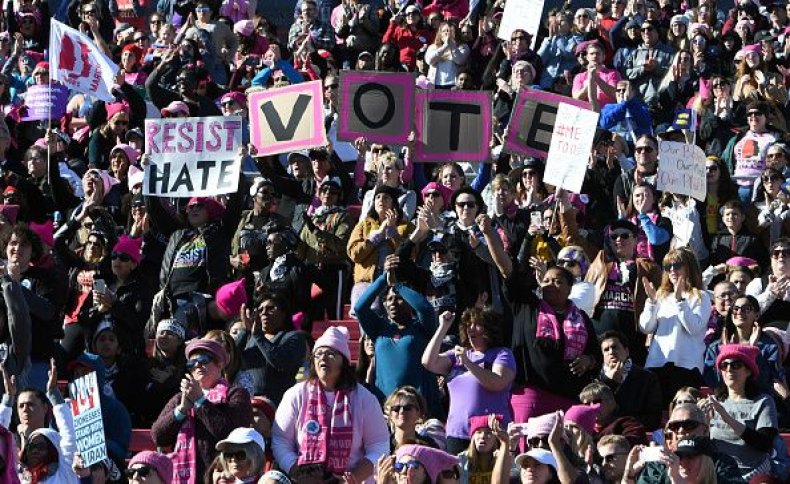 Democratic women aren't only ready to show up at the polls, but a record-breaking number of are on the ballot this November. Twenty-three women, 15 of them Democrats, are running for open seats in the Senate and more than 230 women, 187 of the Democrats, are contenders for the House.
According to Emily's List, an organization that recruits and trains women for public office, more than 34,000 women reached out to the organization to register their interest in running for office after the 2016 election.
Trump's unpopularity among women voters doesn't extend only to Democrats. New polls have indicated that the president has lost the support of white, suburban Republican women—a demographic that helped propel him to victory in 2016. According to a recent NPR/PBS/Marist poll, six in every 10 suburban women strongly disapprove of Trump's performance so far.
The poll was mostly completed before Christine Blasey Ford went public with her allegation against Trump's Supreme Court nominee Brett Kavanaugh. Ford has alleged that the judge sexually assaulted her at a high school party more than three decades ago. Her potential testimony could further alienate some Republican women voters, who have begun to question their place in the party in the era of Trump.
Meanwhile, Trump has continued to insist that there will be no "blue wave" this November and recently tweeted that his poll numbers were "good" but would be "25 points higher" if it weren't for the Robert Mueller special counsel investigation into Russian election meddling.