Democrats hyping a sweeping blue wave on Capitol Hill come November may have to temper expectations after new polling showed the party beginning to lose its midterm advantage.
For the first time in this election cycle, a Reuters poll this week gave the GOP a 1.4 percentage-point lead over Democrats on a generic ballot. When asked if the midterm elections were to be held that day—Reuters conducted the poll on May 17—38.1 percent of respondents said they would vote for the Republican candidate in their district, as opposed to the 36.7 percent who said they'd cast their ballot for the Democratic one. Just over 15 percent of respondents said they "don't know" which party they would favor, or refused to answer the question.
Democrats enjoyed the largest advantage over their Republican competitors in early April, when 45.8 percent of respondents told Reuters they'd vote Democrat, while only 32.1 percent said they'd vote for the GOP.
There have been other recent troubling signs for Democrats, who entered 2018 with hopes that President Donald Trump's administration had angered voters enough to return at least one chamber of Congress to their control.
Last month, a Reuters/Ipsos poll found support for the party among millennial voters had decreased by 9 percentage points since 2016, with just 46 percent of voters ages 18 to 34 supporting Democrats. Millennials have always been a core constituency for the party, and slipping numbers could spell disaster to their 2018 hopes, especially in the tight races they need to flip the House.
But experts cautioned against reading too much into those findings, which they say may not account for a younger generation's voting habits.
"While people may not register for a particular party, they show up for a candidate who shares their values," Amanda Litman, the cofounder and executive of Run for Something, a group dedicated to running and recruiting young candidates, told Newsweek in April. "And with young people, those candidates are most often those who care about progressive causes like climate change, marriage equality and a woman's right to make her own health care decisions."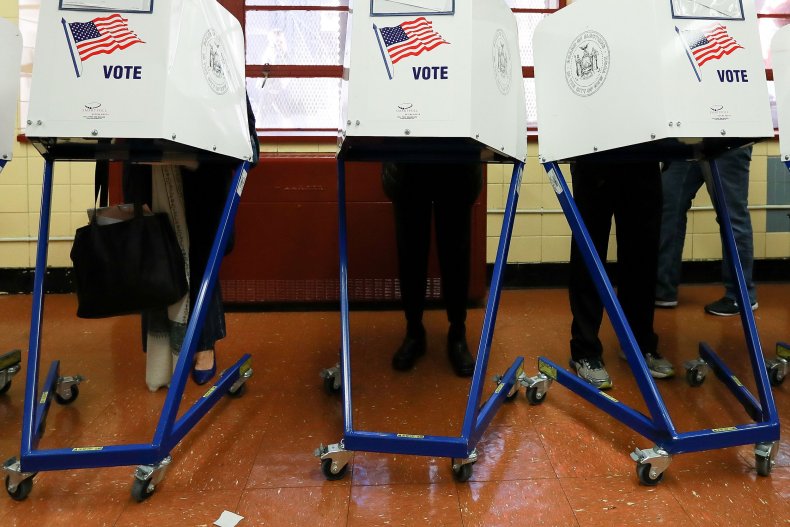 Reuters's revelations into the slight downturn for Democrats arrives simultaneously with the party's 2018 messaging strategy rollout, which will promise Americans a "Better Deal for Our Democracy" if they vote blue.
The centerpiece of the plan is a familiar one: Democrats plan to take Trump's promise to "drain the swamp" and make it a reality, clamping down on corruption and bolstering the country's ethics laws to make Washington work for everyday Americans. The stakes are high for Democrats, who have to flip 23 seats to reclaim the House.
"We think this [new rollout] caffeinates, makes stronger and reinforces, all the other messages that are part of 'The Better Deal,'" Maryland Representative John Sarbanes, the chair of the party's Democracy Reform Task Force, told CNN Monday. "'A Better Deal for our Democracy' is telling people that we want to find a way to give them their institutions back and make their voice count again."
So, will voters buy it?
"Washington, D.C., has been out of vogue for some time," Rodell Mollineau, a partner at Rokk Strategies, a bipartisan political consulting firm, told Newsweek on Monday. "No one's ever lost votes by bashing Washington.