A proposal by Senate Majority Leader Mitch McConnell on Tuesday to exclude some of the most divisive provisions that have prevented Congress from reaching a stimulus agreement was swiftly rejected, as top Democrats accused the Kentucky Republican of attempting to purposely derail ongoing bipartisan talks.
"Leader McConnell has refused to be part of the bipartisan negotiations, and now he's sabotaging good faith bipartisan negotiations because his partisan, ideological effort is not getting a good reception," Senate Minority Leader Chuck Schumer (D-N.Y.) said.
McConnell suggested that in order to reach a more immediate deal, the two major sticking points—liability protections and funding for state and local governments—that are responsible for the continued stalemate should be set aside until next year. Issues like unemployment assistance, small-business relief and vaccine funding, he said, should be legislators' sole focus.
Democrats characterized the notion as a non-starter, arguing that excluding money for local and state governments would be "disastrous" for the economic recovery and that the aid has far greater bipartisan support than that of legal safeguards for companies and institutions operating amid the pandemic.
"We are moving forward on both state and local and liability," a Democratic aide familiar with ongoing bipartisan discussions told Newsweek. "Excluding both isn't on the table."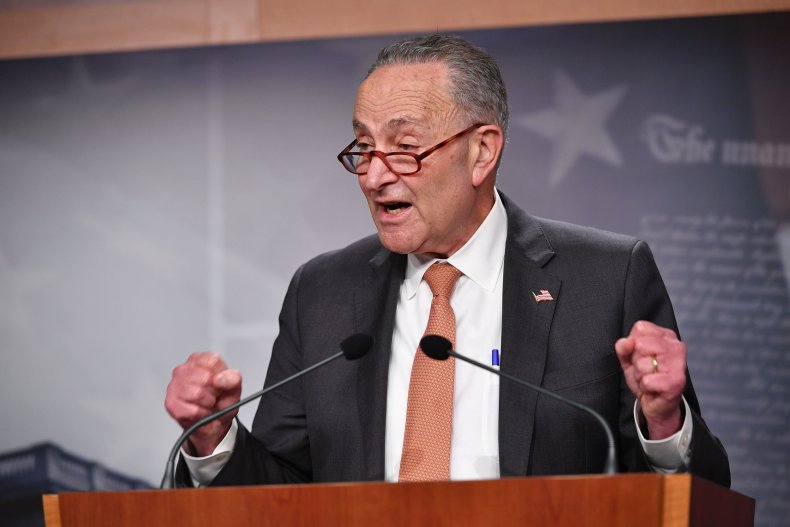 Sen. John Cornyn (R-Texas) raised the same idea during a private, bipartisan meeting on stimulus talks Monday night. He later told reporters that his suggestion "went over like a lead balloon."
"Now is not the time to walk away from the key pillars of our bipartisan, bicameral COVID-19 emergency relief agreement," leaders of the bipartisan Problem Solvers Caucus, who are helping lead negotiations, said in a statement. "It's time to double down on finding a solution to the remaining obstacles."
Democrats' frustration with McConnell's refusal to get behind a bipartisan $908 billion proposal currently in the works was apparent. House Speaker Nancy Pelosi (D-Calif.) questioned what McConnell has "against our heroes" like health care workers, first responders and other frontline workers by being so opposed to state and local funding.
"Leader McConnell's efforts to undermine good-faith, bipartisan negotiations are appalling," Pelosi added.
McConnell has remained squarely behind his "targeted" plan worth about $500 billion, even as Schumer and Pelosi have said the bipartisan $908 billion plan is a potential solution to their disagreements.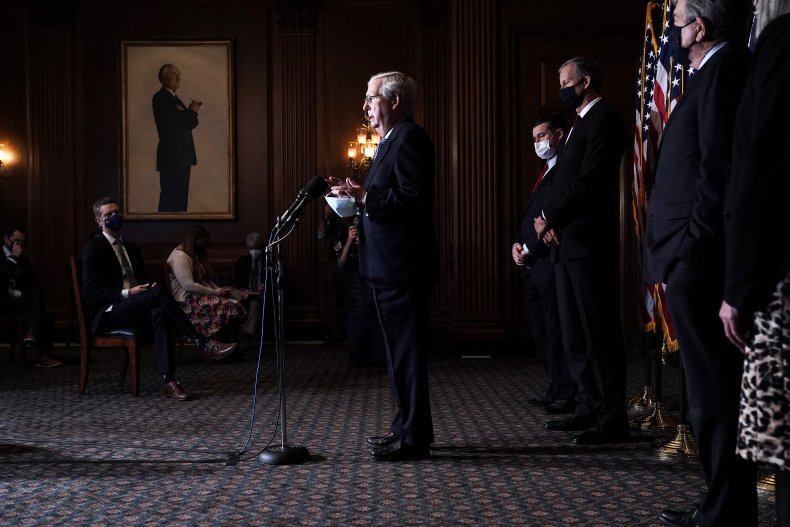 "When a worker is laid off from a state or local government, it's no different than when a worker is laid off from a small business," Schumer said. "They each have to feed their families, pay the rent or mortgage, and just have enough wherewithal to survive."
The stark rejection from Democrats was anything but a promising sign, as lawmakers trying to cobble together a relief measure before Congress soon embarks for the holidays.
Further muddying the waters about what proposals are being offered, Treasury Secretary Steven Mnuchin released a statement on Tuesday saying he presented a "slightly larger package" worth $916 billion to Pelosi during an afternoon phone call. Mnuchin said that he and White House chief of staff Mark Meadows "reviewed this proposal" with McConnell, President Donald Trump and House Minority Leader Kevin McCarthy (R-Calif.).
McCarthy told reporters he supports the "great offer" and that it includes $600 individual checks, an item that is not included in any other proposal being considered. However, the one-time payment would replace the $300 weekly unemployment boost that the $908 billion plan offers.
Pelosi and Schumer labeled it "unacceptable."
There was separate encouraging news Tuesday afternoon on potentially finding a compromise on liability protections. Sens. Lindsey Graham (R-S.C.) and Angus King (I-Maine) have been working on language to evaluate incidents of injury that have occurred this year related to COVID in the workplace. King said they were "very close" to finishing it.
"We hope [it] will equally dissatisfy both sides to get us to a place where we can pass the bill," King said, "because the American people need this bill."
The bipartisan coalition of lawmakers trying to hammer out a final package will meet again Tuesday night.