Recent public attacks levied by President Donald Trump against the anonymous whistleblower who sounded the alarm on the president's attempts to pressure a foreign leader to investigate a political opponent have Democrats accusing him of endangering the life of that person, in addition to the lives of future whistleblowers.
The president in recent days, in tweet storms and press conferences, has relentlessly bashed the whistleblower and denied any wrongdoing surrounding his July phone call with Ukrainian President Volodymyr Zelensky during which Trump asked Zelensky to investigate former Vice President Joe Biden and his son for potential corruption involving a Ukrainian energy company.
In remarks that Democrats have characterized as threatening, Trump accused the whistleblower of being a "spy" who's committed treason, along with those who leaked their knowledge of the call to the anonymous intelligence community official.
"I want to know who's the person that gave the whistleblower, who's the person that gave the whistleblower the information, because that's close to a spy," Trump told a group of United States delegation to the United Nations staffers and their families before departing New York on Thursday, according to video of the private event obtained by The Washington Post. "You know what we used to do in the old days when we were smart? Right? With spies and treason, right? We used to handle them a little differently than we do now."
Democrats were quick to warn the president that such remarks, as well as his constant public shaming, could put not only this whistleblower's life at risk—but also the lives of future individuals who choose to come forward to voice concerns regarding the actions of the country's most powerful leaders.
"I think what the president said goes beyond irresponsible—it's dangerous," House Speaker Nancy Pelosi (D-Calif.) told CNN on Friday, saying that she was "very worried" about the whistleblower's security. "For the president to say what he said about those who may have supplied information to the whistleblower seriously undermines integrity in government, but the president does that almost every day."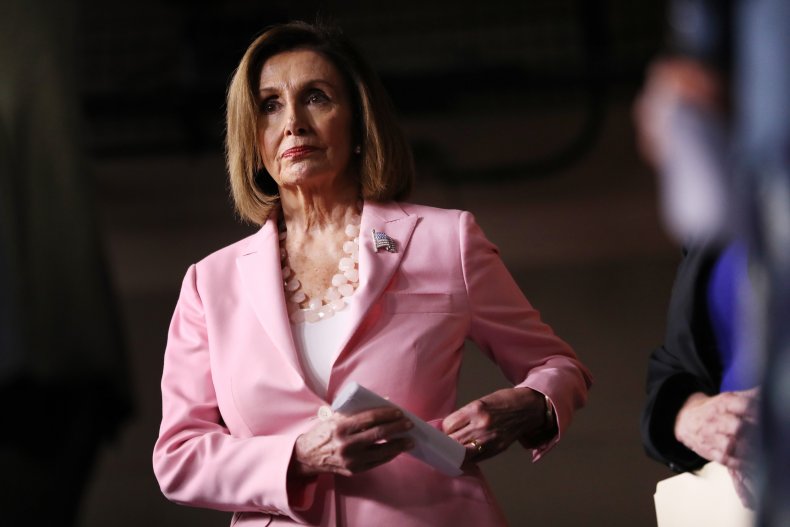 Pelosi also said she believed Attorney General William Barr "has gone rogue"—stark comments for one of the most powerful lawmakers in Washington to make about the nation's top law enforcement official. "He has for a long time now," she added.
On MSNBC earlier that morning, Pelosi made the same "rogue" comments, as well as accusing Barr and the Justice Department being involved in a "cover-up" with the White House.
Trump made reference to Barr and to his personal attorney, Rudy Giuliani, during his call with Zelensky, suggesting they would act as emissaries to help uncover information about Biden and investigate a false conspiracy theory that it wasn't Russia who stole Democratic National Committee emails in 2016.
Pelosi's criticism mirrored that of several colleagues who said on Thursday that Trump's remarks equated to "reprehensible witness intimidation" and accused him of attempting "to obstruct Congress' impeachment inquiry."
"Threats of violence from the leader of our country have a chilling effect on the entire whistleblower process, with grave consequences for our democracy and national security," Reps. Eliot Engel (D-NY), Adam Schiff (D-CA) and Elijah Cummings (D-MD) said in a joint statement. They chair the House Foreign Affairs Committee, Intelligence Committee and Oversight Committee, respectively.
"No officials with knowledge relevant to the Committees' investigation, including knowledge of the subject of the whistleblower complaint, may be subject to any intimidation, reprisal, or threat of reprisal, and all witnesses must be made available for congressional testimony," the statement continued.
Schiff has said that in light of the whistleblower's complaint being made public and the partial transcript of Trump's call with Zelensky being released, the whistleblower wants to speak with Intelligence Committee members privately to discuss the matter further. Arrangements are being worked out through the whistleblower's attorney, according to Schiff.
"Our nation's laws prohibit efforts to discourage, intimidate, or otherwise pressure a witness not to provide testimony to Congress," the chairmen said.