Democrats Agree with Republicans: Hope Hicks' Testimony Revealed 'Nothing New'
Emerging from a closed-door deposition with former longtime Trump confidante Hope Hicks throughout Wednesday, Republicans repeatedly classified the hours-long questioning as a waste of time. And while they disagree with that assertion, some Democrats do agree with their Republican counterparts on one thing: no new information was revealed.
White House lawyers prevented the former Trump campaign aide and former White House communications director from answering any questions related to her time working in the West Wing on grounds of "absolute immunity," according to House Judiciary Committee lawmakers from both parties who were in the room. The result, Democrats and Republicans said, was a lack of information, leaving Democrats infuriated and threatening legal action while Republicans called it an attempt to rehash the Mueller report.
Hicks, a key figure in Mueller's report whose name appeared 148 times, was a witness that House Democrats hoped could shed light on actions taken by President Donald Trump during her tenure as they investigate him for potential obstruction of justice.
"Nope. Nothing new," Representative Steve Cohen, a Democrat and Judiciary member, told Newsweek. He said there was "not a single" question Hicks answered about her time working for the White House, adding that he did not learn any information about Trump's 2016 campaign.
Pressed further about whether having Hicks appear was worthwhile, the Tennessee lawmaker said he did not attend the full day's hearing due to other conflicts and, thus, could not answer.
Representative Sheila Jackson Lee, a Texas Democrat on the committee, said Hicks' testimony "reinforced" the "issues that we're addressing... so we know there's something there" with regard to Trump directing his former personal attorney Michael Cohen to make hush-money payments to women just before the 2016 election to remain silent about alleged extramarital affairs.
"I think we'll have to move towards the court proceedings to delve into those questions more deeply," she said of the payments. "This is a building block, and there are a lot of unanswered questions."
Hicks' Wednesday appearance was the outcome of a subpoena issued by the committee, which Democrats threatened to enforce by going to court after the former Trump official failed to answer much of their questions.
"Every bit of information is helpful to us," said Representative Val Demings, a Florida Democrat who declined to say whether new information was learned due to the closed-door nature of the deposition.
A transcript of Hicks' deposition will be made available to the public within the next two days, according to Judiciary Chairman Jerrold Nadler.
Hicks' inability to provide Democrats with more revealing information about what occurred behind the scenes during the campaign and at the White House that wasn't in the Mueller report played into the hands of Republican members, who classified the deposition as "a complete waste time."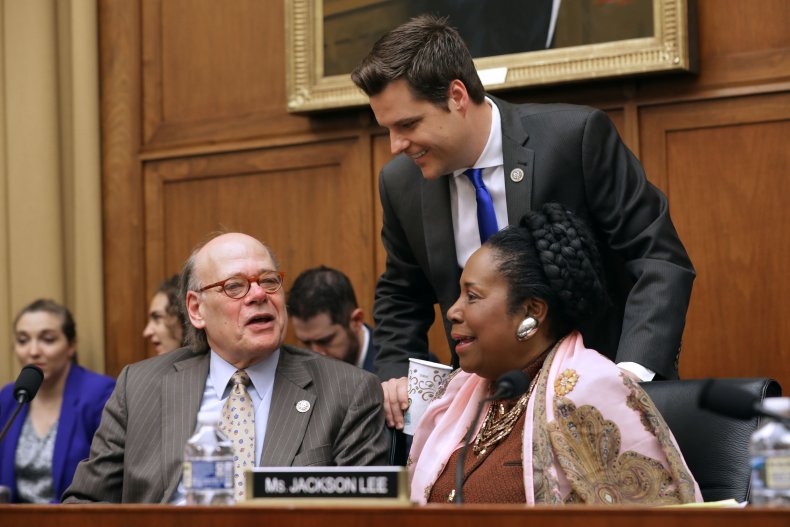 Representative Matt Gaetz, a Florida Republican, said that questioning Hicks was "Democrats trying to re-litigate the Mueller report."
Representative Steve Chabot, Republican of Ohio, offered a similar critique of committee Democrats.
"They are just trying to continue to make some hay out of the whole Russian collusion and obstruction of justice," he said. "They seem to be bound and determined to keep this story alive about the president getting impeached."
The Judiciary Committee's top Republican, Representative Doug Collins of Georgia, also claimed Democrats were trying to "re-litigate the Mueller investigation."
"Nothing changed," Collins said of the questions and answers posed in the afternoon vs in the morning. "The interview gave nothing new. It gave nothing that we had not already seen before. There were some different lines of questioning. But again, we took eight hours to find out what most of us knew from the beginning: there's not a lot to do here."
Republicans failed to ask many questions of Hicks, leaving Democrats to ask the majority of the questions, according to Democratic lawmakers present. Collins defended his GOP colleagues, saying that a lack of new information meant fewer questions to ask.
Earlier in the day, Trump voiced his irritation via Twitter that Hicks was appearing for questions.
"The Dems are very unhappy with the Mueller Report, so after almost 3 years, they want a Redo, or Do Over," he wrote. "This is extreme Presidential Harassment. They gave Crooked Hillary's people complete Immunity, yet now they bring back Hope Hicks."