Democrats Agree They Need to Come Up With Reconciliation Framework This Week, Schumer Says
Democrats know they have to complete a framework for their multitrillion-dollar spending package this week, Senate Majority Leader Chuck Schumer said Tuesday.
The New York Democrat said the caucus had a "spirited discussion" about social program spending during a luncheon on Capitol Hill.
"There was universal, universal agreement in that room that we have to come to an agreement and we've got to get it done and want to get it done this week," Schumer said.
The majority leader added that "the pace has picked up" on negotiations and the "desire to get it done is strong."
Democrats have been negotiating for weeks on the reconciliation bill, a centerpiece of President Joe Biden's domestic agenda. The legislative process will allow the party, which narrowly controls Congress, to pass the package without any Republican support.
The wide-ranging proposal to expand education and healthcare programs, as well as bolster climate change initiatives, originally came with a $3.5 trillion price tag. But both the White House and congressional leaders have admitted the final draft will need to be pared down to the $2 trillion range.
The original proposal includes investments to what Biden has deemed "human infrastructure": Medicare expansions, universal pre-K and two years of free community college and an increased Child Tax Credit.
Schumer previously said Congress wants to send both the reconciliation package and a separate, bipartisan infrastructure bill to the president's desk by the end of October.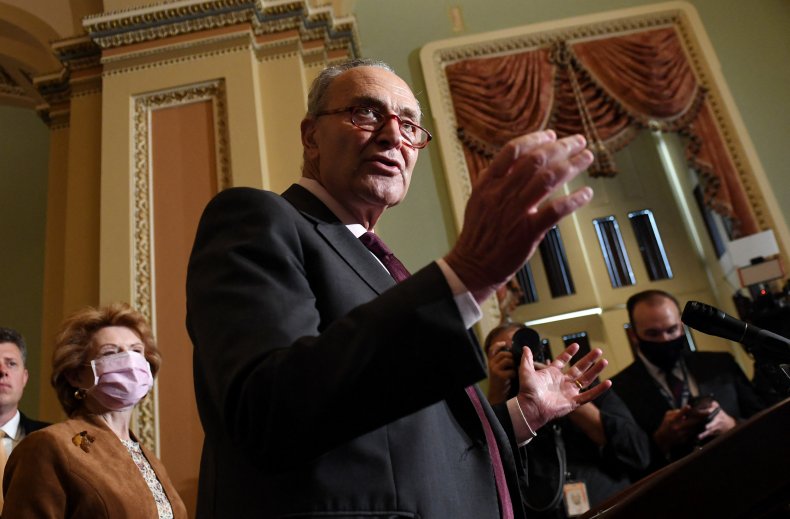 Biden has hosted numerous meetings with lawmakers as negotiations continue. On Tuesday, he held two separate discussions with moderate and progressive members of the House of Representatives.
The president has also already sat down with Senators Kyrsten Sinema and Joe Manchin this week, according to the White House. All eyes have been on the two moderate Democrats, whose votes are essential if the party hopes to pass Biden's domestic agenda in the evenly divided Senate.
Manchin and Sinema have both agreed that shrinking the price tag of the spending package is essential, but have different views on what should be included and excluded from the legislation.
West Virginia's Manchin poured cold water this week on a key climate policy that would help the administration meet its ambitious emissions goal.
The Clean Electricity Performance Program would financially reward utilities that increase their share of renewable energy while punishing those that fall short with fees. Manchin said he opposes the $150 billion policy because transition away from fossils "is already happening."
Sinema has reportedly voiced opposition to plans to lower prescription drug costs. She's also criticized some corporate tax hikes that the party says are crucial to paying for paid family leave and universal preschool programs.