Democrats Aim to Distance Kathy Hochul From Her Lt. Gov Amid Bribery Probe
New York State is embroiled in another scandal just months after former Governor Andrew Cuomo resigned from office over sexual harassment allegations.
Earlier this week, Lieutenant Governor Brian Benjamin resigned after being arrested and indicted on federal bribery charges.
Now, Democrats are aiming to distance Governor Kathy Hochul from Benjamin, who she selected to serve as her second in command. Hochul took over for Cuomo in August 2021 and at the time pledged to end the culture of unethical behavior. She has already announced plans to run for governor after finishing Cuomo's term.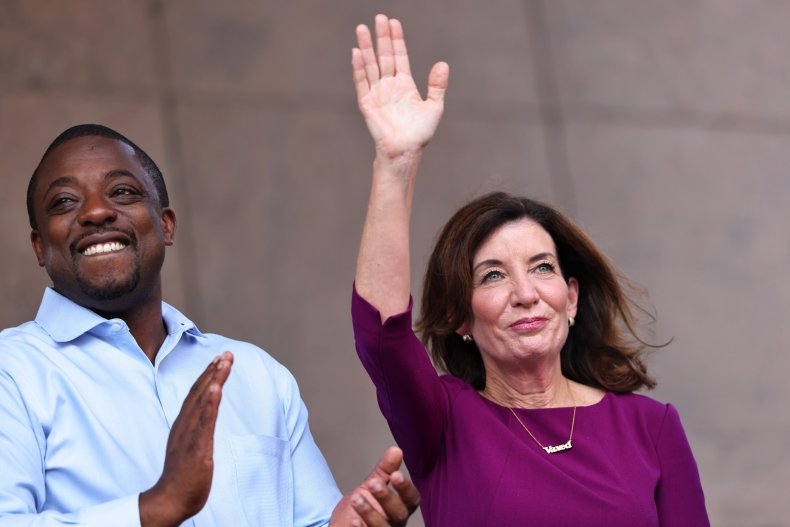 Benjamin was to be her running mate and will still likely be on the ballot in New York's June 28 primary for lieutenant governor because he already accepted the nomination from the state's Democratic Party. Assemblymember Amy Paulin said earlier this week that she will introduce legislation that would change that.
Paulin's proposal would allow a candidate to decline their party's designation or nomination and be removed from the ballot if they are charged with a crime, have a life-threatening illness or have resigned from the office for which they are campaigning. "This is a bill that makes a lot of sense," Paulin said, according to WSKG. "And sometimes, there's an opportunity."
The federal indictment accuses Benjamin of making a corrupt deal with a real estate developer to obtain campaign contributions during his run for city comptroller last year. Prosecutors allege that Benjamin directed a $50,000 state grant to a nonprofit organization controlled by that real estate developer in exchange for tens of thousands of dollars in donations.
Hochul said in a statement Tuesday that she had accepted Benjamin's resignation "effective immediately."
"While the legal process plays out, it is clear to both of us that he cannot continue to serve as Lieutenant Governor," Hochul said. "New Yorkers deserve absolute confidence in their government, and I will continue working every day to deliver for them."
Republicans are ripping Hochul over Benjamin's downfall.
"Reminder—Lt. Gov. Benjamin is Hochul's handpicked choice," Congresswoman Elise Stefanik wrote on Twitter. "Now he has been arrested for his criminal bribery and campaign fraud. He put his own interests above those of New Yorkers."
Colorado Representative Lauren Boebert used the circumstances to push for New Yorkers to elect Republican Lee Zeldin as governor this fall.
"What did Kathy Hochul know and did she know it when she picked Brian Benjamin? NY needs to elect @LeeZeldin so it can FINALLY have a Governor that isn't surrounded by corruption scandals," Boebert tweeted. "The last time they had a Governor that didn't go down in a trash heap of scandal was 2006!"
Newsweek has reached out to the governor's office for comment.