'Democrats Are Racists' and Other Firebombs Tossed at Nation's Largest Book Fest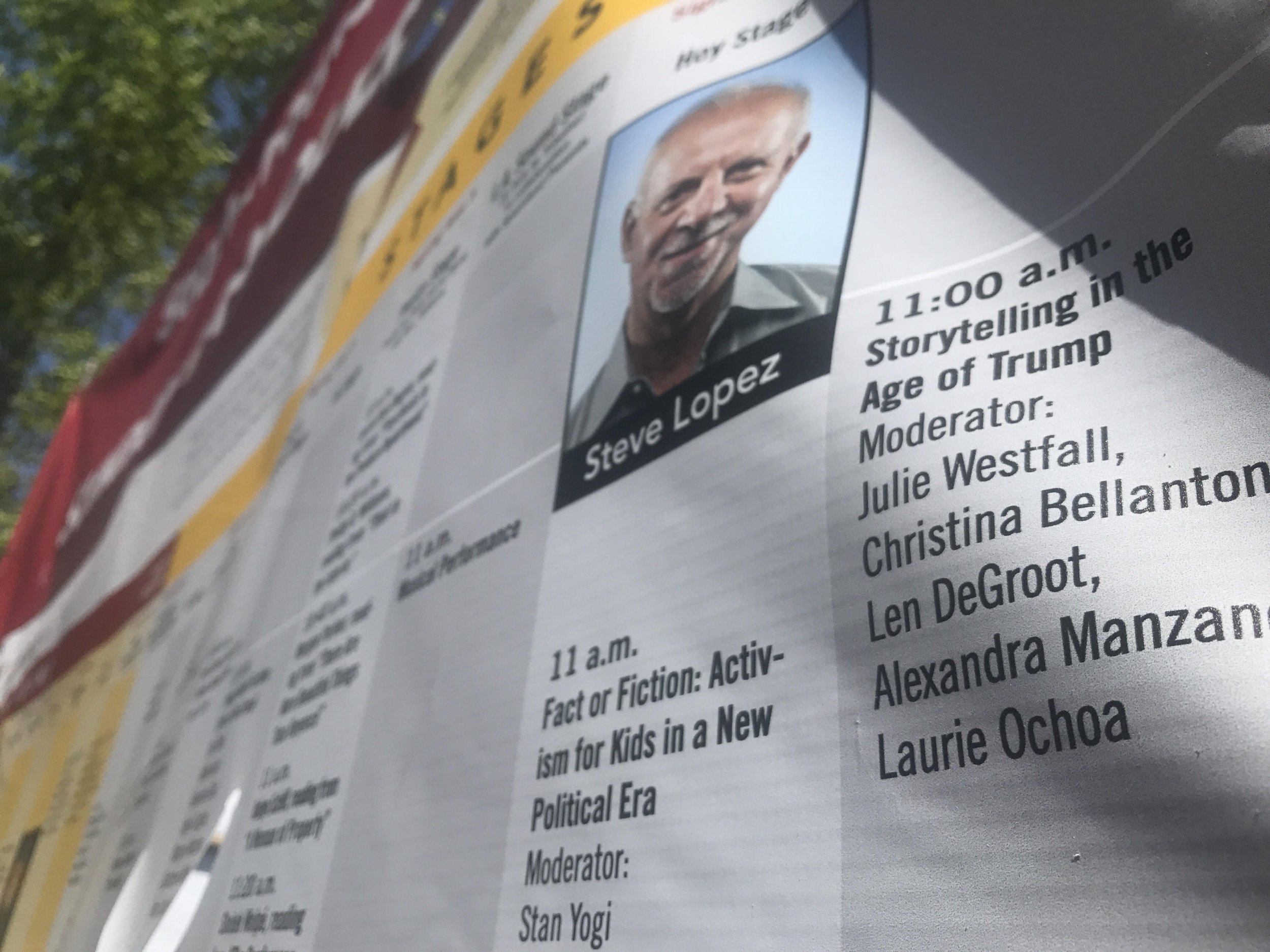 It is only fitting that the nation's largest celebration of literature, the Los Angeles Times Festival of Books, would focus on the nation's biggest political story. Over a two-day span of talks by and conversations with some of the nation's leading intellectuals, President Donald Trump was a recurring theme, subtly or overtly, in the booth where you could ask Muslims about their faith and try on a hijab, and in the auditorium where liberal commentator Joy Ann-Reid talked about the imperiled Barack Obama legacy.
During the 2016 presidential campaign, Trump had openly crowed about his love of "the poorly educated," and the embrace of anti-intellectualism was a hallmark of his political movement. Accordingly, any gathering in which freedom and depth of thought are celebrated is an act of resistance, doubly so when it is held in the state most vehemently opposed to the Trump agenda.
The theme was set on Friday evening, when the festival opened with a book prize ceremony. "We live in the age of trolls sowing discord and spreading lies," said Los Angeles Times editor-in-chief and publisher Davan Maharaj at the opening of the prize ceremony, which was hosted by comedian Tig Notaro. "The best way to fight ignorance and prejudice is with the written word," Maharaj reminded. Sometime later, he watched as German historian Volker Ullrich won the history prize for his biography of Hitler, and the Washington Post's Wesley Lowery won for his chronicle of the Black Lives Matter movement.
During his acceptance speech, Lowery recalled what a young activist had told him: "To tell the truth in public is an act of protest."
While there were non-political readings and events during the festival, it was hard to avoid Trump. Georgia Representative John Lewis, a hero of the civil rights movement, was introduced, tongue-in-cheek, as "the subject of a tweet," in reference to an insult hurled at him by Trump. The author of a three-part personal history of the civil rights movement called March, an energized Lewis delivered what amounted to a recounting of his work and a defense of the messy, necessary project called American democracy. In one story, he recalled how he'd been denied a library card in Troy, Alabama, in 1956. He didn't return to that library until 1998, when he read there from his first published book, Walking With the Wind. At the end of the event, he was presented with a library card Jim Crow had denied him 32 years earlier.
"We're not going back," Lewis said to a nearly full Bovard Auditorium. The same hopeful sentiment was voiced by Kareem Abdul-Jabbar, the former Los Angeles Lakers great who has more recently turned to political activism and writing. "We've always been able to figure things out here in America," Abdul-Jabbar told Maharaj. Both Lewis and Abdul-Jabbar urged civic participation as an antidote to the forces of ignorance and intolerance. (In a March primary in Los Angeles, however, the voter turnout was a dismaying 11.45 percent.)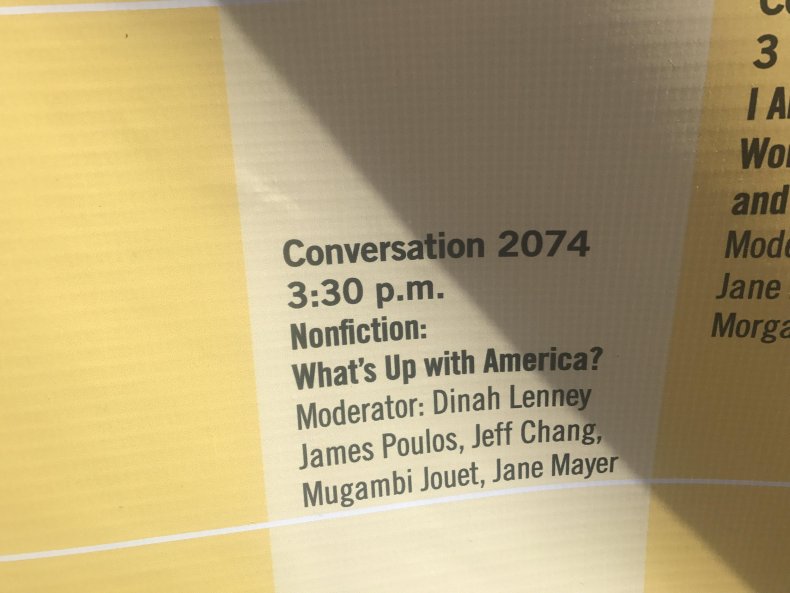 The most contentious event featured conservative author David Horowitz, who shared the stage with Los Angeles Times editorial page editor Nicholas Goldberg, who'd just published a six-part critique of Trump, "Our Dishonest President," and Berkeley sociologist Arlie Russell Hochschild, whose recent Strangers in Their Own Land: Anger and Mourning on the American Right sought to explain the psychological attractions of Trumpism.
Hecklers are rare at book festival; then again, so are right-wing flame-throwers like Horowitz. Seeming to revel in the occasional catcall from the audience, he angrily denounced the Democratic Party, the news media and the Clintons, as if he were the warm-up act at a Trump rally. For example, he branded the Democratic Party "racist," accusing it of creating inner-city ghettos through Great Society policies. He had nothing kinder to say about the quasi-socialism proffered by Vermont Senator Bernie Sanders: "These are impossible dreams, and they are incredibly destructive." He then proceeded to call Attorney General Jeff Sessions a "civil rights advocate," a view not widely shared.
The literary community can sometimes lapse into sanctimony, but there was no such danger on the USC campus last weekend, as large crowds shuffled past the statue of Tommy Trojan, the school's bellicose mascot. "Unlike President Obama, I was actually born in Kenya," joked Stanford scholar Mugambi Jouet during a Sunday talk. The reference, of course, is to Trump's scurrilous birtherism, in many ways the heart of his appeal. Jouet, author of Exceptional America: What Divides Americans From the World and From Each Other, patiently explained to one dismayed audience member that ultra-nationalist Marine Le Pen had not in fact won the French election. She'd made the runoff stage, but that wasn't cause to panic.
As for our own political system, Jouet was similarly optimistic. "Where there's life, there's hope," he said. "And democracy is only what you make of it."