Democrats Want to Ban Gun Sales to Americans Who Commit Hate Crimes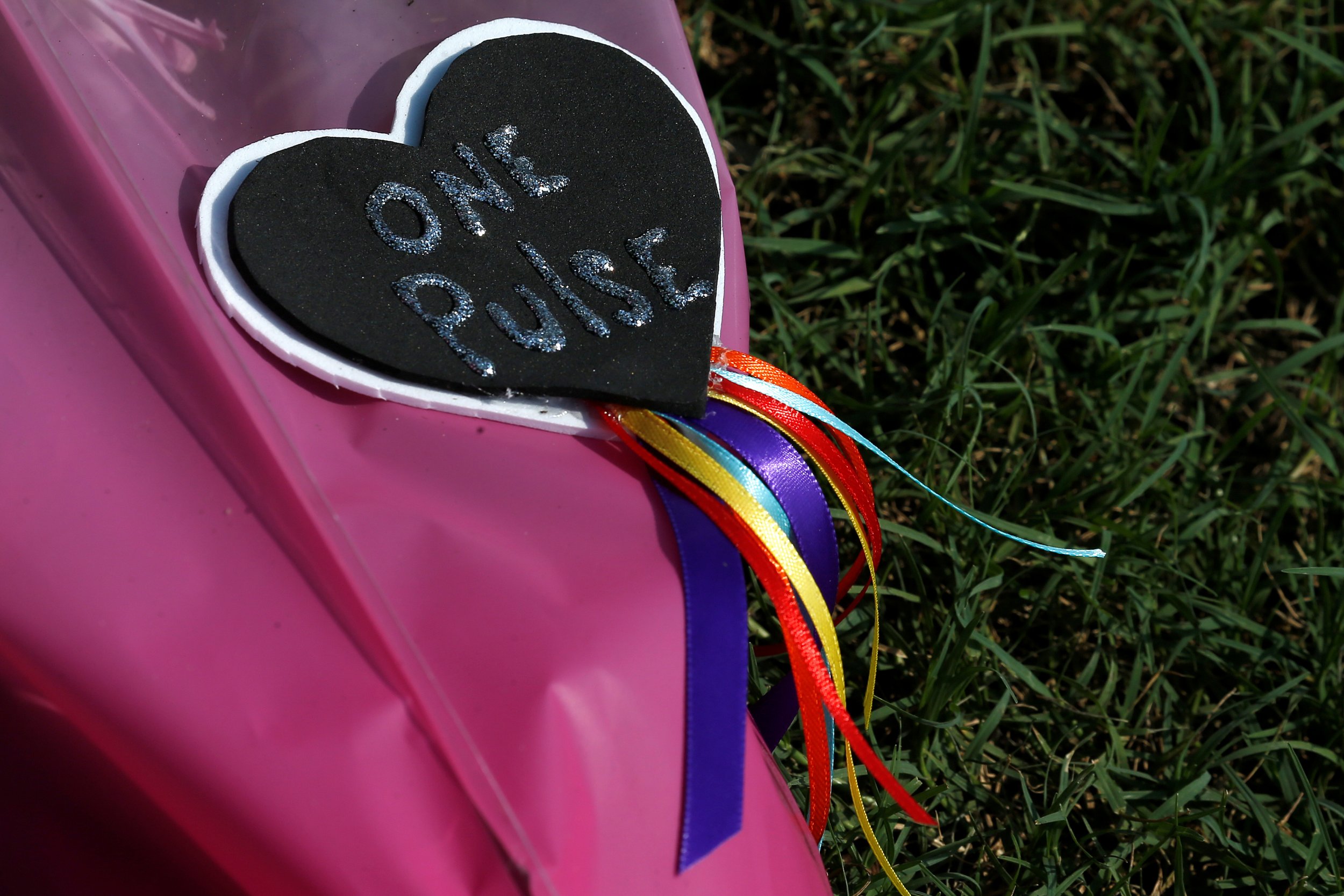 Two congressional Democrats have reintroduced legislation to prohibit Americans convicted of misdemeanor hate crimes at the state and local level from purchasing or possessing guns, ahead of the anniversaries of the Pulse nightclub and Emanuel African Methodist Episcopal Church mass shootings.
Related: Pulse victims' families sue social media platforms
Under current federal law, a violent or threatening misdemeanor hate crime conviction doesn't prohibit a citizen from buying or having a gun. Hate crime laws vary by state. In most, citizens convicted of misdemeanor hate crimes can still legally purchase guns.
Just four days before the one-year mark of the Orlando, Florida, shooting, U.S. Senator Bob Casey (D-Pa.) and U.S. Representative David Cicilline (D-R.I.) each introduced a measure in their respective congressional chambers to prevent Americans who have been convicted of misdemeanor hate crimes—or received an enhanced sentence for a misdemeanor because of hate or bias—from obtaining firearms.
So far, Casey's Senate bill has 10 Democratic co-sponsors, and Cicilline's companion version has 18 (also all Democrats). Both pieces of legislation have been referred to committees within the Senate and House.
According to the FBI, the June 12 Pulse nightclub massacre in Orlando was the country's worst mass shooting and its second-worst terrorist attack​, killing 49 and injuring dozens of others. Officials said gunman Omar Mateen, 29, targeted the LGBT community when he opened fire at the gay nightclub. The FBI said it twice interviewed him about his suspected ties to the Islamic State militant group, and that he later pledged allegiance to ISIS. He was fatally shot by police following a standoff in the wake of the tragedy.
Mateen legally purchased the weapons he used in Orlando. The lack of a ban to prohibit suspected terrorists from buying guns in the U.S. has been a major point of contention in Congress and among advocates for stricter gun legislation.
Between 2010 and 2014 alone, more than 43,000 hate crimes were committed with a firearm, according to the Southern Poverty Law Center, a Birmingham, Alabama–based nonprofit that tracks extremist groups in the United States. The group has found that 917 hate groups currently operate in the country.
FBI statistics from 2015, the most recent year available, suggest that African-Americans and Jewish individuals remain disproportionately targets of hate crimes compared with their population, as reported by the Associated Press.
Casey previously long opposed new gun laws, but he changed his position after the 2012 Sandy Hook Elementary School massacre in Newtown, Connecticut. "We can't stand idly by as our nation's citizens suffer from hate crimes," he tells Newsweek. "We should never turn our eye when someone commits a misdemeanor hate crime. We should hold them accountable and prevent them from possessing a firearm."
The debate about gun laws took a dramatic turn in the days after the Orlando rampage, with a nearly 15-hour filibuster in the Senate and an almost 26-hour sit-in staged by Democrats in the House. Both Casey and Cicilline last year introduced similar legislation. The measures gained co-sponsors, but neither bill was ever brought to the floor for a vote.
The new House and Senate measures stand perhaps an even more difficult chance at becoming law, especially under the Trump administration and with a Republican-controlled Congress. Some lawmakers—mainly Republicans—worry that new firearms restrictions would limit the Second Amendment rights of law-abiding citizens.
The reintroduction of their legislation also comes just before the two-year mark of the mass shooting at Mother Emanuel AME in Charleston, South Carolina, where Dylann Roof fatally shot nine African-American worshippers on June 17, 2015. A federal jury was unanimous in finding Roof, a self-proclaimed white supremacist, guilty of 33 federal charges. Earlier this year, it sentenced him to death. He confessed to killing the parishioners after they had welcomed him to their Bible study group.
In April, he pleaded guilty to 13 state charges in the killings and was transferred to death row at Terre Haute, a federal correctional institution in Indiana, where he remains. He became the first person to be convicted of a federal hate crime and sentenced to the death penalty.
Roof, who is now 23, should have been disqualified from purchasing a gun because he previously had admitted to illegal drug use. But the background check examiner missed the charge and didn't complete his check within the three-day time limit. Consequently, despite the drug charge, a gun store owner sold Roof the gun two months before he used it in his rampage at the church.
On Monday, Everytown for Gun Safety, one of the country's leading gun-violence prevention groups, and Moms Demand Action for Gun Sense in America will launch "Disarm Hate Week" to honor those killed in what they call "hate-fueled gun violence tragedies" and to empower Americans to fight to reduce such acts in their communities. The week includes the days marking the two shooting anniversaries. To mobilize grassroots efforts to support the legislation introduced by Casey and Cicilline, Everytown wrote an open letter (below), signed by 19 other groups—including, among other things, those devoted to advancing gun-violence prevention, gay rights and women's rights.
An open letter to the American people, penned by Everytown:
Hate can confront us in every part of our lives—and when it comes armed, it can be deadly.

Last year, it was an LGBTQIA nightclub on Latin night in Orlando during Pride month, and nearly a year before it was an historic African-American church in Charleston, South Carolina.

As Americans, we are, unfortunately, no strangers to hate-motivated gun violence. Nearly 300,000 hate crimes occur in the United States per year, 8,000 of which involve a gun. Whether it's racism, misogyny, homophobia, transphobia, xenophobia, religious intolerance or any other bias—we demand to live in a country where we can be safe to be who we are and believe what we want. Now is the time to DISARM HATE.

June 12 marks one year since the tragedy at the Pulse nightclub in Orlando and June 17 marks two years since the tragedy at Charleston's Emanuel African Methodist Episcopal Church—both events where American lives were senselessly cut short because it is too easy for hateful people to arm themselves and carry out these atrocities in our country. That's why, from June 12th to June 18th, Everytown for Gun Safety and Moms Demand Action for Gun Sense in America will join forces with organizations across the country for #DisarmHate Week, when we will honor those killed in hate-fueled gun violence tragedies and demand that our leaders do more to prevent the hate crimes that occur in America every day. During this week of action, we will mobilize and empower Americans to join the fight against gun-related hate crimes in their communities.

We will also call attention to the latest research on gun-related hate crimes in our country. While many hate crimes go unreported, they disproportionately hurt communities of color and other minority groups. In fact, more than half are driven by racism, roughly a quarter are driven by bias against a religion and nearly a quarter are motivated by prejudice against a person's sexual orientation and gender identity. With a reported increase of hate-fueled attacks and rhetoric targeting the most marginalized in our society in recent years, the time to take action to DISARM HATE is now.

This country belongs to all of us, and it is up to us to make sure it is safe for all Americans. We call on you to join the undersigned in our efforts to DISARM HATE, and truly make this nation one where we can all be safe no matter who we are and what we believe.
Signed by:
Americans for Responsible Solutions
Black Church Center
Brady Campaign to Prevent Gun Violence
Center for American Progress
Coalition to Stop Gun Violence
Community Justice Reform Coalition
Equality Federation
Equality Florida
Human Rights Campaign
Latino Project Fund
Lawyers Committee for Civil Rights
LPAC
Matthew Shepard Foundation
National Council of Jewish Women
National Network to End Domestic Violence
National Organization for Women
National Women's Law Center
Ultraviolet
Women's March