Democrats Like New York Mayor Bill de Blasio Show Trumpian Enmity for Free Press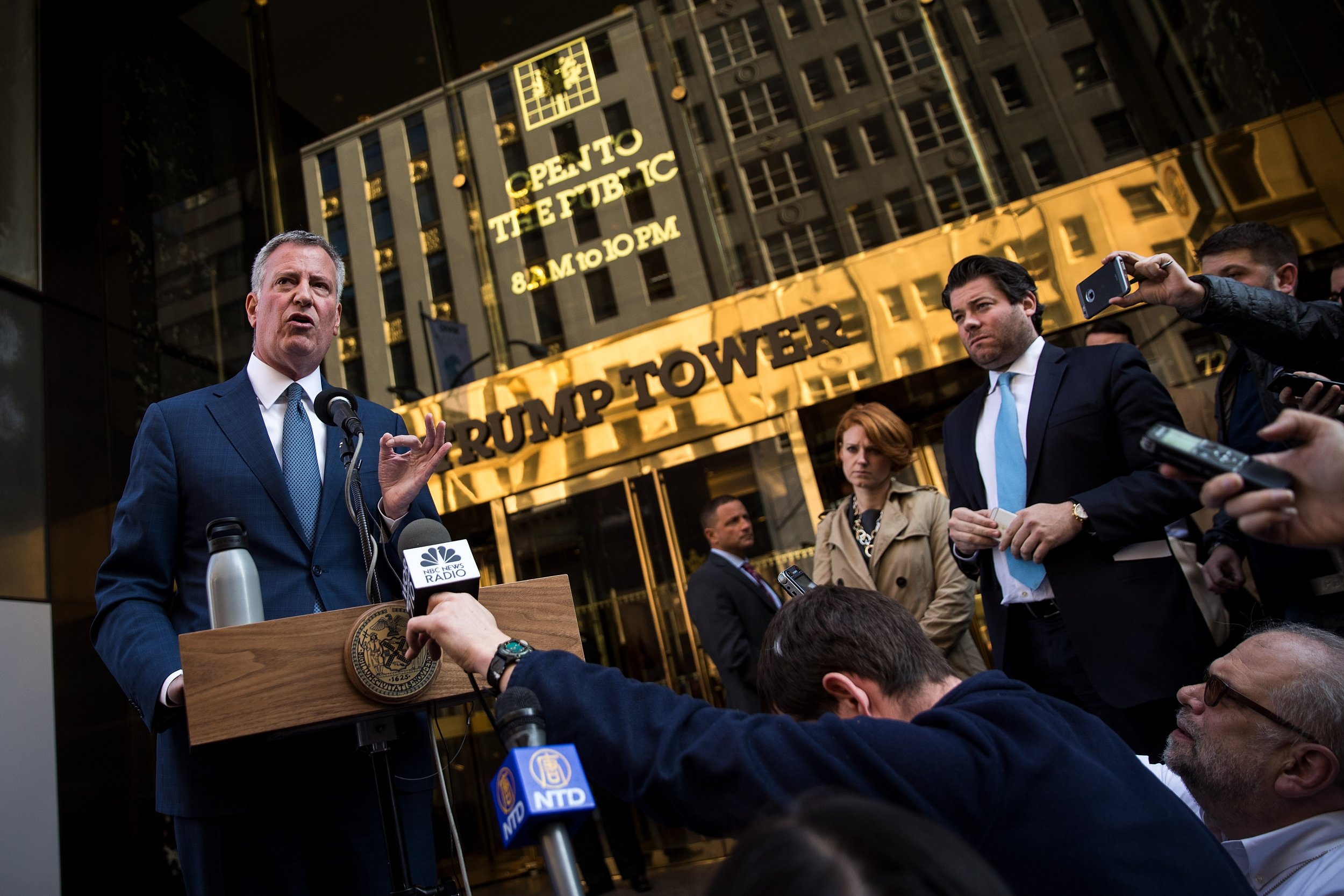 It's easy—and popular—to champion the free press in the Age of Trump. By all means, champion away. Send pizzas to the bastions of the Fourth Estate. Send page views and subscriptions soaring. But remember, also, that President Trump is hardly the only—or the first—politician to demonize the media. And while his attacks on journalism are inexcusable in their frequency and vitriol, Democrats and the left have also singled out the media for their share of abuse.
There was Bernie Sanders railing against "the fog of the corporate media," and former Hillary Clinton campaign chairman John Podesta blaming the media for her loss because, all throughout the campaign, it had tried to "eviscerate" her—even as, according to Trump, she had the media in her pocket
And then there's New York Mayor Bill de Blasio, whose astonishing contempt for the press nearly rivals that of Trump. That contempt was on full display at the interview de Blasio gave to BuzzFeed News editor-in-chief Ben Smith at the Northside Festival in Brooklyn on Friday. That interview comes after a week during which de Blasio took a beating in the tabloids for preaching environmentalism to New Yorkers while using two sports utility vehicles each day to travel to a gym in Brooklyn, 12 miles away from the mayoral residence on the Upper East Side.
Smith opened the interview with a humorous allusion to de Blasio's "kind of seamless lovefest with the media." De Blasio, who is not known for his sense of humor, launched into a protracted defense of his gym routine, which he says was only ever an issue because of a "clickbait dynamic" in the media.
Actually, the issue was raised not by the media, but by a frustrated caller to a radio program. Nor did the current practitioners of journalism invent clicks anymore than their predecessors invented giving a guy at the subway-station kiosk a dollar for the morning's New York Post.
De Blasio continued to rail against the "corporate media," leading Smith to ask a pointed question: "Has it kind of given you any pause to hear your words in Donald Trump's mouth?"
De Blasio's explanation of how his attacks on the media are different than Trump's was both confusing and unconvincing:
Donald Trump doesn't actually mean it. Donald Trump spouts fake populism all day long and gets away with it. He is part of the problem. You decide, is he a millionaire or a billionaire? I don't care. Either way, he's part of the problem. He's part of the same class that created this reality. He's chummy with all these people. So when he rails against the media, it's to fake appeal, if it's just a cynical ploy to appeal to a right-wing base.
It's hard to ignore the fact that both men tend to condemn the media when the media point out their faults. They only like mirrors that flatter, which is why Trump flocks to Breitbart and Fox News, while de Blasio praised, in his interview with Smith, "progressive outlets that are free and independent," i.e. ones more likely to parrot the mayor's message.
For all the claims—from both left and right—that the free press is dishonest, nothing seems to infuriate politicians as much as journalists telling the truth. That truth is often uncomfortable, especially these days: Yes, Clinton's emails were worth reporting on, but so were the sexual misconduct allegations against Donald Trump.
De Blasio's gym routine is fair game for reporters, especially at a time when personal behavior and the fate of the planet have become inextricably linked. As for that corporate media friendly with the ruling classes? Back in 2007, The New York Times sent reporter Michael M. Grynbaum to investigate whether Mayor Michael R. Bloomberg, a billionaire who lived on the Upper East Side, was quite as much of a subway rider as he claimed.
Grynbaum discovered that Bloomberg "is picked up at his Upper East Side town house by a pair of king-size Chevrolet Suburbans. The mayor is driven 22 blocks to the subway station at 59th Street and Lexington Avenue, where he can board an express train to City Hall. His drivers zip past his neighborhood station, a local subway stop a five-minute walk away."
You think de Blasio was complaining about that report? No, he probably found it as hilarious and clever as the rest of us.
For that matter, maybe he and Bloomberg can carpool in the future.