Sanders and Clinton Battle for Black Endorsements Ahead of South Carolina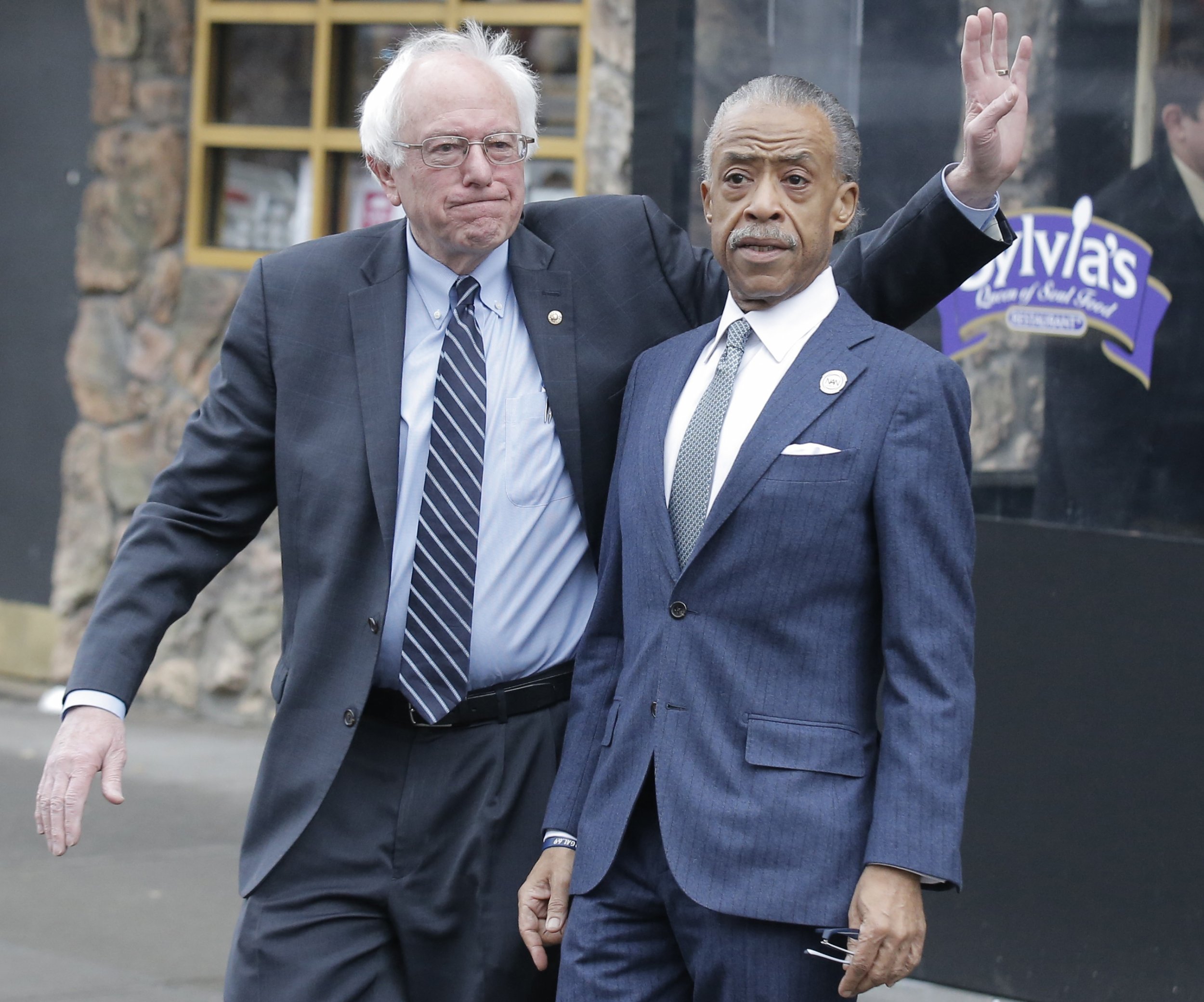 In their battle for voters of color, Democratic rivals Hillary Clinton and Bernie Sanders are relying heavily on endorsements from minority leaders—validators who can vouch for the two caucasian politicians' bona fides in the black and brown communities.
Even as the candidates debate in Wisconsin, they'll have one eye on Nevada, which holds its Democratic caucuses February 20, and South Carolina, where Democrats vote on February 27. Both states present far more diverse terrain than lily-white Iowa and New Hampshire, where voters just gave a jolt of momentum to Sanders's campaign. Nevada is 9.2 African-American and 28 percent Hispanic, while South Carolina is 28 percent black.
With strong showings in the first two contests, Sanders served notice that he's not going away anytime soon. But to have any hope of challenging Clinton over the long haul, he has to make up sizable ground with minorities, a significant segment of the Democratic base but just 5 percent of the population in Vermont, the independent senator's home state. Clinton, in contrast, has a long history with both the African-American and Hispanic communities, dating back to her days in Arkansas politics, as first lady and as a New York senator. But she needs to maintain that edge to halt Sanders's surge.
That dynamic has intensified the contest for endorsements, particularly from prominent black voices. On Tuesday, the PAC for the Congressional Black Caucus (CBC) held an event to announce its endorsement of Clinton. The PAC issued a statement saying, "In Hillary Clinton, African-Americans will have a nominee who knows key black elected officials, clergy, fraternity and sorority leaders, educators, public intellectuals, athletes, artists, and activists. With their support, we will have a president who has dedicated her lifetime of public service to addressing the inequities that millions of African-Americans still face."
Speaking at the CBC PAC announcement, civil rights icon and Georgia Congressman John Lewis questioned Sanders's civil rights credentials. "To be very frank, I never saw him. I never met him," during that era, Lewis said, adding, "I met Hillary Clinton, I met President Clinton."
Lewis personally endorsed Clinton last fall, and on Thursday he emphasized, "I know the South.… I know South Carolina. I'm going there this weekend. I'm going there because I believe truly that there's no one else who's better prepared to be president of the United States of America than Hillary Clinton."
But as Sanders supporter and CBC member Keith Ellison of Minnesota pointed out Twitter, the PAC is not the same thing as the caucus, itself, which represents the 46 black members of Congress. The PAC, which includes lobbyists and others, "endorsed withOUT input from CBC membership, including me," Ellison tweeted.
The Sanders campaign fired back a short time later, announcing the endorsement of beloved performer and civil rights activist Harry Belafonte. In a video released by the campaign, Belafonte explained, "I think he represents opportunity, I think he represents a moral imperative, I think he represents a certain kind of truth that's not often evidenced in the course of politics." That was followed, this evening, by another release hailing the endorsement of Erica Garner, the daughter of Eric Garner, the Staten Island man who died after police put him in a chokehold, inspiring #BlackLivesMatter protests.
But Clinton has her own support from the #BlackLivesMatter movement. She already won the backing by Garner's mother, as well as the mother of Trayvon Martin, who was killed in another law enforcement-related scuffle. And earlier this week her campaign leaked word that she will be hitting the trail next week with the mother of Sandra Bland, the woman who died in jail after a traffic stop in Houston last year, prompting outrage at her treatment.
On Wednesday, Sanders was in Harlem meeting with civil rights activist and talking head Rev. Al Sharpton. He didn't earn Sharpton's endorsement, but the high-profile meeting drew plenty of press coverage. Sanders also technically doesn't have Ta-Nehisi Coates's endorsement, but he'll certainly take the MacArthur "genius" grant-winning writer's vote. Coates told an interviewer on NPR Wednesday that he would be voting for Sanders, despite the fact that he skewered the senator for his position on reparations for victims of racist policies. Coates later wrote in the Atlantic that he did not intend for it to be an endorsement, but it's still a coup for the Sanders campaign.
Sanders is already making heavy use of a small number of prominent black surrogates like Professor Cornel West, Atlanta-based rapper Killer Mike and former NAACP Chairman Benjamin Jealous, who endorsed Sanders last week, to reach out to black voters. But his backers in the African-American community remain vastly outnumbered by Clinton's army of supporters.
And in South Carolina, Clinton has enlisted a long roster of local elected officials, both black and white, to her campaign. They include Edith Childs, the Greenwood councilwoman who coined the "Fired Up! Ready to Go!" chant that propelled Barack Obama's victorious presidential campaign in 2008.
The most coveted endorsement in South Carolina, however, is still up for grabs. Representative Jim Clyburn, the Democrats' lone member of the congressional delegation and most influential black, initially planned to stay out of the race but the Charleston Post and Courier reported Wednesday he's now considering throwing his weight behind Clinton. In 2008, Clyburn stayed neutral in the heated contest between Clinton and Barack Obama, but was publicly irked by Bill Clinton's comments that seemed to imply Obama was ahead in the state merely because he was black. Clinton "needs to chill," Clyburn famously said then. Then as now, it's dangerous for any Democratic presidential candidate to get on the wrong side of such a Palmetto State kingmaker.