Democrats Break With Biden Over the Border
Several Democrats are breaking with President Joe Biden over his administration's handling of the United States-Mexico border as the recent number of daily illegal crossings has remained near record highs.
In a letter to Biden earlier this week, a pair of conservative Democrats—West Virginia Senator Joe Manchin and Texas Representative Henry Cuellar—joined Ohio Representative Tony Gonzalez and Texas Republican Senator John Cornyn in urging his administration to extend the use of Title 42, a COVID-era border management policy first enacted by former President Donald Trump that allows the swift deportation of undocumented migrants.
The Biden administration recently lost a federal lawsuit seeking to defend the provision, which remains one of its most effective enforcement tools on the southern border. Of the more than 277,000 encounters reported by U.S. Customs and Border Protection this October, more than 81,000 were classified under Title 42, according to an agency database.
The Department of Homeland Security has already released a six-pillar plan to address an anticipated surge in illegal crossings—as many as 18,000 per day, according to estimates by DHS secretary Alejandro Mayorkas—that includes additional resources and manpower, improved processing efficiency, and elevated penalties for unauthorized entry.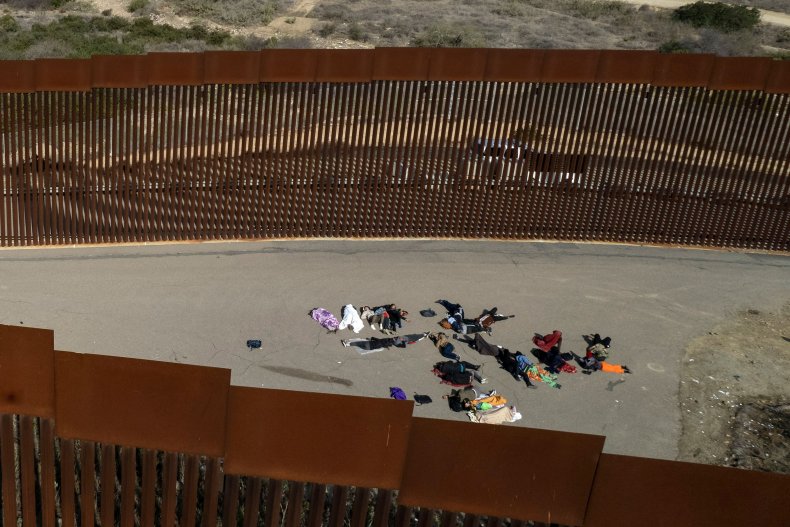 But some, including members of his own party, believe more can be done: including keeping Title 42 in place while Congress seeks an alternative solution.
"We have a crisis at our southern border," the letter read. "Never before in our nation's history have we experienced this scope and scale of illegal border crossings, and we remain concerned that your administration has not provided sufficient support or resources to the men and women of the Department of Homeland Security (DHS) who are tasked with maintaining border security."
Biden has already faced immense scrutiny for his handling of what his administration describes as an inherently "broken and dismantled" immigration system he had inherited from the Trump administration.
A November congressional hearing on threats to domestic security was dominated by Republican members of Congress urging Mayorkas to resign over his agency's handling of the border, while others have weighed plans to bring impeachment proceedings against him when a Republican majority takes control of the House of Representatives in January.
Meanwhile, Biden allies like California Governor Gavin Newsom—a potential candidate to replace Biden if he declines to run for a second term—have sought to reclaim the narrative around the border, making a highly publicized visit to the Mexican side of the border earlier this week. Biden and Vice President Kamala Harris have been largely absent from the region.
"On Day One of his administration, President Biden put forward a comprehensive plan focused on securing our border, ensuring Dreamers have a permanent home in our country, and helping businesses address their needs for more workers," Newsom said in a statement after his visit. "Instead of working on real reform, the response from Republicans has been to exploit the situation at our border for political gain."
"California has invested roughly $1 billion over the past three years to support the health and safety of migrants as well as the surrounding border communities, but we cannot continue to do this work alone," he added. "It is long past time for Republicans in Congress to engage on real solutions to meet the public safety, public health and humanitarian issues at our border and in our immigration system."
Some, including the bipartisan group of signatories to Cornyn's letter, say they want to do that work. They just need time to do it, which would require Biden to appeal the decision outlawing Title 42.
A group of 19 Republican states recently announced their own plans to file a legal challenge to the ruling, citing an "enormous disaster" pending along the U.S.-Mexico border. However, it is unclear whether Biden will be willing to play along.
"We are committed to enacting bipartisan legislation that will allow DHS to effectively implement policies and programs that have been revealed as critical to maintaining operational control over the southern border, and do not involve paroling large numbers of migrants into the United States to undergo months- or years-long processes," the letter read.
"These negotiations will take time," they added. "In the interim, we urge you to do everything within your power to extend the Centers for Disease Control and Prevention (CDC's) Title 42 order beyond the looming December 21st deadline until Congress can act."
Newsweek reached out to the Department of Homeland Security for comment.