Best Moments from the Clinton-Sanders Democratic Debate in Brooklyn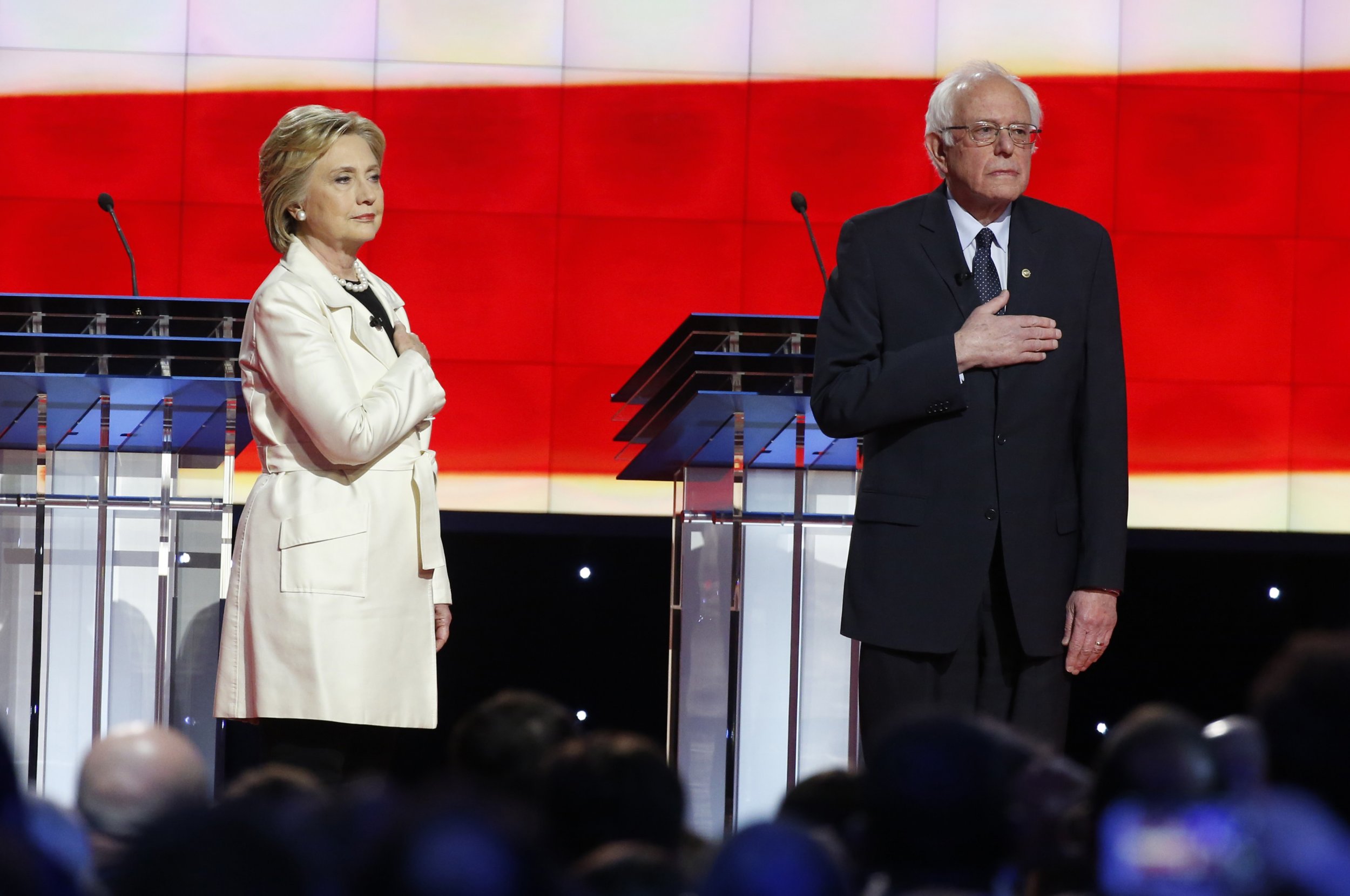 Bernie Sanders and Hillary Clinton meet tonight for their first debate in over a month. The forum is being held less than a week before the important New York Primary which will afford Clinton a chance to lengthen her delegate lead over Sanders but also gives the Vermonter an outside chance to upset the frontrunner in her adopted state. CNN is hosting tonight's event and following the best moments will be Newsweek's Taylor Wofford, Michele Gorman and Matthew Cooper.
11:05 PM: Before she can give her closing remarks, the majority of the crowd chants, "Bernie! Bernie! Bernie!" in response to the Vermonter's rousing concluding comments. Sanders noted that he was born in Brooklyn and she, too, reminds the audience that she served as a senator from New York, not once, but twice. "I tried to have your back, and time and time again, you had mine. We took on the challenges of 9/11 together, we got the money to rebuild New York, we came to the aid of our brave first responders, construction workers and others who endangered their own health by helping to save lives and search for survivors," she said to applause from the crowd.
And with that, New Yorkers are off to cast their ballots in Tuesday's primary. — Michele Gorman
[Correction: An earlier version of this entry had the crowd at the Brooklyn debate chanting "Hillary!" prior to the former Secretary of State's remarks. Upon a closer listening to that portion of the debate, Newsweek concludes that the majority of the crowd, with perhaps some exceptions, seems to be saying "Bernie!" and the revised version of the entry reflects that.]
11:05 PM: Neither Sanders or Clinton is going to be remembered as one of the great orators or debators of their time. But both have been in a lot of debates, have been in public life for decades, and have the wizened competence that comes with a presidential debate. I don't think it's sexist to say Clinton has a less-than-delightful voice esp when she raises it. Sanders certainly doesn't either. What's interesting to me is how they both deal with Obama. In 2008, John McCain didn't want to be anywhere near George W. Bush. Al Gore, perhaps foolishly, kept his distance from post impeachment Bill Clinton. This is one of the first times in ages where the candidates are cozying up to the incumbent, Hillary more than Bernie for obvious reasons. (She was in his cabinet; she needs to hold African-American voters.) At this point, when will Obama return the favor and endorse her. I suspect before Philadelphia, after she claims the majority of the delegates.— Matthew Cooper
11:03 PM: In his closing statement, Sanders stresses that he was born and grew up in Brooklyn. "I believe that this country has enormous potential if we have the guts to take on the big money interests who dominate our economic and political life," he says. — Michele Gorman
11:00 PM: Delightful.
— Taylor Wofford
10:57 PM: Contemplating on the state of the race, Clinton says: "I'm not taking anything for granted, or any voter or any place." — Michele Gorman
10:54 PM: Clinton acknowledges that it's great there are voters who support them, but stresses the importance of unifying the Democratic party when the nomination process has been completed. — Michele Gorman
10:52 PM: Sanders says he is proud that millions of young voters who weren't previously involved with the political process now are voicing their opinions. "The future of the Democratic party is not simply by raising money by wealthy campaign contributors. I think the way we are doing it in this campaign, $27 per contribution...that is the future of the Democratic party," he said. — Michele Gorman
10:50 PM: Clinton brings up reproductive rights and attacks the moderators for not asking about it sooner. Both Clinton and Sanders are loud and proud about their support for LGBT rights, so really the only win here is who talks first, and Clinton talked first. — Taylor Wofford
10:20 PM: Clinton and Sanders are talking about the easy question: Should NATO allies pay more? Yeah, sure. The harder questions are was NATO expansion in the 90s a good idea or did it wind up extending the protection umbrella to include undemocratic countries and how it could somehow become an antiterror organization. SAD! — Matthew Cooper
9:50 PM: The 1994 crime bill has become a source of agony in the Democratic Party. Once so popular, it's now widely criticized, blamed, probably overly so, for the spike in the prison population. But how each candidate backs off of it, remains a thicket and Hillary hasn't helped herself by stressing that she wasn't a member of congress only the spouse of the president. The truth is that reducing the prison population, if that's what the candidates want to do, is going to be more complex than either allows. There are very few federal prisoners who are just in there for simple possession conviction. — Matthew Cooper
9:39 PM: Blitzer twice asks Sanders if he owes an apology to the victims of the Sandy Hook Elementary School massacre. "I don't think I owe them an apology...they have the right to sue and I support them and anyone else who has the right to sue," he says. Earlier on Thursday, a Connecticut judge rejected gun companies' motion to dismiss a lawsuit brought against them by families affected by the massacre. He adds that his vote for the Protection of Lawful Commerce in Arms Act was based on his concern for gun-shop owners in rural areas who legally sell firearms to residents. If a shop knowingly sells weapons to people who shouldn't have guns, he says, they should be held liable. Otherwise, they shouldn't be legally responsible for guns used in crimes, he says. — Michele Gorman
9:33 PM: Conversation turns to guns. Blitzer asks Clinton if she blames Vermont—and implicitly Sanders—for New York's gun violence. "No, of course not...this is a serious difference between us," she says, as Sanders laughs. She brings up Sanders's vote against the Brady Bill and his vote in support of the Protection of Lawful Commerce in Arms Act, which provides general immunity to gun companies from legal action. "This is the only industry in America, the only one, that has this kind of special protection," she says. "What about the greed and recklessness of the gun manufacturers and dealers in America?"
On the defensive, Sanders says he "probably lost" the 1988 congressional election by three points because "I was the only candidate running who said, 'You know what? We should ban assault weapons, not see them sold and distributed in the United States of America.'" As he has done countless times in the past, Sanders highlights his D-minus voting record from the National Rifle Association, a point that receives cheers from the crowd. "Because I come from a state which virtually has no gun control, I believe I am the best qualified candidate to bring back that consensus that is desperately needed in this country." — Michele Gorman
9:27 PM: Jane does our taxes and we're busy is a pretty lame response to the why no Bernie returns question. That said, Clinton has no good answers on the speeches. — Matthew Cooper
9:20 PM: Huge applause erupts when CNN's Dana Bash asks Clinton why she won't release the transcripts from her big money speeches. "There isn't an issue. When I was in public service..I did stand up to the banks. I did make it clear that their behavior would not be excused," Clinton responds, without directly answering the question.
Bash doesn't let up, asks about transcripts again. "Let's set the same standard for everyone," Clinton says, to a few boos from the crowd. — Michele Gorman
9:18 PM: Sanders seems to be a little shaky on how the banks would be broken up, despite having faltered on this in the past week in his interview with the Daily News. At issue is whether the banks can decide how to pare down. Sanders answer wasn't bad but it didn't convey the authority he needs on his key issue. — Matthew Cooper
9:15 PM: Clinton takes a few seconds to remind everyone where she is: "I love being in Brooklyn, this is great." She smiles to a rowdy round of applause from the audience gathered inside the hall at the Brooklyn Navy Yard. — Michele Gorman
9:06 PM: Blitzer starts off the debate by asking about each candidate's recent criticism regarding the other's qualifications to be president. Sanders said he doesn't question Clinton's qualifications, but does question her judgement, which he says led her to vote for the War in Iraq, "every disastrous trade agreement" and running Super PACs. "I don't believe that that is the kind of judgment we need to be the kind of president we need," he says.
In her response, Clinton says she was trusted by residents of New York twice when they re-elected her as their senator, and by President Barack Obama when he made her his secretary of state. — Michele Gorman
Related: Bernie Sanders Delves Further into Hillary Clinton's Qualifications
9:01 PM: Sanders gets big round of applause as CNN's Wolf Blitzer prompts him to give his opening statements. Even more cheers when he talks about his slew of recent primary-season wins. Brooklyn is personal for both candidates: It's where Sanders and his wife were born and where Clinton houses her campaign headquarters. She also was a senator from New York for eight years. — Michele Gorman​
8:58 PM: I still don't see why we now have the Star Spangled Banner at debates which only cements them in the national mind as sporting events and not more solemn occasions. That said, Ms. Morgan has a lovely voice. — Matthew Cooper