Democrats Call for Impeachment of Attorney General William Barr after Mueller Letter
Calls for Attorney General William Barr's resignation resounded Tuesday evening after The Washington Post reported on a letter written by special counsel Robert Mueller saying he disagreed with Barr's handling of his report.
"Mueller's letter shows that Attorney General Barr has always been the chief propagandist for President [Donald] Trump. His four-page letter totally misled Congress and the public," said Senator Chris Van Hollen on Twitter. "He should resign immediately."
Senator Richard Blumenthal told the Post's Robert Costa over the phone that he would not rule out the possible impeachment of Barr. "A lot of remedies need to be on the table," he said.
Congressman and 2020 candidate Eric Swalwell said that Barr should face impeachment if he does not testify in front of Congress about the report.
Hawaii Senator Brian Schatz, meanwhile, took a moment to troll his Republican colleagues. "I'm hearing that several senior Republicans in Congress are finally fed up and they are quietly planning to do nothing," he tweeted. "Friends, we really need a Democratic Senate," he wrote.
The comments come after it was revealed late Tuesday night that Mueller wrote a letter to Barr expressing "frustration" that Barr classified his report as an exoneration of Trump's alleged attempts to obstruct justice during an investigation by Mueller and his team into Russian meddling in the 2016 presidential elections.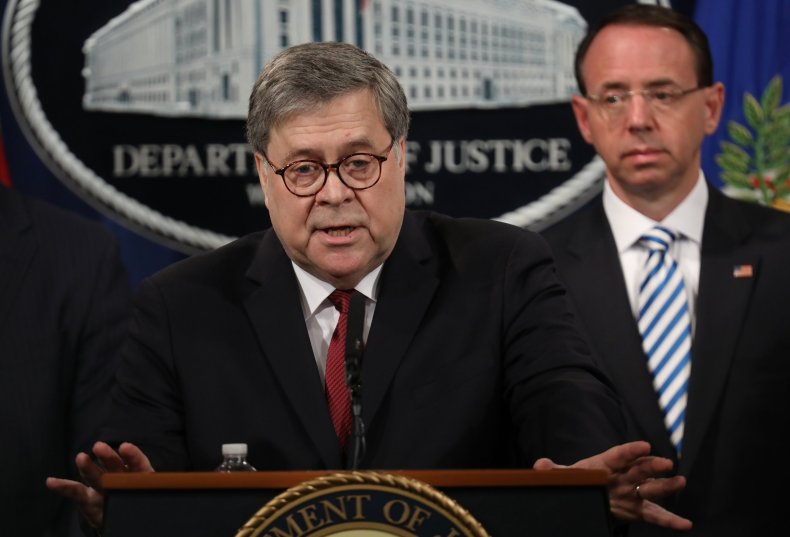 Mueller "expressed frustration over the lack of context and the resulting media coverage" in a phone call following after Barr released a four-page letter summarizing the report, spokesperson Kerri Kupec said in a statement. The phone call was made by Barr, said Kupec, after he received a letter from Mueller stating that the memo did not "capture the context, nature, and substance" of his full report.
"The summary letter the Department sent to Congress and released to the public late in the afternoon of March 24 did not fully capture the context, nature, and substance of this office's work and conclusions," Mueller wrote in the letter dated March 27, first reported by the Post. "There is now public confusion about critical aspects of the results of our investigation. This threatens to undermine a central purpose for which the Department appointed the Special Counsel: to assure full public confidence in the outcome of the investigations."
On April 10, nearly two weeks after the letter was sent, Barr testified before Senate and was asked by Van Hollen "Did Bob Mueller support your conclusion?" Barr responded "I don't know whether Bob Mueller supported my conclusion."
Senate Minority Leader Chuck Schumer tweeted that " In light of Mueller's letter, the misleading nature of Barr's 4/10 testimony & 4/18 press conference is even more glaring." Barr, he wrote, "must bring the letter with him when he testifies in the Senate tomorrow. And it's time for Mueller to testify publicly. Now."
"The Special Counsel's concerns reflect our own. The Attorney General should not have taken it upon himself to describe the Special Counsel's findings in a light more favorable to the President. It was only a matter of time before the facts caught up to him," wrote House Judiciary Chair Jerry Nadler in a statement Tuesday evening.
"Attorney General Barr also should not have withheld this letter from Congress for as long as he has. I have demanded a copy from the Department of Justice. I have asked that it be delivered no later than 10:00 tomorrow morning."
Calls for Mueller to testify publicly were also amplified. "This is exactly why I said Mr. Barr should never have been confirmed in the first place," tweeted Senator Mark Warner. "At this point he has lost all credibility, and the only way to clear this up is for Mr. Mueller to testify publicly."
Democrats, according to The Daily Beast, have been told that Mueller is willing to testify but that the Department of Justice has been reluctant to set a date.