Democrats' Chances of Controlling Senate Increase to 75 Percent With Just Two Weeks Until Election Day: Forecasts
With just two weeks until Election Day, the chances of Democrats taking control of the Senate have increased to about 75 percent, according to two forecasts.
Although the Democrats control the House of Representatives and are widely expected to maintain that control following the November 3 election, Republicans currently hold 53 seats out of the 100 in the Senate. Democrats hold 45 seats, along with two independents who caucus with their Democratic colleagues. To flip control of the upper chamber, the Democrats must gain at least four seats.
The Cook Political Report rates two Republican seats as leaning Democrat, while seven others are considered "toss-up" races. Meanwhile, just one Democratic-held seat—that of Senator Doug Jones of Alabama—is rated as leaning Republican.
The Senate election forecast by The Economist shows the Democrats with a 76 percent chance of taking control of the Senate—with at least 52 seats. That's a 5 percent increase from a week ago, when the forecast gave Democrats a 71 percent chance.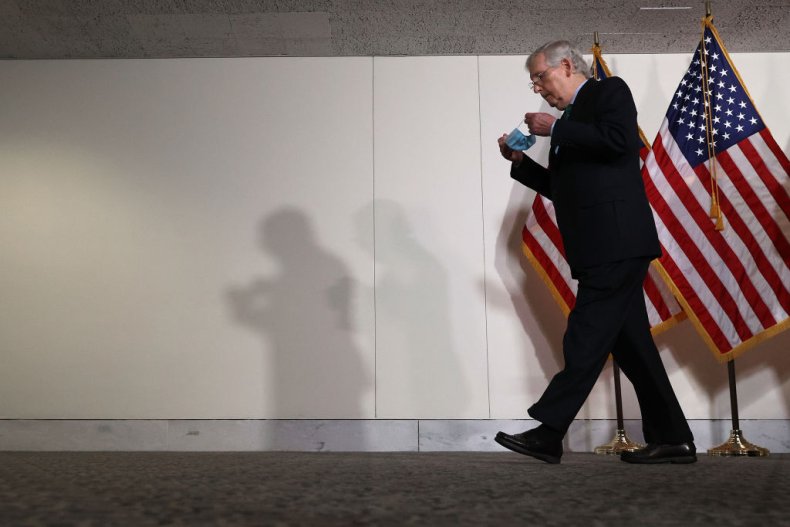 FiveThirtyEight's Senate forecast shows similar results. The site shows Democrats controlling the Senate in 74 out of 100 scenarios—with the party controlling an average of at least 51 seats. That's an increase of 6 percent compared with a week ago, when the forecast showed Democrats with a 68 percent chance of gaining the majority in the upper chamber.
Senators Martha McSally of Arizona and Cory Gardner of Colorado appear to be the most vulnerable of the incumbent Republicans, with both GOP lawmakers in races rated as leaning Democratic by the Cook Political Report. Meanwhile, Republican Senators Kelly Loeffler of Georgia, David Perdue of Georgia, Joni Ernst of Iowa, Susan Collins of Maine, Steve Daines of Montana, Thom Tillis of North Carolina and Lindsey Graham of South Carolina are in "toss-up" races.
McSally trails her Democratic challenger, retired astronaut Mark Kelly, by about 8 percentage points, according to the Real Clear Politics polling average in Arizona. Gardner's Democratic opponent, former Colorado Governor John Hickenlooper, leads by 8 percentage points in an October poll by the University of Colorado/YouGov, and by 9 percentage points in an October poll by KUSA/SurveyUSA.
In Georgia, Democratic candidate Raphael Warnock appears favored to win by more than 10 percentage points in his race with Loffler, while Perdue has an average lead of 1 percentage point against Democratic challenger Jon Ossoff, according to Real Clear Politics. Ernst's Democratic challenger, Theresa Greenfield, is ahead by an average of nearly 5 percentage points in Iowa. Democrat Sara Gideon leads Collins by just over 4 percentage points in Maine. And Tillis trails his opponent, Cal Cunnigham, in North Carolina by an average of just over 3 percentage points.
Meanwhile, Graham appears to be favored to win South Carolina, with the current average by Real Clear Politics showing the senator ahead of Democratic challenger Jaime Harrison by 6 points. However, several recent polls have also shown a tied race. In Montana, Daines leads Democratic opponent Steve Bullock, the state's governor, by an average of more than 3 percentage points. But the most recent Montana survey done by Public Policy Polling shows a tied race.
Even if the Democrats manage to gain only three seats, splitting the Senate 50-50, they would still have control of the upper chamber of Congress if Joe Biden wins. In that case, vice presidential candidate Kamala Harris—as the president of the Senate—would have the final say when votes are evenly split.
Biden and Harris appear favored to win against President Donald Trump and Vice President Mike Pence. All recent national polls show the two Democratic candidates ahead of Trump and Pence by significant margins. The current FiveThirtyEight national polling average has Biden ahead of Trump by more than 10 percentage points. Biden and Harris are also ahead in polling out of key battleground states, such as Arizona, Michigan, North Carolina, Pennsylvania and Wisconsin.