Democrats Chances of Winning Georgia Senate Runoffs—According to Bookmakers
The two Democratic candidates are underdogs in the forthcoming Georgia Senate runoffs, according to leading bookmakers.
Republican candidates are priced as most likely to win in both the special and regular election contests scheduled for January.
In the regular election, Betfair gave Republican incumbent David Perdue odds of 4-6 (an implied probability calculated by the bookmaker of 60 percent), while the Democratic candidate, Jon Ossoff, had odds of 6-4 (an implied 40 percent chance).
In the special Senate election, GOP appointee Kelly Loeffler is priced at 4-5 (57 percent) versus the Democrats' Raphael Warnock, who is priced at 5-4 (43 percent).
Oddschecker, which aggregates betting data from dozens of bookmakers, gave similar combined odds for both Senate runoffs in Georgia, with the Republicans priced at 11-17 (60.72 percent implied chance) and the Democrats with 13-10 (43.48 percent implied chance).
Polling suggests the two Georgia runoffs will be tight races. For example, Ossoff had 48 percent of support and Perdue had 47 percent from a sample of 1,377 likely voters in a PoliticalIQ survey released on December 4. With just those who said they would "definitely vote," Perdue came out on top with 50 percent of the vote, compared to Ossoff's 47 percent.
More than 1 million voters have requested mail-in ballots. Ryan Anderson, a data analyst in Atlanta, said more than 71,000 people who did not vote in the general election had requested mail-in ballots, suggesting voter turnout will be even greater than in November.
The balance of power in the Senate is now at a near tie for Democrats and Republicans, with the two runoffs set to define who controls the Senate from January.
As it currently stands, Republicans have 50 seats to the Democrats' 46. Independent senators, who caucus with Democrats, occupy the two remaining seats.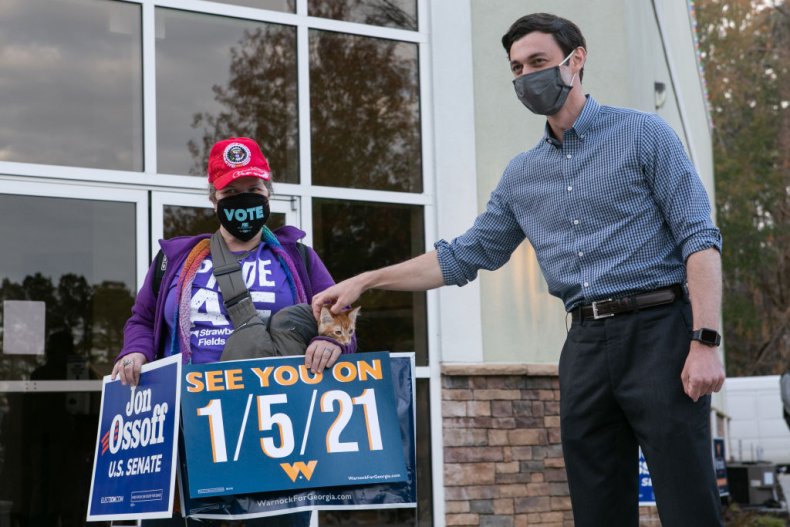 In Georgia, as in nine other states, a candidate must achieve at least 50 percent of the vote to win, with the top two candidates left to face off in a subsequent election if this is not reached.
That was the case in both the regular and special elections held in November. Georgia's runoffs will be held on January 5.
According to Reuters, which uses data provided by Edison Research, President-elect Joe Biden won Georgia by 2,473,633 (49.5 percent) to 2,461,854 (49.3 percent), picking up the 16 Electoral College votes.
Prior to the November 3 vote, Republicans enjoyed a Senate majority of 53 to the Democrats' 45—plus two independents.